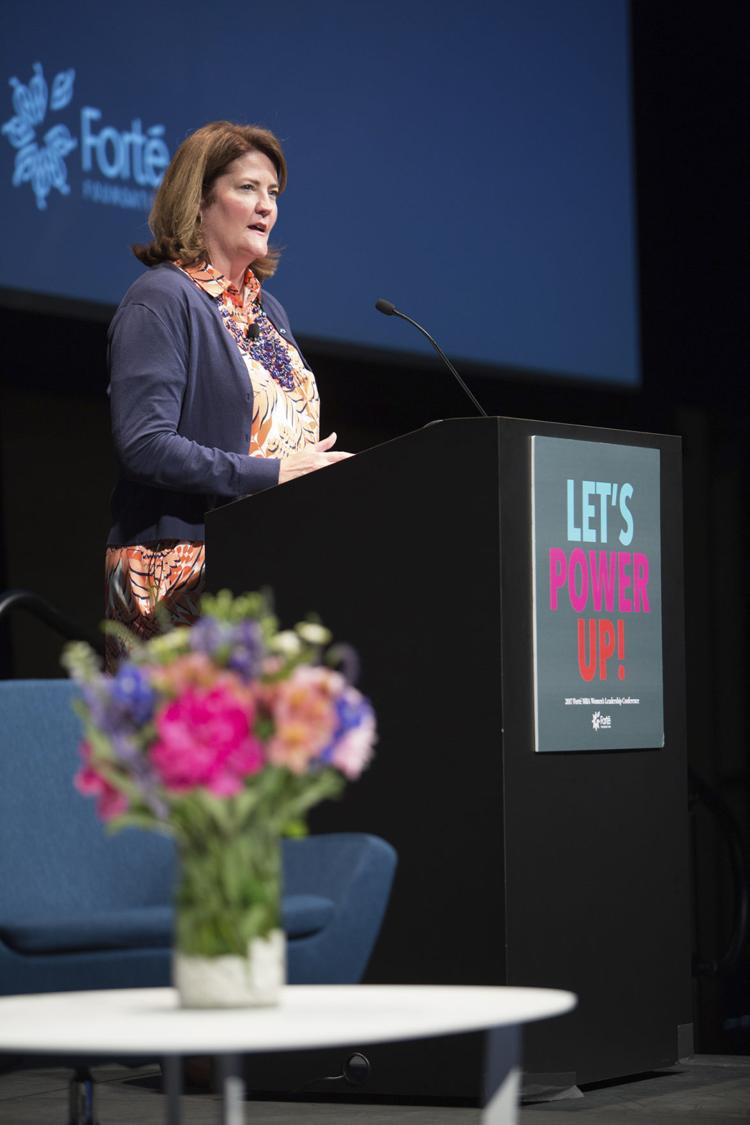 The second floor of the Amazon Meeting Center in downtown Seattle was crowded with more than 600 empowering, inspiring, and intellectual female attendees. They all shared a similar career path interest: business.
The MBA Women's Leadership Conference held by Forte Foundation was sold out within six weeks and is the foundation's biggest one yet. With it's increasing brand recognition across the nation, Forte Foundation has solidified relationships with Amazon and the UW's Foster School of Business, which was one of the reasons why the two-day conference was held in Seattle for the first time this year.
Forte Foundation is a non-profit coalition of top business schools and companies working together to motivate women to pursuing careers in the industry through a variety of means. It provides scholarships, conferences, workshops, networking opportunities, business competitions, and many other positive efforts that can increase a woman's success in a male-dominated field.
"We want women to pursue positions of leadership in business to be successful and have significant careers," said Mariska Morse, vice president of marketing and operations at Forte Foundation.
The non-profit consortium provides travel stipends ranging from $200 to $300 to encourage top female talents in college to attend the leadership conference. The conference provides an opportunity to network with companies and gain insights that will prepare them to become leaders in the business world.
"For college students, it's all about being career ready," Morse said. "Sometimes in college, it's like you don't know what you don't know. So, our job is to expose our audience with 80 thousand members of Forte to help them understand the different possibilities, [and] what are the career tracks out there."
One of Forte's goals for the event was to expose career track possibilities in the business field to their members by sharing career stories from women with top level positions in companies such as Starbucks and Home Depot.
"Business is not only about banking," Morse added.
Being able to sit in a huge room filled with women was an empowering and unusual experience for Erin Town, director of MBA admissions at Foster, and she wanted students to share those emotions. With encouragement from the Foster School of Business, the number of UW students attending the conference this year increased to fifty-five students.
"I would love to see more undergraduate women, even if they're not majoring in business, to think about business as a career," Town said. "The MBA opens so many doors and business has so many opportunities. It's actually a pretty flexible industry."
Friday focused on creating a dialogue surrounding leadership and career insights from an array of speakers: Ann-Marie Campbell, executive vice president of U.S. stores at Home Depot; Aimee Johnson, senior vice president of customer relationship management at Starbucks; and Beverley Babcock, senior vice president and chief financial officer at Imperial Oil Limited, just to name a few.
"In the tech consulting panel they had someone from Deloitte, AT&T, Whirlpool, companies that you wouldn't have thought of as traditionally tech oriented," Adi Rajapuram, an MBA student from UCLA Anderson School of Management, said.
Rajapuram was encouraged when she saw the many ways in which technology impacts every single company during the business and technology panel discussion. Many others felt the same.
Celeste Goodsi, a finance manager at BJ's Restaurants, Inc., had a personal goal in mind before attending the conference. She wanted to translate the knowledge she obtained over the weekend and adapt it to her leadership style to better suit her team, as well as to make new connections with women from other schools.
Goodsi was surprised at how racially and ethnically diverse the audience and the speakers in the corporate finance panel were.
However, in the business technology panel, Rajapuram expressed disappointment toward the lack of representation of women of color among the invited panelists.
"I'm hoping at least throughout the conference that we'll see more people who will bring more diverse perspectives," Rajapuram said. "Because obviously they're in the field, they're just not on the stage."
The next day, and final day of the conference, consisted of workshops and panels to help women learn about effective communication strategies, jump-starting an internship search, bridging the gender communication gap, and many more essential topics for professional development.
The conference ended with an event unique in its own right, a woman's power pitch competition. This was made up of four women-led teams who pitched their best business ideas to the judges, followed by a series of questions and answers for the grand cash prize of $10,000. This exercise was one of the many ways in which attendees could use what they learned over the weekend, and apply it to everyday tasks that will help increase their marketability in the professional world.
Sophie Zhang, an MBA student from York University's Schulich School of Business came away from the weekend with newfound inspiration. She had a special connection with some of the stories shared by the panelists about the challenges that women face in business, such as being interrupted during a discussion by their male colleagues.
"They speak out of these problems and how they try to deal with it in their career path," Zhang said. "I felt like I was not alone."
Reach reporter Ellisha Rosli at news@dailyuw.com. Twitter: @erosli23