The UW Hyperloop team makes it easy to believe that the Hyperloop is a straight shot to the future. A conceptual idea first proposed by Elon Musk in 2013, the Hyperloop uses a series of tubes to transport high-speed pods in an attempt to revolutionize transportation. 
Under the glow of purple lights last Thursday, the UW Hyperloop team held a ceremony to unveil their iteration of the pod, which will be zooming around SpaceX's Hyperloop track at Texas A&M in less than a week.
"Before you, you see the transportation of the future," said David Coven, co-director and one of the founders of the UW Hyperloop team, during the opening address. "[This is] what it looks like to be a part of tomorrow."
When Musk and his company, SpaceX, announced a competition that challenged engineers at universities and small teams to design a pod, Coven and the two other founders, Malachi Williams and Michal Chamerski, formed a team and the club took off. The roster was nearly 90 students long at one point before settling back down to about 35 long-term, dedicated members.
"As students of thought and engineering, we couldn't help ourselves," Coven said. "We wanted to be a part of something more than what was taught to us in the back of textbooks." 
After presenting their design to Musk in 2016 and winning the Safety Subsystem Technical Excellence Award, the UW Hyperloop team joined 25 other teams who were challenged to turn their blueprints into a functioning pod for the second round: demo-testing the pods at the SpaceX track on Jan. 27-29.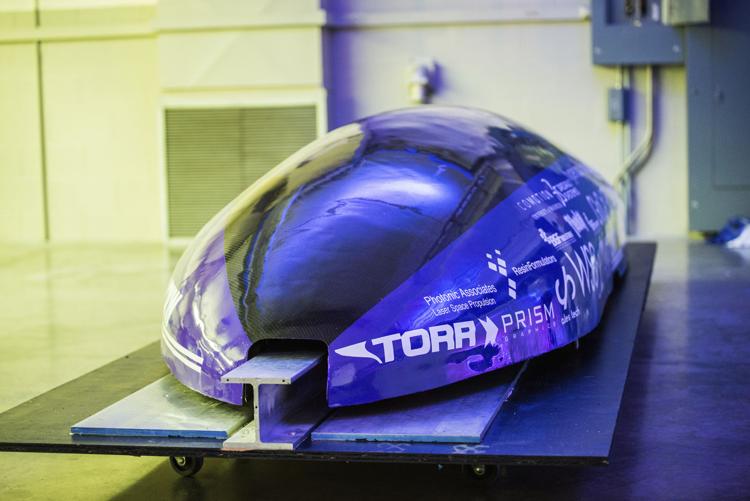 "As we get ready to race down the competition, there's been so many sleepless days and long nights of team members and difficult problem solving," Coven said. "Ultimately, it has all come together under this roof to build something truly exceptional." 
All pods in the competition rely on powerful magnets and electrical motors to levitate the pod and propel it forward. This allows the pod to glide effortlessly. After examining their award-winning design more closely, the team determined that a sleek, minimalist pod would be the best approach.
"We spent a lot of time on the pod, on the shell," Coven said. "Mainly we took our super, super complex design and boiled it down to the simplest possible iteration that works at the same level of efficiency and meets all the criteria."
UW Hyperloop's pod is one of the most inexpensive pods in the competition, coming in at $27,000 rather than the half-million of some other teams, budget manager Paul Gentsch said. It was important to the team to not only produce something technically sound, but relatively inexpensive so it could be potentially duplicated later on.
Of course, any technology this cutting-edge has its ups and downs. The team had to redo the outer shell after the first attempt failed when the resin applied did not bind properly to the body, in addition to tackling countless other problems along the way. 
Even after it was completed, the team wasn't done, said Jonathon Lundlee, control systems lead and a recent UW graduate. To ensure the control system was ready for the competition, he and others spent days trying to disrupt the code, seeing if it would respond unexpectedly to changes.
"I can't break it and the other programmers can't break it," Lundlee said. "I've let like five friends try to break it and no one can break it, so we'll see."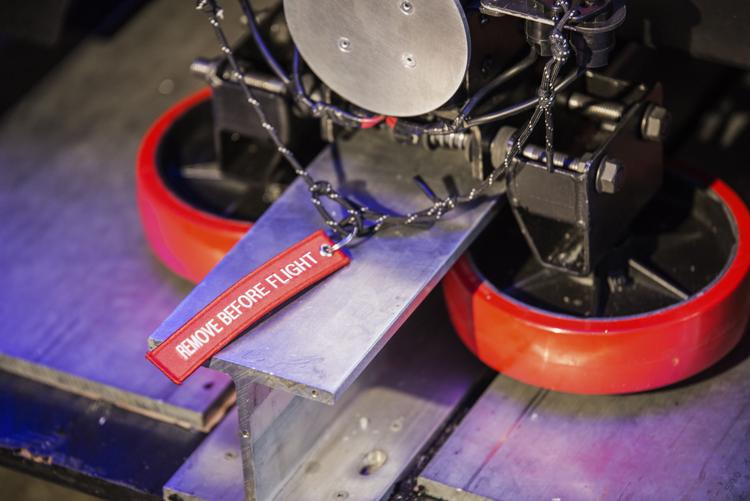 As for the upcoming competition, there's still some last-minute work to be done. It is, after all, a project run by college students. The final few days will be spent tweaking and re-tweaking their pod as last-minute shipments of magnets come in that will better help them crush the competition.
"We ordered our braking magnets last Thursday, put a three-day rush order, and it's actually stuck in Colorado because it snowed," Maxwell lead Jasdip Singh said.
Even with these speed bumps, the team is sure to be ready before the competition this Friday.
"It should come [Monday]," Singh said. "Then it'll be a four or three-day all-nighter."
UW Hyperloop has done the seemingly impossible twice. They not only built the pod on a budget, but also created a close-knit and well-oiled community of diverse disciplines, from engineering to public relations and psychology, something their adviser, James Seferis, didn't think could be done.
A former UW professor and current president and CEO of GloCal Network, Seferis provided lab space to UW Hyperloop and has spent years trying to organize and troubleshoot teams to tackle complex projects.
"We used to believe the easier the technology, the easier the teaming," Sefaris said. "Now we are saying the harder the technology — because that [Hyperloop] technology is hard — not a single person can do the whole project."
Seferis believes that the difficulty of the project, which makes the team entirely interdependent on each other, is now the key to creating teams for radical technology.
"If that's the case, then we need to make things much harder," Seferis said.
After the competition, win or lose, the team hopes to stay together and continue taking on breakthrough projects.
"Why not be on the forefront of what's new, what's bold and big?" Coven said of his early desire for pursuing the Hyperloop back in 2015. That's a question that UW Hyperloop team will still be asking even after their pod finishes its loop around SpaceX's track.
Reach Science Editor Emma Bueren at news@dailyuw.com. Twitter: @EmBueren