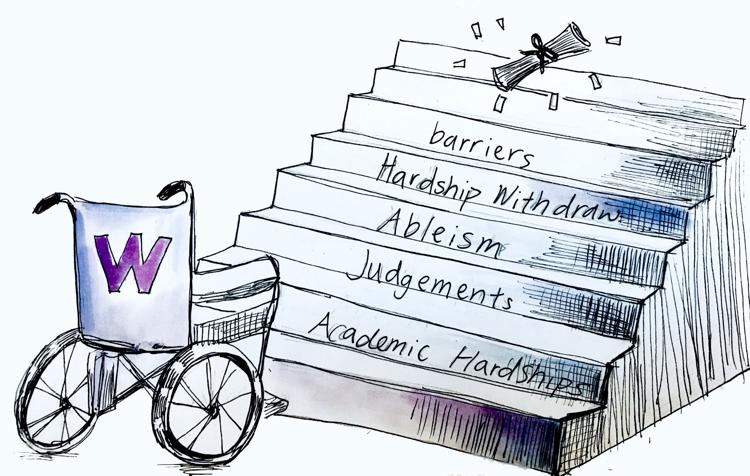 Only one in three U.S. students with disabilities graduate from a four-year college within eight years. The UW has more disabilities resources than many other institutions, but students say there's still a gap. 
"Sometimes I get professors who are really great support for students like me," Ashley D'Ambrosio, ASUW Student Disability Commission director and a student who lives with chronic illness, said. "But then I get other professors who say that it's not fair to the other students in the class that I get an extension or that I get alternatives to attendance, because so many professors grade based on attendance."
Here at the UW, there is no required training for faculty to learn how to work with students with disabilities. When a student with accommodations appears in a class, the faculty member gets a notification letter with action steps and contact information for an access coordinator. From there, it's mostly up to the faculty member and the student to make accessibility happen.
"Required trainings are hard on a campus this size," Bree Callahan, director of Disability Resources for Students (DRS), said. 
Dozens of groups on campus are already competing for required trainings. Even if a training is required, part-time faculty members or faculty members that work across all three UW campuses still might not receive it. At the moment, DRS mainly presents information through the Faculty Fellows Program and strategic outreach to departments. 
The burden is on the student to advocate for themselves to access disability resources. This is a big shift from secondary school, when schools usually give students a 504 plan. A 504 plan is a formal, individualized plan that provides a blueprint for accommodations through high school. Some students struggle once they start college, especially when it comes to working with professors who don't understand their needs.
"We definitely have seen students struggle in the transition from K-12 to higher education," Callahan said. "That's across the board, not just here at the UW." 
Nevertheless, the UW has come a long way in terms of disability access. Today the UW is one of only two universities in the country with a D Center, a cultural center for disabled and deaf students. The UW also started on accessibility earlier than other institutions. 
"One of the great things about the UW is we were one of the first institutions across the nation that, when [the Rehabilitation Act] first came out in 1973, said we want to do this, this is absolutely what we need to do," Callahan said. "Other institutions didn't do anything until 1990, didn't start a disabilities office until they were told through the ADA that they couldn't put that off." 
The UW has added even more resources since then. Today, DRS converts textbooks for students with various disabilities, works with professors to make sure videos have real-time captions for deaf students, and provides a variety of exam accommodations, among other functions.
"We've grown, in the last five years, 113 percent in terms of the number of students we see," Callahan said. She mainly credits the emphasis on communication and outreach. Additionally, more students may feel comfortable acknowledging that they have a disability, and more students with disabilities are coming to the UW in the first place. However, some students still don't get the information they need. 
"Not every student has had that experience, so there's some work to do there," Callahan said. She emphasized that she's open to hearing from students about their experiences. The DRS has daily drop-in hours, and students have the option to remain anonymous if they prefer. Students who notice a barrier to physical accessibility can also report it through an online form.
"I'm always interested to hear from students what kind of barriers they're having, because how students experience how they're navigating campus and their community is different from my experience as an administrator," Callahan said.  
What can the UW do to help more students with disabilities complete their degrees? D'Ambrosio has some suggestions.
"The first thing that the university needs to do is set a precedent that they care about this issue," D'Ambrosio said. "It needs to be a priority from the highest levels of the institution, and people will need to have a conversation about it." She added that she's heard a lot of discussion around access for mental health resources, but not nearly enough around improving retention and course access. 
"We're really talking about a culture change," Hall Health mental health therapist Meghann Gerber said. She emphasized the importance of destigmatizing disability as well as providing resources to help students make it through college. 
A more tangible idea is to build more remote access into courses. While the technology exists, UW courses don't always use it, and many professors still choose to grade largely on attendance and in-class activities. 
"Even though the technology exists in the world for us to have lecture capture, we're not implementing them across the board," D'Ambrosio said. She pointed out that more remote access could help students with families and students who get sick as well as students with disabilities.        
"We're not approaching the issue holistically, and as a result, many students are losing out," D'Ambrosio said.
Reach reporter Leslie Fisher at news@dailyuw.com. Twitter: @lesliefish3r