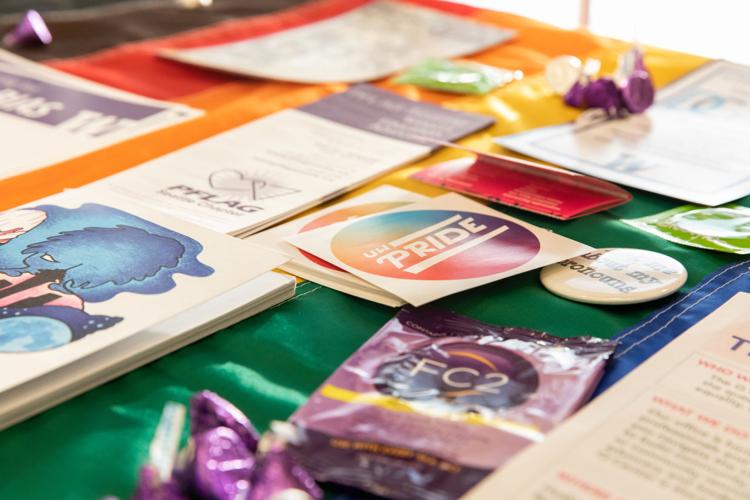 Seattle is home to many organizations devoted to offering resources in varying capacities to LGBTQIA+ members of our community. Several of these organizations were represented at the UW Trans Resource Fair earlier this month, which showcased organizations that provide resources and support to the local trans and queer community.
The event was put on by UAW Local 4121, a union that advocates for social and economic justice on campus and in the UW community. Sam Sumpter, the organization's vice president, and Vern Harner, a head steward at UAW Local 4121 were the hosts and organizers for the fair.
"We are part of UAW 4121 Trans Equity Working Group," Sumpter said. "Which is a group of UAW members who are really working to address structural problems that face trans members and trans people in general at UW."
Sumpton went on to state the success the organization has made in pushing the university to make all single-use bathrooms on campus gender-neutral. However, they also reiterated that there is far more work to be done for trans activists at the UW. 
While the UAW 4121 Trans Equity Working Group is present for students and faculty on campus, many other local organizations offer legal, medical, and educational resources for the UW community and beyond. 
The Q Center offers on-campus resources and events for members of the LGBTQIA+ community. They are involved in advocacy, advising, educational programs, and have a space for students to congregate and socialize. 
For employment rights for members of the LGBTQIA+ community, especially since many students work in industries that are higher risk for discrimination such as the service industry, LGBTQ Allyship serves to inform both workers and employees about rights in the workplace.
"We focus on education and advocacy, especially around employment," Tobias Gurl, economic program coordinator at LGBTQ Allyship, said. "We want to make sure LGBTQ people in this city know what their rights are and how to enforce them. We are disproportionately in the restaurant and hospitality industry which are some of the most exploited, so we are here to bridge the gap between those employees and their employers."
Other organizations, like Gay City, which was formed in 1995 during the HIV/AIDS epidemic, now offer preventive medical support for those in Seattle's LGBTQIA+ community. 
"We do free HIV and STI testing, PrEP Clinic, and health care navigation," youth program and training and technical assistance coordinator Maisha Manson said. "You can get tested for free at Gay City if you are a person who identifies as LGBTQ. Also, for those who are low income you can sign up for our PrEP clinic to receive PrEP." 
Some of these resources combat discrimination for those who feel they cannot represent themselves legally and either provide information or legal representation in their stead. 
The Lavender Rights Project is an organization that offers legal assistance related to name changes, transitioning, and family law. The Lavender Right Project operates on a sliding scale system for legal services for low-income trans and queer people as well as other marginalized communities.
Other than legal services, organizations like TWOCSolidarity redistribute donations to those in the trans women of color community who need financial support. Started just last September, TWOCSolidarity has already raised over $25,000 to be distributed as financial assistance for trans women of color in the state of Washington. The money is all donations and the organization is entirely run by volunteers. 
The NW Network works to build a space for bi, trans, lesbian, and gay survivors of abuse and their friends and families. They offer relationship skills classes for the queer and trans community. The organization offers a variety of resources to promote healing and healthy relationships. 
An organization by and for trans and gender-nonconforming people, Ingersoll Gender Center is a space where members of the community can access support groups, advocacy resources, community organizing, and education. On their website, you can find the King County Name Change Guide as well as the King County Shelter and Housing Guide, and the Healthcare Provider Database just to name a few of the resources readily available. 
Organizations like the Greater Seattle Business Association (GSBA) promote economic opportunity for the LGBTQIA+ community. As the largest LGBTQIA+ and allied business chamber in North America, they focus on business development, leadership, and social action.
TRANSform Washington is a public education campaign that is supported by the pride foundation. The organization offers a platform for the public to learn from members of the community about their firsthand experiences.
"The meat and potatoes of our organization is storytelling," Isyss Honnen, project director of TRANSform Washington, said. "We use storytelling to educate and build public for our political advocacy."
There is not one organization that covers every field of resources for the members of the LGBTQIA+ community, but together these organizations provide services to those who need them to make our community a more just, safe, and healthy home. 
Reach reporter Charlie Kappes at news@dailyuw.com Twitter: @cjkapp
Like what you're reading? Support high-quality student journalism bydonating here.