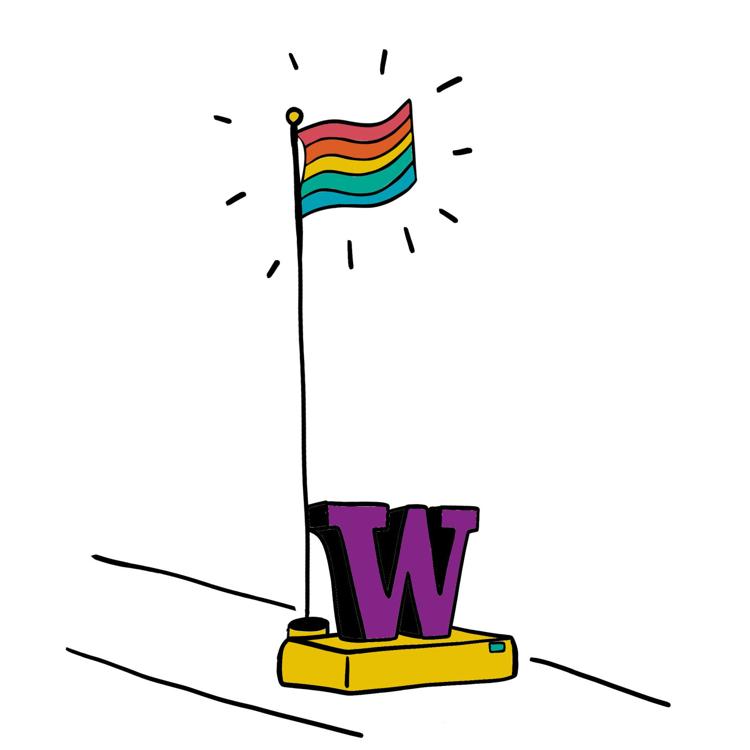 A new list of the "Most Affordable LGBTQ-Friendly Colleges and Universities," published by the nonprofit organization Campus Pride, places the UW right at the top. For LGBTQIA+ students, choosing a college or university to attend may include making sure the school they choose has the resources to meet specific their needs.
The UW has a rating of five out of five stars on the Campus Pride Index. The index, which is an overall indicator of an institution's commitment to LGBTQ-inclusive in policies, programs, and practices, has been tested extensively by various national organizations and professionals in higher education since 2001.
Features that classify the UW as a more inclusive university include a non-discrimination statement inclusive of sexual orientation as well as gender identity and expression. Also, health insurance coverage is extended to employees' same-sex partners. The process for name changes at the UW is accessible, simple and can be used to change not just a person's preferred name, but university records and documents too.
There is also an ally program and multiple Safe Space or Safe Zone areas throughout the campus. The UW actively seeks to employ a diverse faculty and staff, including visible and out LGBTQIA+ individuals.
The UW's Seattle campus has multiple resources to offer LGBTQIA+ students including the Q Center which is primarily student-run. The Q Center offers a safe space and welcoming community to UW students, staff, faculty, alumni, and community members. There are several student support groups, regularly scheduled events, a lending library, and a blog.
The UW Q Center's Marsha P. Johnson Memorial Library holds nearly 1,500 books, magazines, and films. Its namesake is owed to Johnson, a black trans woman and community leader in clashes with police, most notably during the Stonewall Riots. UW students can access the library using their Husky Card and those unaffiliated with the UW can provide an email or phone number.
The Q Center also runs a Queer Mentoring Program that connects UW students with queer UW students, staff, faculty, and alumni who mentor them, offering their experience, relatability, and tips for living happily. The program strives to provide a safe, affirming, and exciting environment where mentees are supported and their sexual orientations, gender identities, and gender expressions can be celebrated.
Additionally, the UW boasts LGBTQIA+ course offerings, organizations, Greek houses, and educational events. The UW has made strides towards ensuring campus safety for LGBTQIA+ students, including having a clear procedure for reporting LGBTQIA+-related hate crimes and ensuring that support for victims of sexual violence and partner violence is LGBTQIA+ inclusive. Students can also be matched with roommates who are LGBTQIA+-friendly and placed in gender-inclusive on-campus housing options.
Of course, there is always room for the UW to improve its academic and social environment for LGBTQIA+ people. Campus Pride suggests a variety of improvements including updating the UW's admission application or post-enrollment forms to allow an option to self-identify one's sexual orientation and gender identity or expression.
Campus Pride also recommends that the UW update campus police training to educate officers on sexual orientation, gender identity, and gender expression issues, and for Housing & Food Services to add LGBTQIA+ living spaces, themed floors, or living-learning communities.
Reach reporter Midori Friedbauer at arts@dailyuw.com. Twitter: @MidoriNileah

Like what you're reading? Support high-quality student journalism by donating here.