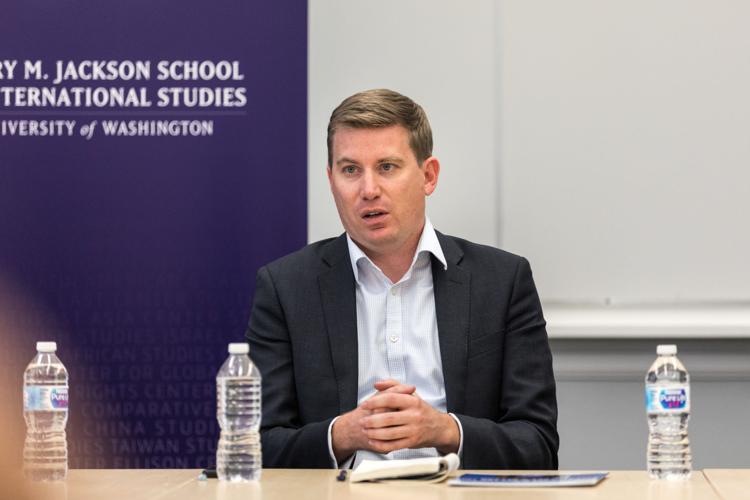 In 280 characters or less, the president of the United States has both threatened and supported North Korea, fired foreign policy advisors, and announced widespread military policy reversals.
"[I am] constantly reminded that the news may change at the speed of a tweet," Stephen Miles said of the president's diplomacy. 
Miles, executive director of advocacy organization Win Without War, led a discussion Wednesday on "National Security in the Age of Trump" and did not hold back when discussing any aspect of the current administration. The event was held by The Henry M. Jackson School of International Studies. 
"What we expect to happen is not what happens," Miles said, speaking from his own foreign policy experience. 
He noted that on the anniversary of American journalist Jamal Khashoggi's death, the administration still has much to answer for, including their initial denial that the murder occurred. 
Certainly, the president's personality and political tendencies play into his foreign policy decisions, a process Miles described as "wild swings back and forth." 
The organization Win Without War was formed in response to the events leading up to the Iraq War, and Miles saw the 2018 withdrawal from the Iran nuclear deal as a potential similarity. 
This withdrawal, according to Miles, "put us on a collision course with Iran." 
Miles was relieved to have this conversation sitting over 2,500 miles away from the nation's capital. "Many Washington elites pretend that no one outside the beltway cares about foreign policy," Miles said. 
However, those in attendance proved otherwise. The lecture provided an opportunity for students and community members to join in on the conversation. 
Freshman Emma Reese attended the lecture because she found the topic "interesting in today's climate" and is considering minoring in international studies. One important takeaway for Reese was "how much corruption has an influence in American foreign policy."
Questions from the audience centered upon how to effect change in institutions that can be unresponsive or oppositional. 
"We need new ways of dealing with these problems," Miles said as he encouraged outsiders and young people to become involved in the field. "Those answers don't come from Washington." 
Miles spoke of how constituents were able to successfully pressure Washington State Rep. Adam Smith into adopting more progressive provisions in the annual defense policy bill despite political backlash.
These provisions included ending the ban on transgender military members and lessening support for Yemen to prevent war with Iran — undoing policies that were originally adopted from the president's Twitter. 
While Miles spoke of long-term institutional and policy changes, he also looked to a more immediate one. 
"The president will one day not be the president again, in five years or five days," Miles said.
Reach reporter Hope Morris at news@dailyuw.com Twitter: @hopexmorris 
Like what you're reading? Support high-quality student journalism by donating here.