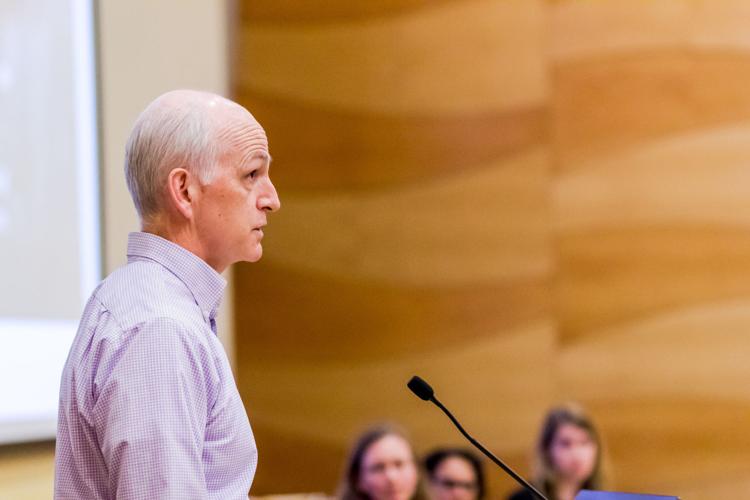 In a rousing discussion about the future of U.S. foreign policy, Chair of the House Armed Services Committee and U.S. representative for Washington's Ninth Congressional District Adam Smith shared insight into the results of President Donald Trump's foreign policy approach, its implications for the future of the U.S.-led world order, and the contemporary issues being tackled by America's leading foreign policy experts.
During his talk at Thomson Hall Thursday morning, Smith highlighted three key issues he views as the most pressing areas for the focus of foreign policy experts.
First, he raised the question of how to confront the great powers of Russia and China. Second, he discussed how rogue states like Iran and North Korea might potentially undermine the current world order. And, third, he noted the ways terrorist groups, such as Al-Qaeda and ISIS, are looking to damage Western interests.
Smith worried that Trump's approach could limit the efficacy of any attempts to address these issues.
"His governing style, which is basically to be autocratic in his approach, really hurts our relations with other countries," Smith said. "If you are an ambassador, if you are part of the U.S. diplomatic core, if you are a part of the U.S. military, and you're engaged in the rest of the world, Trump's tendency to override those decisions in a tweet … is undermining the credibility of the people who work for him in a way that is damaging our relations in the world."
He went on to argue that a core pillar of Trump's international approach is suspicion of, and distaste for, international institutions and agreements, many of which he has worked diligently to leave or renegotiate since becoming president in 2017.
What Trump fails to recognize, in Smith's view, are the intangible benefits that the United States gains from assuming a leading role in the current world order, such as stability and global support for democracy.
Smith also noted that many of Trump's actions since assuming office have been in-line with the foreign policy objectives of Russian President Vladimir Putin, who seeks to undermine Western democracy and present his "kleptocratic" system as a viable alternative.
"Putin is engaged in a disinformation campaign," Smith said. "Globally, support for democracy is the lowest it has been in 60, 65 years. Putin's basic message is the West doesn't work."
Referring to the recent killing of Iranian General Qassem Soleimani, Smith asserted that the only real beneficiary of this action was Russia, which has a vested interest in seeing the United States removed from Iraq and support for the U.S. military presence in the region decreased.
He also criticized Trump's stance on Ukraine as playing into Putin's international goals.
"Ukraine is a pawn in the game of undermining democracy," Smith said. "Pushing Russia out of Ukraine is definitely in our interest."
However, he noted that it will be difficult to pressure Trump to address these issues without bipartisan support.
"The Republican Party is much more in-line with what I'm saying than Trump, but right now they're afraid; they don't think there are enough Republicans in Congress that they can challenge him," he said. "The conversation I've had with a lot of Republicans, they don't want to be where they are."
In a final comment after the end of the discussion, Smith conceded that, in his assessment, Trump has not yet done irreparable damage to the United States' position within the current world order. However, should Trump be reelected and continue his current foreign policy approach, he contended that the possibility of him permanently damaging the primacy of democracy and the United States' position internationally will become increasingly likely.
Reach reporter Nathan Sebree at news@dailyuw.com. Twitter: @lolkoling
Like what you're reading? Support high-quality student journalism by donating here.