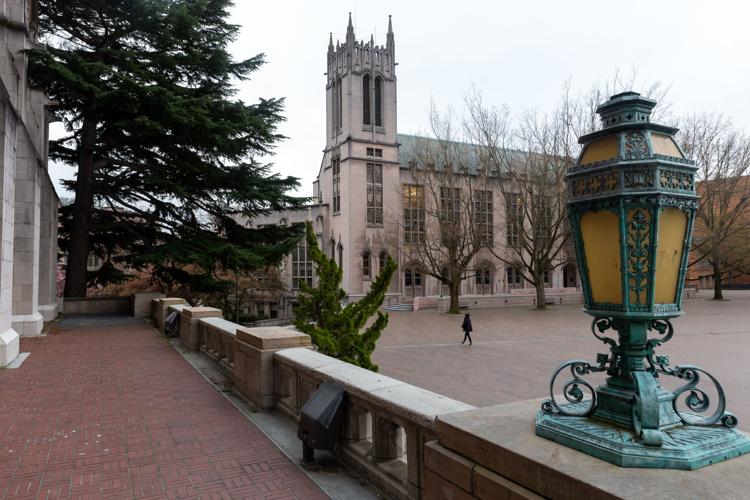 Public health experts' initial guidance for workers during the COVID-19 pandemic focused on ensuring people stay home, minimizing nonessential travel, and practicing good hygiene to slow the spread of the contagious virus between workers and community members.
But what does this mean for the health outcomes of essential workers who can't just stay home?
A study by Marissa Baker, an assistant professor in the UW department of environmental & occupational health sciences, shows that 75% of American workers are classified as "essential," meaning they cannot work from home. 
This means that three-quarters of workers, or roughly 108 million people, are in jobs that cannot be done from home during a pandemic, putting them at increased risk of exposure to disease.
Baker's previous research involved quantifying how many workers, as well as what types of workers, might be exposed to the novel coronavirus in the workplace.
"Given the routes of transmission of the virus, really anybody who is out and about interacting with other people is at risk of exposure; that prompted me to think about the people who are going to work that are exposed," Baker said. "This especially includes transportation workers, healthcare workers, janitorial workers, and social and protective services."
Previously, Baker had been collecting data on jobs that allowed an employee to work remotely. She was then able to apply her working hypothesis to quantify essential workers. 
The hypothesis: The people who use a computer for the majority of their time at work without having to interact with the public are the people who are going to be able to work from home and ultimately are the most protected from COVID-19. 
"I had to ask how to quantify who is actually still going to work, knowing that these people would be most at risk for physical complications, such as getting the virus, and also mental health outcomes, from working through a pandemic, stress, job insecurity, childcare expenses," Baker said. 
This information can be very telling as to the mental and physical effects COVID-19 has on essential workers.
"Essential workers are going to be at increased risk for one of two, or both, outcomes," Baker said. "They are at increased risk for exposure to the disease, whether it's interacting with other people or commuting. Then you have other workers who can't do their job at home but their workplace is closed or reduced hours. They are going to be at more risk for mental health effects."
Her research found that workers with the lowest average median wage are workers who are not able to work from home, including those in industries such as food services, retail, personal care, and some transportation workers. These workers often lack protections such as employer-provided health care, appropriate sick leave, or paid time off, further increasing their vulnerability during a public health emergency.
Baker is currently expanding the matrix of her research to include age, race, and education level of workers. 
"[It's] not a surprise that income and race are fairly correlated," she said. "Age is also a risk factor of COVID-19. Many of the older workers can work from home due to being in higher-paying white collar jobs. But there are also a lot of older workers in jobs that are essential —  they are already at high risk of exposure and being put at an even higher risk due to their age."
This data will further show the demographics most negatively affected by COVID-19. 
"While all workers will be disrupted during a pandemic event such as COVID-19, increased public health focus should be on those who are the most vulnerable, including ensuring these workers are adequately protected at work and have social protections in the event they are no longer able to work," Baker wrote in her article. "This will ensure that these workers do not bear an undue health burden during a public health emergency and will also help to reduce the burden of adverse health outcomes that could emerge in these workers who cannot work from home during a pandemic event."  
Reach reporter Beth Cassidy at news@dailyuw.com. Twitter: @_BethCassidy_
Like what you're reading? Support high-quality student journalism by donating here.