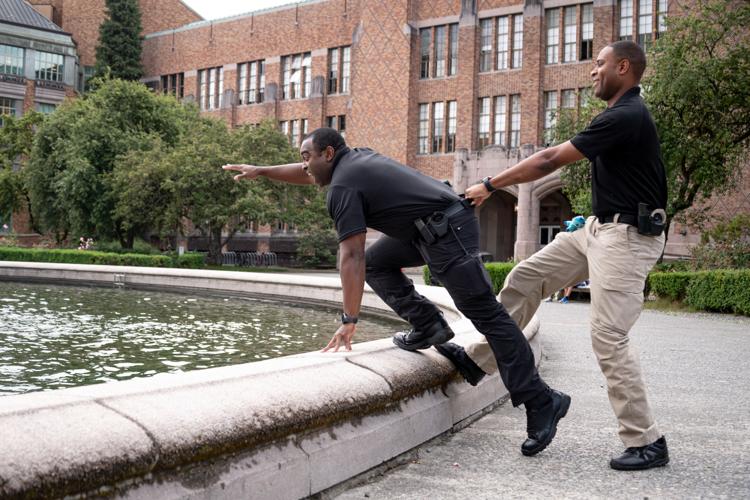 With over 26,000 members, the UW Teens For Boundless Memes Facebook page has a plethora of memes made by and for the UW community. Recently, the UW Police Department (UWPD) joined in on the fun.
As community engagement officers, Officer Dahmar Wartts-Smiles and Officer Gabriel Golden aim to connect students, faculty, and staff with the UPWD. From delivering speeches at orientations to leading the Citizen's Academy program, Smiles said their goal is to provide as much transparency as possible, giving "a face to the UWPD."
Officer Smiles and Officer Golden began creating the UWPD memes as another way to "bridge the gap" between the UWPD and the community. Their intention was to bring awareness to the issues on campus in a fun, lighthearted way, and at the same time, strengthen the relationship students have with their police department. 
One of the earliest memes they made addressed the issue of students jumping into Drumheller Fountain.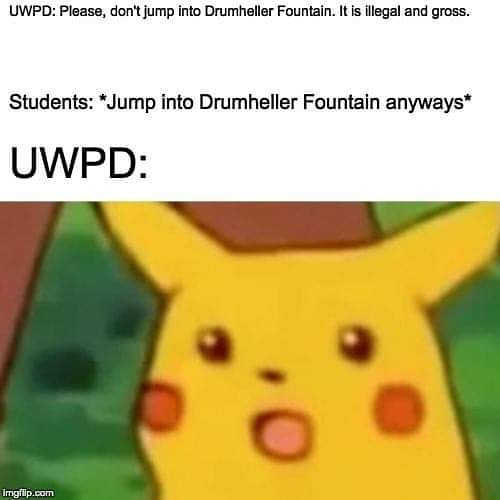 "It seemed like there was this thread of fear that was running through people," Golden said. "We kind of wanted to soften the whole thing up. There's also a practical, human side of it. Yeah, it's illegal, but ducks poop in there." 
Smiles compared the situation to riding a bike without a helmet. Even though cyclists most likely won't get a ticket for not using a helmet, that doesn't mean it's a good idea. The meme pointed out this practical side of jumping into Drumheller with intended humor. 
"We've found that the memes have been really good at showcasing that we're humans too," Smiles said. "We get it." 
These memes, however, are part of a larger conversation — the perception and approachability of the UWPD. As community engagement officers, Smiles and Golden are actively a part of this conversation.    
"We need you to know who we are as a department and what we stand for," Golden said. "Do we think posting memes will fix all of the problems? No. But it starts conversations. If we can start that conversation with a funny picture, why not?" 
Smiles and Golden ultimately want people to understand that the UW police are approachable to alleviate the conception that the UWPD is "just out to get people." Their goal is to create an environment where students feel safe on campus, and at the same time, allow students to enjoy their college experience.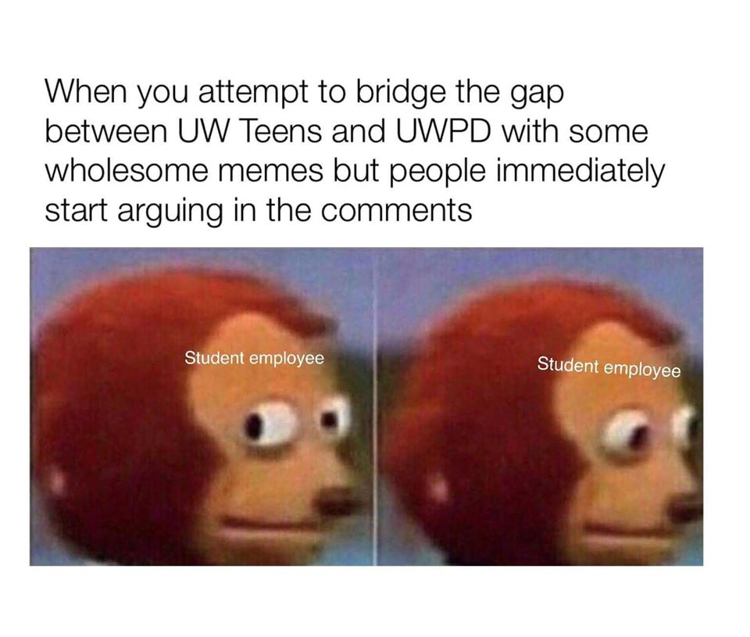 Even though the intentions behind these memes aim to create a more positive relationship between students and the UWPD, there have been numerous negative comments on the Facebook page in response to UWPD's recent involvement, including some comments that recommend that the memes be reported. 
Some members of the community were less than pleased with the UWPD joining the page, feeling as though it's an invasion of a student group. One student said they "hated" [the police joining] while others expressed general dislike for the police department's involvement. While some make these comments in jest, others genuinely believe that the meme page should not be a place "where the UWPD attempts to build trust with students." 
Thomas Fuller, a moderator of UW Teens for Boundless Memes, noticed anti-police content as well.
"Some comments make arguments that the police system perpetuates gender violence and white supremacy," Fuller said. "Some members of the group are upset that the police were added; I've seen comments saying that it seems dystopic."
On top of some student's negative responses to the department, other meme pages in the UW community have shown up in reaction to the UWPD's involvement that are exclusive to students. 
"We're not looking at that page for anything other than funny stuff to laugh at," Golden said. He went on to say that the page is public, and both of them were already on it before the UWPD account. For them, posting memes was never meant to be anything serious, and they are simply on the page to have fun. 
However, the comments that Smiles and Golden will take the time to address are those that are generalizations and mischaracterizations of the UWPD and its officers. Smiles and Golden respond so that they can address student issues with their department. 
"I've been racially profiled. I've been pulled over and questioned illegally," Golden said. "We're doing this job because we're actively trying to make it better." 
The memes, more than anything, are a way to reach the most important members of the university: the students. Students are the ones who see UWPD officers every day, who rely on the UWPD to be safe, and who will ultimately affect change in the community. It's for these reasons that the UWPD prioritizes community engagement to reassure the student population.
Smiles and Golden plan to continue making memes and sharing them with the UW community, and they don't intend to stop anytime soon. Why would they? It's not illegal or gross.
Reach reporter Andrew Ronstadt at News@dailyuw.com. Twitter: @AndrewRonstadt 
Like what you're reading? Support high-quality student journalism by donating here.