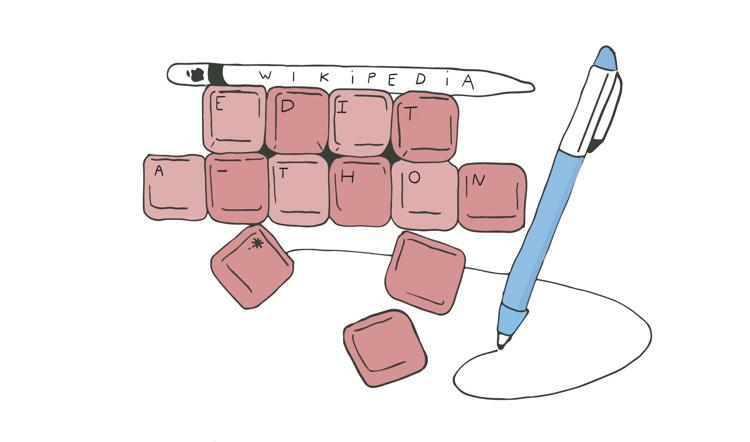 A casual Wikipedia search of male and female artists will reveal a striking visual disparity. Articles on female artists, when compared to their male counterparts, tend to be shorter, lacking references and often missing photos of the actual artist or their work. This difference is concerning considering Wikipedia is one of the most popular public online encyclopedias, with roughly 40 million registered users worldwide.
Specifically in the Pacific Northwest, artists identifying as female are severely underrepresented both in the actual existence of Wikipedia pages and in the overall quality of the pages themselves.
It was this inequity that brought volunteers to the Jacob Lawrence Gallery this Saturday to participate in a Wikipedia edit-a-thon.
The event was sponsored by the online movement Art + Feminism, a worldwide organization that works to create change in male-dominated topics by holding Wikipedia-edit-a-thons, or events that teach women the technical skills needed to edit and improve Wikipedia articles. Currently, it is estimated that only about 10% of editors are female.
The edit-a-thon was advertised as a way to highlight female-identifying artists; however, there is a lot of overlap with ethnic and LGBTQIA+ minorities. 
"Wikipedia is not edited equally across the board — there's underrepresentation in groups," Genevieve Hulley, the Wikipedia fellow for the gallery, said. "We are trying to diversify and add to these underrepresented groups."
Many of the volunteers were not experienced with Wikipedia editing, but were instead passionate about ensuring that women artists in the Pacific Northwest were getting a fair chance at representation.
"We all have to support each other, it doesn't work if we don't support each other's work," Lynette Charters, a first-time volunteer and Pacific Northwest painter herself, said. "As women, if we all have a higher profile, we all benefit."
Emily Zimmerman, director of the Jake and the organizer for the event, was inspired by the lack of representation, specifically among artists who were being showcased at the gallery. An Art + Feminism edit-a-thon provided a way to alleviate this inequity. 
"We want to address omissions in history as a form of social justice activism," Zimmerman said.
The event concluded with 66 new references added, 17 articles edited, and seven new ones created, including one pending on UW photomedia professor Rebecca Cummins. Cummins is a prominent professional artist in the Northwest with installations all over the state, including public works for the Washington State Arts Commission and Seattle Public Utilities.
Despite her significant role in the Pacific Northwest art scene, an internet search of her name will reveal only a small mention on another male artist's Wikipedia page. Events like the one on Saturday are put on to lift deserving artists like Cummins to the same level as their male counterparts and create equity in online information.
For those interested in participating, the gallery plans to host more edit-a-thons in both winter and spring quarters.
Reach contributing writer Sidney Spencer-Mylet at development@dailyuw.com. Twitter: @thisissidneyyy
Like what you're reading? Support high-quality student journalism by donating here.