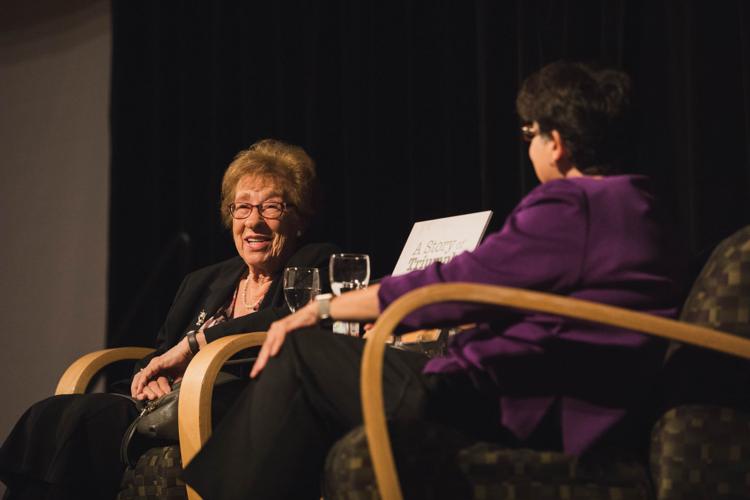 Eva Schloss, Anne Frank's stepsister and a Holocaust survivor, visited the HUB Ballroom Nov. 5 to share her life story with hundreds of students and visitors from the Seattle area in a conversation with UW President Ana Mari Cauce.
Cauce's remark to Schloss that "many of us have read about what happened, but hearing it from your voice [was different]" summed up the evening well.
The beginning of Schloss' story is a reminder of how political power causes hatred at the local level. Schloss had experienced what she described as a happy upbringing up until immediately after the 1938 Nazi invasion of Austria, when she and her brother experienced anti-Semitism for the first time in their lives.
"He came home the next day after the Nazis had come in and his clothes were torn, his face was full of blood, he looked terrible," Schloss said of her 12-year-old brother. "And then my parents questioned him, 'What on earth has happened to you?' He said 'My old friends did that and the teachers just watched it happening.'"
Her family moved around the continent numerous times to escape anti-Semitism including, for a few years, in the same apartment block as Anne Frank and her family. After World War II, Schloss' mother married Frank's father, Otto Frank.
Schloss' family — Eva, her mother, her father, and her brother — eventually went into hiding in 1942 until they were betrayed by a nurse and double agent to the Nazis in 1944. The nurse had betrayed hundreds of other Jewish people and received only four years in prison for it after the war.
Schloss' family was sent to Auschwitz. When they arrived, their bodies were inspected by a doctor with a fleeting glance, who would decide whether each person would be killed in the gas chambers or sent to work.
"I will never forget: My father, who was not a religious man, took me by the hands with tears in his eyes," Schloss said. "He said 'God will protect you.' He knew he couldn't do anything for me."
Their whole family was selected to work, and the horrors they endured as prisoners of the camp were unimaginable. They worked from morning until evening and were extremely underfed. Sometimes, when they were denied meals, they tried to ration half of their bread under their pillow for the next day. 
With one change of clothes, rare showers, and unhygienic toilets, the victims were covered in lice within a week and many died from disease.
"In the morning you woke up and the person you slept next to didn't make it anymore," Schloss said.
Later on, Schloss' mother was re-examined and sent to the gas chambers. When she reunited with her father one day in the camp, she told her father what had happened to her mother.
"I burst into tears and I said she had been selected," Schloss said. "I saw this man — he was a strong man — I saw him go even paler as he was already and started to cry. And it was so sad to see him in, you know, this realizement."
As it turned out, Schloss' mother had not been taken to the gas chambers. She and her mother survived long enough to be liberated from the camp by Russian soldiers in 1945. Her father and brother, however, did not. They died just days before the camps were liberated. To this day, Eva wonders if they could have survived just a little longer, if they'd had more hope.
"I always felt so guilty that I told my father that my mother wasn't alive anymore," Schloss said. "If he had known, perhaps he would still be alive."
Schloss has been an advocate and spoken about her experiences since 1980, but she expressed pessimism that much progress has been made in the world since then, citing the Cambodian genocide, North Korean government, and the Middle Eastern refugee crisis.
"Unfortunately this reminds me very, very much of now again, the millions, millions, and millions [of] refugees trying to escape from war-torn countries," Schloss said. "So in this respect, the world has not really learned anything."
The event was hosted by Chabad at the UW, a Jewish RSO.
"We must always be cognizant of current events and never become complacent with today's news," Alex Demeo, a student in Chabad whose grandmother was a Holocaust survivor, said.
"Unfortunately, many parallels to the Holocaust still exist today. Recently we've seen an increase in hate crimes, including a significant rise in antisemitism. So to be here and be part of this event of human history helps us prepare to make our future a better place."
Reach writer Natalie Rand at news@dailyuw.com. Twitter: @n_rand_
Like what you're reading? Support high-quality student journalism by donating here.