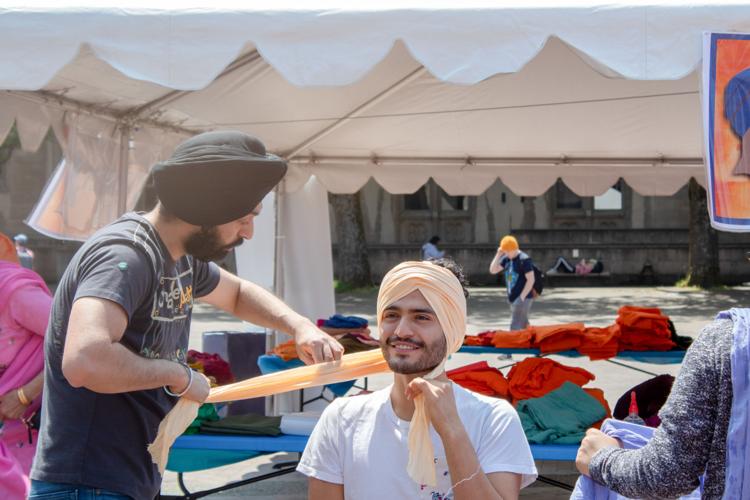 Seva UW, a student organization founded in 2016 on the Sikh principle of selfless service, hosted its annual Turban Day in Red Square on Friday, May 31. The event, attended by people of all ages and backgrounds, sought to combat misconceptions about the Sikh faith and Sikh cultural practices, namely wearing turbans.
Sikhism dates back to the 16th century when Guru Nanak founded the monotheistic religion in the Punjab region of what is now India and Pakistan.
Later, Guru Gobind Singh introduced the practice of wearing turbans, or dastars, to protect one's hair and mark Sikhs as people readily willing to offer assistance to people in need. Turbans also serve as a symbol of equality in that Sikhs of all socioeconomic statuses, races, genders, and castes wear them.
According to the BBC, the 20 million Sikhs around the world, about 500,000 of whom live in the United States, follow fundamental Sikh principles such as generously serving those in need and making an honest living.
Despite the theme of being a force for good underlying these main principles, lack of understanding among the public yields significant consequences. In a post-9/11 world, discrimination toward South Asians, especially those who wear turbans, persists.
Poor cultural understanding also leads to subtler forms of oppression such as cultural appropriation. In winter of 2018, for example, Gucci designed the "Indy Full Turban," a $790 turban resembling those worn by Sikhs.
Given these issues, Seva UW's members eagerly seized the opportunity to educate the UW community about Sikhism through turban tying, a museum-inspired gallery, and langar, a free, community-prepared vegetarian meal. Event attendees also enjoyed live performances of kirtan music and gatka, a Sikh martial art.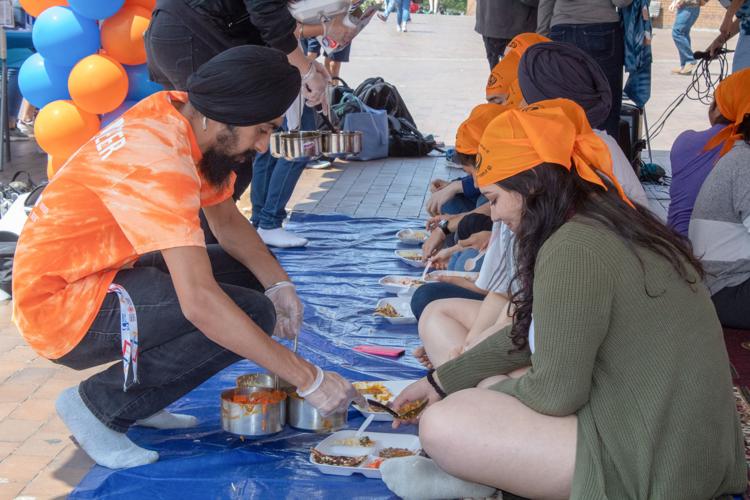 As event attendees sat to have turbans tied on their heads by Turban Day volunteers, the volunteers explained the historical and cultural significance of turbans in the Sikh faith. By familiarizing people with turbans up-close, Seva UW's Co-Presidents, Navjot Kaur and Imrin Kaur, hoped that people would feel comfortable engaging in uncomfortable conversations.
"What ends up happening is that we're too afraid to ask people, 'What is the meaning behind the turban?' or, 'What is Sikh?' or, 'What kind of culture do you belong to?'" Navjot Kaur explained. "We always are held behind from asking these questions because we feel ignorant. [Turban Day] is just trying to spark those discussions between everyone that is part of UW and all over the community around us as well."
Navjot Kaur also noted that the educational purpose of Turban Day distinguished the event's turban tying from cases of cultural appropriation.
"What differentiates events such as [Turban Day] and Gucci putting [a turban] out as a fashion statement is that Gucci is making a profit off of this and they're not educating their consumers," Navjot Kaur said. "Whereas here, we're educating [the public] on what [the turban] symbolizes and the cultural significance."
Officer Dahmar Smiles of the UWPD praised the event's mission of promoting cross-cultural understanding.
"[The UWPD] love[s] this event," Smiles said. "We've been coming since the inaugural one and it's a really great opportunity to engage with the community and learn some new information, especially about different religions and communities on campus. There's a lot of misconceptions about certain types of headwear, so this is really good … to get some understanding around exactly the differences we have on campus."
Turban tying was not the only opportunity for attendees to spark their curiosity about Sikhism. The Sikh principles of equality and service met when Turban Day volunteers served attendees langar.
"[Sitting on the ground] promotes equality among us all," Imrin Kaur said. "It doesn't matter who's sitting next to you; it could be a celebrity. But at that moment we're all sitting together and sharing the same meal and we aren't differentiating. We're all equal at that moment."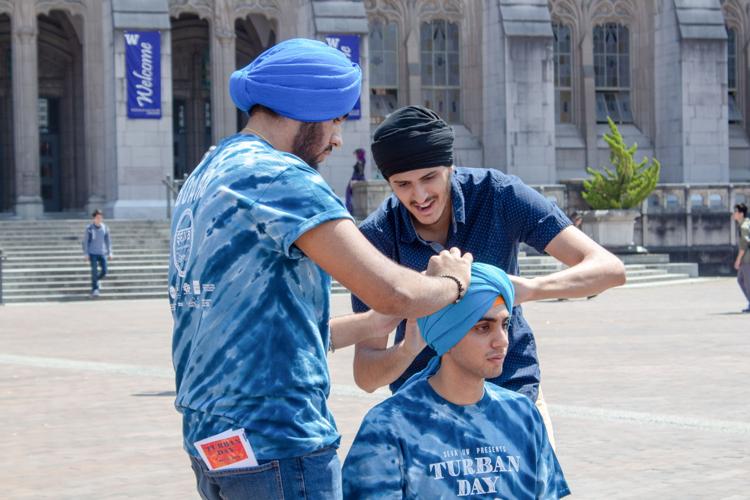 New to this year's Turban Day was the gallery of informational posters and objects relating to Sikhism and Punjabi culture. Topics covered in the posters included the relationship of women to Sikhism, Sikhism's global mission, and Punjabi attire.
Volunteers also stood on-site prepared to explain the background and purpose of the artifacts, all of which were donated by members of the Sikh community and local Sikh institutions.
One such artifact was the kirpan, a type of small sword used in gatka.
"[The kirpan] speaks to the fact that Sikhs believe in speaking up when they see injustices … [and it's] a symbol not to be passive," Manjeet Kaur, Seva UW's secretary, said.
Manjeet Kaur hoped that the visual displays and accompanying volunteer explanations would "destigmatize and normalize" components of Sikh and Punjabi culture.
However, Manjeet Kaur also recognized that Turban Day was just the first step to deconstructing stereotypes.
"The work doesn't stop here," Manjeet Kaur said. "Just because you have fun at Turban Day and you get a turban tied doesn't mean [the] problem is solved."
Seva UW's leadership hopes to further the mission of Turban Day by discussing traditionally taboo subjects like mental health at their open general meetings and by allying with other misrepresented communities to foster understanding.
Reach contributing writer Estey Chen at development@dailyuw.com. Twitter: @esteychen
Like what you're reading? Support high-quality student journalism by donating here.