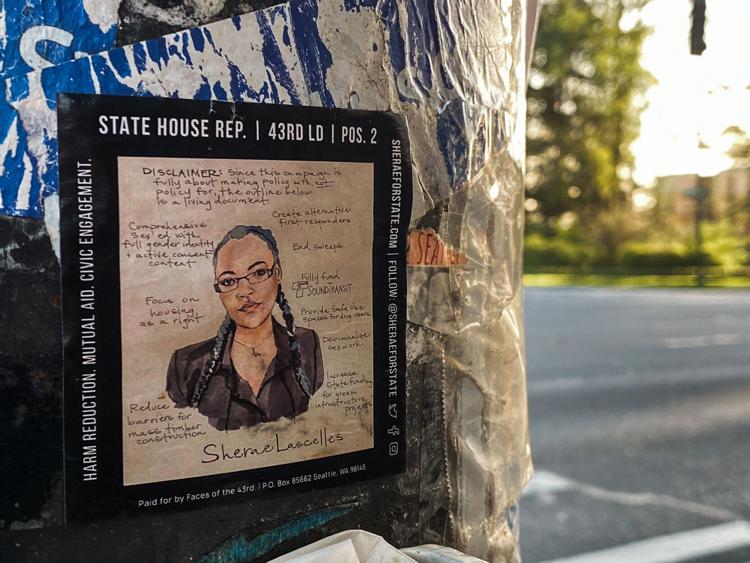 As Bernie 2020 posters lose their original blueness and the color liberty green goes out of season, many student voters are still unimpressed by the candidates in the presidential election. Not many voters see themselves represented by the wealthy, elderly white men on the national stage, but in the race for Washington's 43rd Legislative District — which includes the U-District here in Seattle — some hope for progressive leadership from marginalized groups remains.
Sherae Lascelles is a 32-year-old community organizer running an entirely volunteer-powered campaign that focuses on centering the leadership of those most marginalized and oppressed. 
Lascelles founded the People of Color Sex Worker Outreach Program and the Green Light Project, two nonprofits to help sex workers in Seattle. And, as president of Young Democrats at the UW (YDUW) Jacob Sanderson said, Lascelles was in the conversation about criminal justice reform "before it was cool."
Lascelles' competitor, incumbent State Rep. Frank Chopp has sat securely in his seat since 1995. While Lascelles is running as a candidate from the Seattle Peoples Party, Chopp is no stranger to victory over socialist candidates, including races against Kshama Sawant in 2012 and, later, Jess Spear in 2014, both of which he won by large margins. However, in the primary election, Lascelles has outperformed any previous competitor, winning just over 30%, compared to the incumbent's nearly 50%. 
Lascelles's progressive platform has drummed up excitement around the U-District, with their iconic blue braids and rectangular glasses stickering streetlights. They have earned the endorsement of YDUW and Students for a Democratic Society (SDS), formerly known as Students for Bernie. 
"One of the things that we try to do as Young Dems is try to move the party to the left," Sanderson said. "We like Frank Chopp, we think he's a good guy, but in this election we really saw an opportunity to do that."
SDS voted unanimously amongst the club officers to endorse Lascelles. 
"The local races are going to be the best races that highlight the effects of capitalism, so I think as a candidate, Sherae is going to do that better than Frank Chopp," SDS President Evan Eggerud-Bozorth said. "And that's true for a lot of races that are going on where the more progressive candidate challenges a shitty moderate Democrat who speaks in the language of corporate wokeness with none of the material to back it up." 
This excitement to disrupt a quarter-century long status quo has caused Chopp, who was the longest-serving state House speaker in Washington's history, to defend his own progressive record. 
"When we talk about policy issues, we line up pretty well," Chopp said. "When we talk about actual specific proposals to turn into legislation, I'm way different. And I have the track record to prove it." 
Chopp points to his work to enact the Workforce Education Investment Act in 2019, which mandates and funds free college and university tuition for all low-income students and reduced tuition for middle-income students. 
"If you got a program that pays for full tuition at the University of Washington, that's $11 thousand — that should get people excited," Chopp said. 
Chopp also mentioned his role in raising the funds needed to move the ROOTS Young Adult Shelter to Greek Row. 
His past work with young people also includes Apple Health For All Kids, which he started 10 years ago; it now provides roughly half of people under the age of 18 in the state with free healthcare. He said he plans to extend this program to people under 26. 
These actions aside, the excitement for new representation seems to persist among student voters. 
"This is the kind of trick that someone like Frank Chopp will do: He knows what his voting record is and he is going to point to exactly what parts of it are progressive," Eggerud-Bozorth said. "It's like saying Nancy Pelosi has done some personally progressive things just because she represents San Francisco."
As progressives like Alexandria Ocasio-Cortez and Ilhan Omar cruise through their primaries and activists like Cori Bush transition to members of Congress, Lascelles supporters think this might be the perfect window for a challenger outside the establishment from marginalized communities to take Chopp's spot. 
"I'm not particularly hopeful; Chopp is too well funded," Eggerud-Bozorth said. "My only hope is that it being a moment with Black Lives Matter, that would help push someone like Sherae over the finish line, someone who is talking about issues central to what is going on."
Chopp, who is white, noted that he has recruited representatives of color, but he does not appear to be eager to give up his own seat.  
Lascelles is quoted in The Stranger's Aug. 4 endorsements saying, "I'm told people who don't look like me know better how to represent me. It's gaslighting. It's a literal mindfuck." 
Lascelles did not respond to requests for comment from The Daily.
While UW voters do not seem particularly hopeful that Chopp will be taken down by Lascelles, the challenge to the status quo locally does not go unnoticed.
"Local elections are where change happens," Sanderson said. "When the lockdowns happened, they weren't declared by Donald Trump, they were declared by Jay Inslee. When I was getting flash banged and tear gassed in Capitol Hill, it wasn't Donald Trump sending those guys after me, it was Jenny Durkan. Local elections are incredibly important."
Reach Engagement Editor Hannah Krieg at news@dailyuw.com. Twitter: @Hannahkrieg
Like what you're reading? Support high-quality student journalism by donating here.