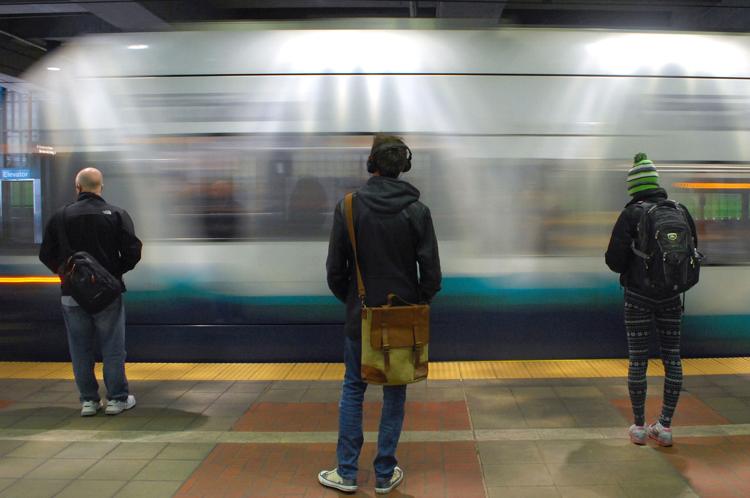 Riders of the Link light rail system should be on the lookout for changes to scheduled service for the remainder of winter quarter. 
Sound Transit has instituted several temporary changes to Link service for the duration of its Connect 2020 program. Connect 2020 encompasses 10 weeks of construction to prepare the Link system for connection to the expansion routes currently being developed on King County's east side.
The expansion route, known as the Blue Line, is being constructed in sections at a time. The expansion service to Redmond through Bellevue will open in 2023, with further service to Mountlake Terrace and Lynnwood in 2024, before eventually terminating in Mariner near Everett in 2036.
The service changes affect both the frequency of trains and the length of routes. For the duration of construction, trains will run every 13-15 minutes, as opposed to the six-minute timings previously enjoyed during peak hours. To help alleviate this, Sound Transit is running all trains as four-car trains, as opposed to the two or three that normally run.
Most notably, the Downtown Seattle Transit Tunnel will be closed outright for two weekends, Feb. 8-9 and March 14-15. During those times, service to the Stadium, International District, Pioneer Square, University Street, and Westlake stations will be served only by free replacement shuttle buses running every seven minutes. 
The Link has also been split up into two separate lines, running from the UW to Pioneer Square and from Pioneer Square to Angle Lake. No trains will continue past Pioneer Square; instead, commuters wishing to move through the station in either direction will have to disembark on a specially-constructed center platform and change trains.
Additionally, bikes are no longer allowed at Pioneer Square station for safety reasons, meaning commuters with bikes must get off elsewhere. Sound Transit has installed on-demand BikeLink lockers at Rainier Beach, SODO, and UW stations. These lockers can be rented for 5 cents an hour for up to 10 days. BikeLink cards to rent lockers can be found here. 
Andrew Sang, a junior in the urban planning major, says he likely is more attuned to the system than others might be, though he still finds himself inconvenienced by the changes. 
"I'm trying to get to an event and I was a bit late because I was not expecting it to be that slow," Sang said. "And the transfer, I missed it because of the huge wait times. I'm not expecting it to be like that." 
Despite the inconvenience of the service disruptions, Sang says he understands their benefit. For students like him seeking career opportunities at the Eastside's tech giants like Microsoft, the Blue Line represents accessibility to the region's vast resources — or, at the very least, food and entertainment.
Still, Sang says, he wishes Sound Transit had had more foresight in planning for expansions. 
"What Sound Transit should be doing as it looks forward to future expansions, it'll be necessary to preplan these out," he said. "Why don't they build these when they're building the initial line; build that before opening the system to begin with? [Sound Transit should be] really forward thinking, and I think that'll alleviate a lot of these pains." 
Sound Transit recommends that riders plan for trips to take an extra 30 minutes, especially during peak periods.
But in the end, Sang says, "this is just a part of the growing pains of a big city as we grow into the 21st-century metropolis that we're destined to be."
Reach reporter Matthew Hipolito at news@dailyuw.com. Twitter: @hipolmat
Like what you're reading? Support high-quality student journalism by donating here.