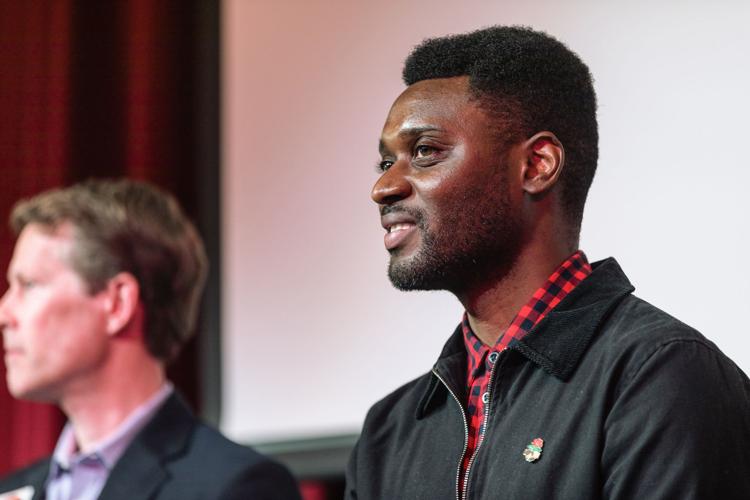 Shaun Scott's Wednesday ended much the same way it began.
The Democratic Socialist running to represent the U-District on the Seattle City Council started his day discussing police accountability, among other issues, in an extensive interview with The Daily. He ended the day in Beacon Hill, participating in a forum dedicated to the same issue.
The former Black Lives Matter organizer called himself a "police abolitionist" at a forum hosted by the Seattle Police Officers Guild (SPOG) last week. On Wednesday, he said he wouldn't have supported the union's contract that passed the council with an 8-1 vote over community concerns that it didn't include strong enough accountability measures.
"The communities that have made my candidacy even possible were ones that stood up for Black lives from the very, very beginning," Scott said when asked if he would be swayed by police interests. 
"I'm a longshot Socialist candidate who was able to make it through a primary where we had some pretty big establishment business forces and liberal forces who were trying to knock us out, and so I think I would be derelict in turning my back on the community support that even made me get into a general election and being competitive here possible."
U.S. District Judge James Robart then found the city out of compliance with a federal consent decree on police reform in May, specifically citing concerns about weaknesses in Seattle's officer accountability system, which largely stemmed from the contract between the city and the SPOG.
Scott also argued that the SPOG is to blame for the lack of police accountability.
"I wasn't suggesting that it was the union's fault, I was saying that it was the union's fault," Scott said to applause. "The city council has to do more to actually hold the feet of some pretty powerful police unions to the fire with respect to Black and Brown people literally dying."
Scott's competitor for the open seat, former council aide Alex Pedersen, said in an email that he had a scheduling conflict with an "in-district organization" Wednesday night that stopped him from participating in the event.
"I'm proud to be the only representative from the District 4 ... who thought that a forum about police accountability was worth my time as a candidate tonight," Scott said to open the forum.
Pedersen has declined to attend or not responded to invitations to various events and questionnaires throughout the campaign, as independent journalist Erica C. Barnett has noted. For example, he declined an opportunity to sit down with The Daily along with Scott Wednesday morning.
Pedersen said in a statement to The Daily, "Accountability includes continuing to hold our police officers to high professional standards such as de-escalating confrontations, refraining from excessive force, and policing free from bias. It also includes making sure investigations into allegations of police misconduct and the disciplinary process are handled fairly so that the public has full confidence — an urgent goal that is requiring more work to achieve as confirmed and clarified by Judge Robart's decisions as recently as this week."
Scott said that officers working off-duty for private employers as security, for example, should be held to the same standards as on-duty cops, but added that "I don't think we're in a position where the city-directed forms of police accountability that we have should be held up as anything much to aspire to."
He called on ending the statute of limitations for police discipline in cases of extreme misconduct, treating all police ranks the same in the oversight process, and opening the appeals process to the public.
In his closing statement, Scott said that the city first needs to deal with its own racism before attacking national prejudice he sees coming from the White House
"If liberal Seattle wants to take on conservatism; if liberal Seattle wants to take on Trump, I think we first have to take on ourselves," Scott said. "I think this election cycle is gonna be a referendum on whether or not Seattle is actually a mature enough city to grapple with the roots and the present day vestiges of racism in the city, or whether or not we're content to just continue backsliding as we've seen the country backslide at large."
Ballots for the general election were mailed out Wednesday and drop boxes opened Thursday. They won't close until the evening of Nov. 5. Pedersen bested Scott with 40% of the vote, compared to his opponent's 23% in the August primary.
Reach reporter Jake Goldstein-Street at news@dailyuw.com. Twitter: @GoldsteinStreet
Like what you're reading? Support high-quality student journalism by donating here.