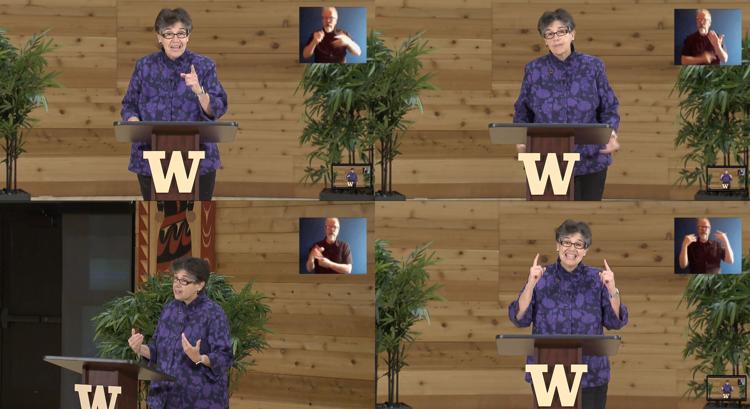 University President Ana Mari Cauce delivered her Annual Address Monday, discussing the challenges facing students due to the coronavirus pandemic as well as the university's role in supporting the ongoing social justice movement. 
UW is among the top public universities in the world, which Cauce highlighted in the address. These rankings, Cauce said, indicate the kind of talent at the UW and reflect the values and knowledge that the university has shared with the world.
"When I'm asked about my vision for the UW, my answer is always the same: to be the top public university in the world in terms of impact," Cauce said.
Touching on the impacts of the coronavirus pandemic, Cauce acknowledged the hard decisions that have had to be made, including a loss of jobs, furloughs, and the elimination of annual merits. 
"We promise to keep you updated and to involve you as much as possible as our choices and decisions continue to unfold," Cauce said. 
In addressing a question about winter quarter plans, Cauce said winter quarter will likely be very similar to fall quarter, with classes mainly online. More information will be available at the end of this week with the release of the time schedule. 
Marginalized communities are disproportionately affected by the pandemic, Cauce noted. Students and faculty who are in the BIPOC community may be struggling with increased stressors, and Cauce and the UW administration hope to mitigate these stressors through open dialogue and increased understanding.
Echoing the words of Dr. Ben Danielson, Cauce condemned the notion that beating the pandemic means returning to the status quo. 
"In this COVID era, disparities between hard-hit communities and those less affected, further fuels the divisiveness which has stymied us from forming and mounting a united battle against the virus," Cauce said. "In a very literal sense, inequity is killing us."
The university is making changes to increase diversity on campus, according to Cauce. One of these changes includes dropping the ACT or SAT testing requirement for freshman applicants, which is a barrier that disproportionately affects people of color. 
The administration also says it will be adding additional funding for Black student groups and laying out resources to recruit more Black faculty members, amid pressure from student groups. These hiring efforts will be led by Provost Mark Richards.
In addition to these measures, the administration is undertaking a review of the UW Police Department's role on campus, including scaling back the number of armed officers on campus by at least 20% by the end of 2020. Cauce announced plans for a town hall to engage in this discussion with campus community members further in the coming weeks.
"There is no vaccine for racism," Cauce said. "And we can't take a pill to undo a system that incarcerates Black people at five times the rate of white people."
Cauce said change and successful understanding come with the acknowledgment that even those with similar goals are fallible and learning. Giving one another grace through learning and understanding doesn't excuse racist acts, but allows the space to learn, she added. 
Cauce outlined UW's steps for COVID-19 prevention, including the Husky Coronavirus Testing Program. Students should enroll themselves in this program if they are planning on being on or around campus this quarter, she said.
Speaking to the outbreak on Greek Row, Cauce acknowledged the difficulty of dealing with this outbreak. As fraternity and sorority houses are independently owned outside of the university, disciplinary actions can only go so far. Currently, the university is working on education efforts, contact tracing, and isolation procedures.
"They do face a very difficult situation because they all live in a communal living situation, and at times I think the messages haven't been clear. For example, through quarantining together, they figure since they're all stuck together for two weeks, it's OK to party within the house. It's not," Cauce said.
You can view the full address here.
Reach reporter McKenna Zacher at news@dailyuw.com Twitter: @mckennazacher
Like what you're reading? Support high-quality student journalism by donating here.