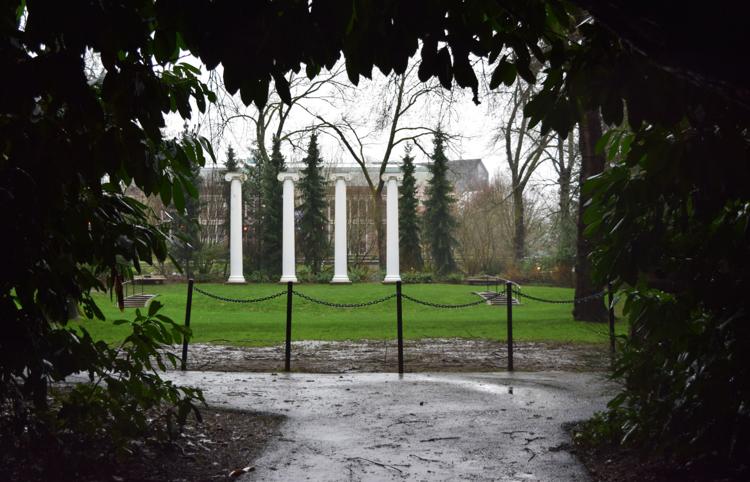 The UW is known for many things: cutting-edge research, cherry blossoms, allegedly the first use of the wave at a sporting event in recorded history, the undergraduate education of Ted Bundy, and apparently the largest number of transfer students in the United States in 2018.
When transfer student Matthew Charchenko first heard that statistic, he replied, "In or out?" without hesitation.
After a spate of crime on the Ave and 30 consecutive days of rain, the UW might not always seem like the most attractive place to study, yet 7,906 transfer students enrolled in classes here in fall 2018 — a figure larger than at any other school in the country. 
"UW has developed sort of a prestige as the school in Washington," Kion Rothschild, a transfer from Highline College, said. 
The UW consistently ranks among the best universities in the country, most recently ranking as the second-best public university domestically and number 10 worldwide, alongside both globally-renowned public and private universities.
Junior Rachael Fewkes, a transfer from Yakima Valley College found herself attracted to the UW because of its location. 
"I really like Seattle," Fewkes said. "I like rain." 
Fewkes also appreciates the unmatched accessibility of bubble tea, a delicacy not so readily available in her hometown in Eastern Washington. 
The UW's popularity among transfer students may also be attributed to sheer convenience. 
"It makes a lot of sense because I live in Ballard," junior Jules Wilson, a transfer from Shoreline College, said. "The commute is easy, and it makes the most sense financially." 
There are 34 community and technical colleges in Washington and more than half of those span from Tacoma to Everett. Community college students with the ambition of pursuing a bachelor's degree at a four-year university might be inclined to stay local and finish up remaining credits at the UW. 
In fact, 66.3% of UW transfer applicants in fall 2019 came from in-state community colleges. 
The Running Start program also contributes to the amount of students transferring to the UW. From 2011 to 2016, the number of high school students enrolled in Running Start in Washington grew by 30%.
Fewkes, for example, did Running Start her senior year of high school and then did another year at her local community college to get her associate degree.
Once the UW has attracted transfer students, the university has a few strategies to help them assimilate to the community. For one, the UW hosts Advising and Orientation for transfer students similar to that of an incoming freshman. The HUB, meanwhile, houses the Commuter and Transfer Commons as a communal space. 
The UW also offers a 2-credit T-FIG (Transfer First Interest Groups) designed to build community for new transfer students. 
"I'm introverted, so if I have one or two people, I'm like, 'I have a community,'" Fewkes said. "But there have been so many people who have reached out to me to join their clubs or come to their events."
Whether it be the prestige or the boba, the UW has won over more transfer students than any other college in the United States.
"Right now, I don't see myself as a transfer student, I see myself as integrated as a [four-year] student," Rothschild said. "Sometimes I forget I'm a transfer student all together."
Reach reporter Hannah Krieg at news@dailyuw.com. Twitter: @Hannah_krieg
Like what you're reading? Support high-quality student journalism by donating here.