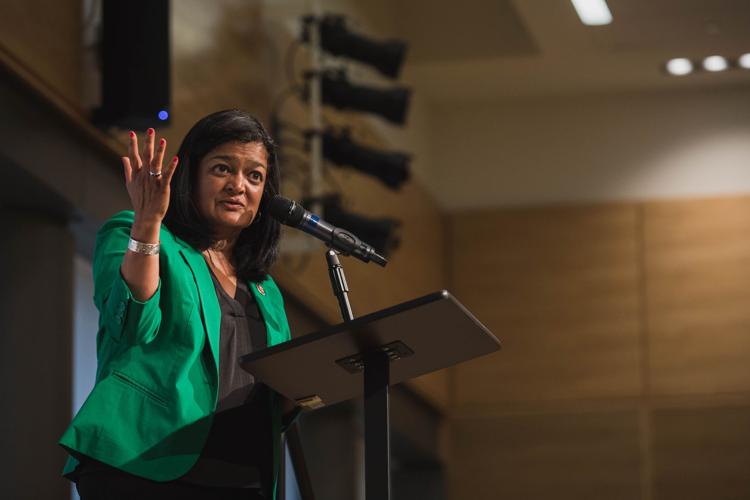 The impeachment of President Donald Trump was at the top of the minds of many attendees at the UW town hall Wednesday night for Rep. Pramila Jayapal of Washington, the same day special counsel Robert Mueller finished his tenure by saying, "If we had had confidence that the president clearly did not commit a crime, we would have said so."
"I have called for us to start an impeachment inquiry," Jayapal, who noted she has read the special counsel's two-volume report three times, said to loud applause in the HUB's south ballroom. "To me, this person that is in the White House has lied, has committed crimes, and should not be in the White House, but we need more information before that can happen."
Jayapal called on Mueller to testify before Congress despite him saying Wednesday that he was returning to private life and that his 9-minute remarks were his final words on the investigation into Russian interference into the 2016 presidential election.
Meanwhile, White House Press Secretary Sarah Sanders said the special counsel "has closed his office and it's time for everybody to move on," according to The New York Times.
Jayapal, a Democrat who was first elected in 2016 to represent Washington's 7th Congressional District, which includes the U-District, Capitol Hill, as well as Shoreline and Edmonds, has been an outspoken critic of the president since arriving in office, quickly showing herself to be one of the most progressive members of Congress and even becoming a mentor to newly elected liberals like Reps. Alexandria Ocasio-Cortez (D-NY) and Ilhan Omar (D-MN).
The 53-year-old Indian-born congresswoman pushed back on the idea held by some of her fellow Democrats, including those in leadership positions, that impeaching the president could have major political ramifications as Democrats fight to hold onto the House of Representatives and regain the Senate.
"People say, 'Aren't you worried about 2020?' and I say, 'Sure, but what I'm more worried about is our constitution and our democracy,'" Jayapal said.
Jayapal added later in the over 90-minute town hall that the Trump administration's family separation immigration policy is also an impeachable offense in her estimation.
One attendee asked about a pressing issue for both students and staff at the UW, but often lost in the national conversation: affordable housing. Jayapal responded that the government needs to do more to help people get into low-income housing.
"We have got to invest more in affordable housing, in rental vouchers for those who need it in order to really address it at the federal level," she said, mentioning that a lot of work can be done on this at the local level as well.
One graduate student in the UW School of Social Work asked how Jayapal keeps going in the face of a polarized political sphere and a plethora of crises, including homelessness and public education.
"Anytime I get depressed, which does happen from time to time, I think about some of those women, in particular women of color, immigrant women, undocumented women, refugees, asylees, people who had so much turmoil in their lives and yet came forward and advocated for themselves, for their communities," Jayapal responded.
"What do I have to complain about really?"
Reach reporter Jake Goldstein-Street at news@dailyuw.com. Twitter: @GoldsteinStreet
Like what you're reading? Support high-quality student journalism by donating here.