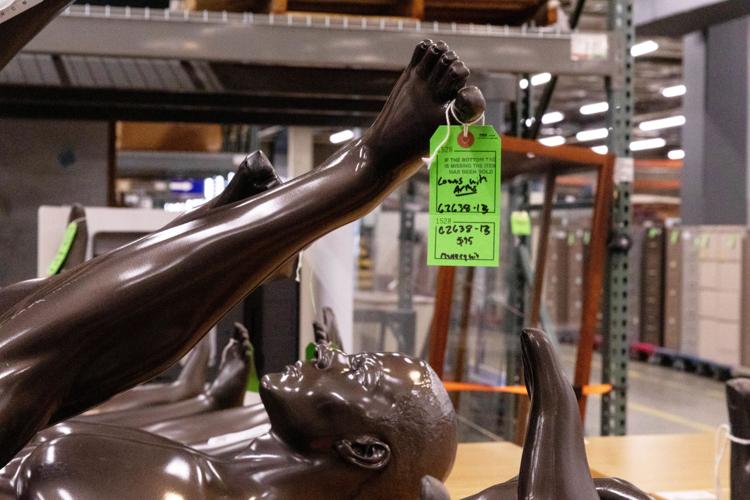 If you've ever seen the chairs in the Engineering Library and really wanted one for yourself, or if you've ever wanted to own a life-sized plastic mannequin from Nike or a decommissioned police cruiser, then there's a place for you. The UW Surplus Store is where furniture, supplies, clothing, and everything else under the sun are given by UW departments after they have outlived their use. 
"Anything that can be reused is reused," Suzanne LeMere, who works at the store's administration office, said.
The UW Surplus Store looks like IKEA's furniture aisles mixed with the packed shelves reminiscent of Goodwill. However, its contents are far different than any other used-item store you'll ever see. The Surplus Store only accepts items from UW departments and medical facilities, and because of that, there are always some truly unique items up for sale.
"We once received a clear acrylic casket from the UW Drama Department after they put on 'Sleeping Beauty,'" store supervisor Catherine Scheid said. "We also once got a swim cap that had an artificial horse head affixed to it."
Beyond the objectively strange items, linen-scented candles jostle for space among an unusual amount of Easter greeting cards in the party supplies section of the store. Bins of softball pants line the floor next to shelves crammed with obscure books, even by university standards. There are also seemingly endless boxes of quirky mugs, each for less than a dollar. The Surplus Store is probably the only place in the world you can pick up a mug that might have belonged to one of your professors. 
"There are things that people will obviously want to buy, and there's also the aspect of 'one man's trash is another man's treasure,'" Scheid said. "Why would you buy something new when you could buy something that already exists?"
For the sports enthusiasts, the UW Athletic Department's recent switch to Adidas means that there are entire racks full of Nike clothing, not to mention bins full of Nike mannequins — arms included. 
For students, there are always plenty of desks and desk chairs available for a fraction of the cost of new units.
"We at Surplus really want to serve the university community as a whole," Scheid said. "Seeing people come in and being so excited that they got something at such an affordable price without spending $200 on a desk — it's really good to be able to serve the community in that way." 
There are even computers, complete with instructions on how to set up a device that once belonged to the UW. For the extremely old-fashioned, you can browse the store's selection of vintage electronics, including bulky calculators and overhead projectors.
The Surplus Store is a large part of how the UW stays sustainable, as everything donated from UW departments to the store is either recycled or resold. 
"Part of being sustainable isn't just recycling, it's trying to repurpose things, because if everyone buys everything new, they'd be driving up the demand for new things to be produced, but it's really more sustainable to try and find something that's already been produced or used," LeMere said. 
Want to explore the place? The store is open to the public Tuesdays from 12 to 6 p.m., but there are also auctions on select Saturdays. You can also check out a small sample of what the store has to offer this week on the Surplus Store website. 
Editor's note: An earlier version of this article stated that items at the UW Surplus Store are donated. This is misleading. UW departments are required to give unwanted items to the store. This article has been updated to reflect this fact.
Reach writer Divya Rajasekhar at arts@dailyuw.com. Twitter: @divraj16
Like what you're reading? Support high-quality student journalism by donating here.