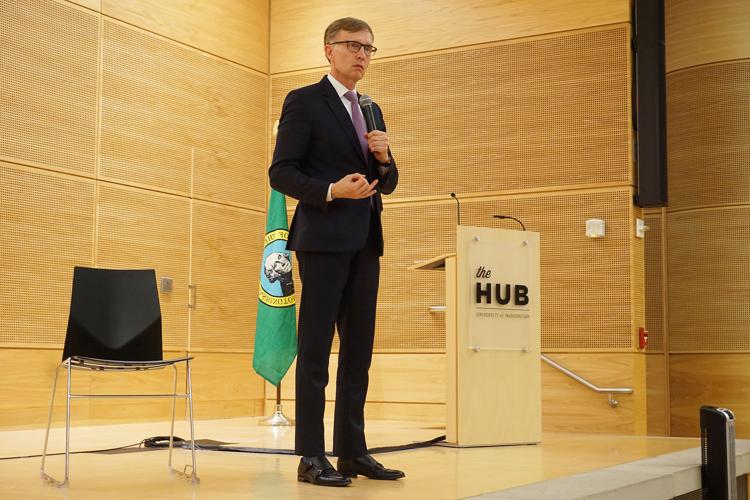 Huskies across the aisle tried finding common ground Tuesday at an event organized by ASUW and UW Impact. 
Red and Blue Makes Husky Purple brought together almost 50 students and a handful of alumni to the HUB Lyceum to "encourage civic engagement." Among the alumni were former Governor Christine Gregoire and former Attorney General Rob McKenna.
According to a flyer for the event from the UW Alumni Association, the event aimed to join people in thinking critically, not comfortably. 
Legislative Programming Coordinator Kalani Tissot said around 80 students RSVP'd. Students were asked to identify on a scale of one to 10 - one being very conservative and 10 being very liberal - how conservative or liberal they considered themselves to be.
The responses averaged to a 6.2, which Tissot said skewed slightly liberal due to the cultural location of the UW. 
The event kicked off with an ice breaker in which students were told not to disclose their political leanings. Seating had been previously arranged to create "diverse" tables.
The icebreaker was followed by an activity to find common ground. 
Alumni moderated the common ground questionnaire which explicitly instructed students to write down an answer everyone agreed with. 
The common ground questions were softball and even silly at times, but became more political. They included favorite food, best Washington landmark, and music preference, and then moved toward questions like favorite politician in-and-out of office. 
The evening featured Gregoire and Mckenna, who took the stage together to talk about what bipartisan politics looks like and what it can achieve. 
The two politicians elaborated on their own collaborations when they were in office. 
Gregoire, a Democrat, and McKenna, a Republican, both took turns taking jabs at the current politics in Washington D.C. while praising their own accomplishments during the Great Recession.
"We both believe in getting things done," McKenna said.
Together, the two passed 45 bills that received bipartisan support and were eventually signed by Gregoire. 
"You gotta find that common ground, those things that everybody cares about," he said. 
Their advice was put to the test during the final activity of the night which pushed students to work together to find a shared vision, goals, and priorities for prepared policy scenarios.
While students were told not to disclose their political leanings, some were inevitably identified as either Republican or Democrat. 
At the center of the Lyceum was newly elected president of the Young Democrats UW club, Anne Williamson, and recently re-elected president of the College Republicans club, Chevy Swanson, sitting side by side. 
Last year Swanson was at the center of local media attention after organizing an event in which conservative provocateur Milo Yiannopoulos was invited to UW.  The event led to a hotly-debated, free-speech controversy on campus.
The two, alongside three other students, carefully picked their words as they tried to find some common ground on a free speech scenario involving a teacher who tells students to go home and read the bible after stating their anti-gay opinion marriage equality. 
Swanson mostly stayed silent while Williamson took the lead in trying to get the group to agree on a "people are people" agenda that validates a mutual respect for each other's humanity. 
"There are limits to it that are very specific and limited in scope and usually have to do with very very direct benefits to society," Swanson said.
The table never came to a complete a consensus. 
But both Williamson and Swanson agreed the event went well.
Swanson said he felt there was too many activities in too short amount of time to actually reach a consensus and said he thought a future event with just the activities would be beneficial.
Williamson said this was the first time her and Chevy ever sat down together and had this kind of conversation.
"There's definitely moments of tension and moments of uncomfortableness, but I think it went really well," she said. "It was nice to see a working relationship is possible."  
Reach reporter Agatha Pacheco at news@dailyuw.com. Twitter: @AgathaPachecOH