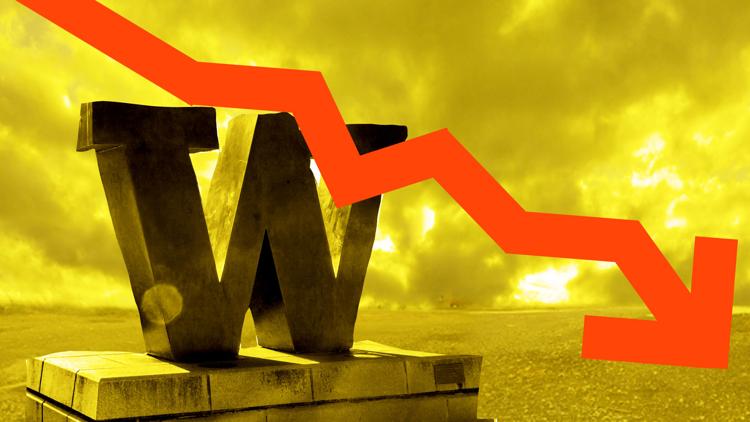 When the United States was brought to its knees by the Great Recession, students and young people were often hit hardest. Economic contraction disrupted schooling, shrunk opportunity, and significantly altered the life trajectory of graduates at that time.
The university's economic position was hit on multiple fronts. State funding was slashed by roughly $100 million in a single cycle. Over 1,000 staff and lecturers were laid off or had their contracts shortened, leaving many in a precarious position. Uncertainty in the economy led to donors closing their wallets, providing fewer and smaller private gifts and endowments to the university. Costs rose as the UW continued to admit more students each year, particularly out-of-state and international students as a method to increase tuition revenue. 
Most current students were too young to fully understand the effects of the Great Recession when it began in 2007. Many may hold now-distant memories of the uncertainty it created in their homes as it did in homes across the country. But the impacts of the Great Recession are not a thing of the past at the UW, as many schools, colleges, and campus entities are still reeling with the cuts experienced during the downturn.
As one 2011 opinion article in The Daily put it:
"Though we were resigned to the fact that the UW was probably going to lose a portion of the public funding that had helped make it one of the so-called 'Public Ivies,' I don't think very many people realized that Olympia would cut our funding as drastically as it did."
In addition to state budget cuts, there was uncertainty from donors who provide endowments to the university. To cope, the UW then handed out budget cuts individually to schools and colleges who were left to decide where to reduce their spending.
In 2009, the state's funding for the university was reduced by 27% — its steepest individual year cut in recent history. Over the next few years, it was further reduced by significant percentages each year until stabilizing in 2013.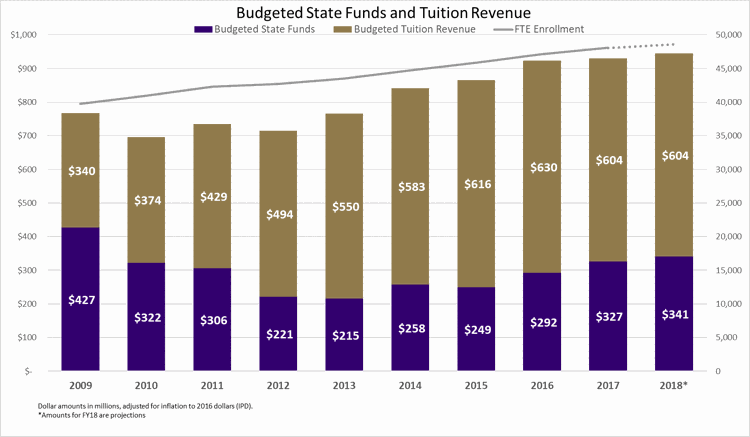 "Altogether, across those three or four years of cuts, this university's allocation was effectively cut in half," Bob Stacey, dean of the College of Arts & Sciences, said.
According to Stacey and Sarah Norris Hall, vice provost of the office of budget and planning, it was not until this year's 2019 biennial budget that state investment returned to its pre-recession level, "in terms of real dollars." However, increases in university enrollment, costs, and Seattle's cost of living mean that the $400 million allocation doesn't go as far as it used to.
The university's response had to be drastic. Each school and college at the UW had to implement — at a minimum — a 10% budget reduction.
"It is important to understand that the difficulties caused by the Great Recession were a result of not only the magnitude of the budget reductions, but also the rapidity of their onset," Azita Emami, executive dean of the School of Nursing, said.
These cuts manifested across campus in staffing layoffs, larger class sizes, supply cuts, reduced lab sections for classes, and decreases in programs offered. 
"When those resources are reduced, it often means that a planned four-year program can no longer be completed in four years," Emami said. "Allocated scholarship funds no longer stretch far enough. Personal plans are disrupted. Professional opportunities are delayed or lost."
Tenured faculty at the School of Nursing had to take on larger workloads as lecturer positions were decreased, manage with a decreased supply budget, and withstand federal funding cuts to research production.
Programs like the Disability Resources for Students (DRS) struggled. From 2012 to 2018, their budget stagnated despite the fact that the number of students seeking services over that time went up by 115% according to former DRS director Bree Callahan.
University-wide, over 1,000 classified and professional staff were cut according to Stacey and Norris Hall.
The College of Arts & Science and the School of Nursing, like many others across the university, were hit hard. Roughly 160 staff positions in 2009 were cut in the College of Arts & Sciences as they faced their own slashes in funding according to Stacey. 
Some schools at the UW weathered the recession better than others. The College of Engineering faced a roughly $600,000 cut, the size of their entire staff salary budget. They elected to institute fee-based programs in order to play offense on budgets and handle a simultaneous increase in the demand for engineering degrees. 
According to Vice Dean Greg Miller, the switch helped avoid mass downsizing. They also increased the number of master's programs available, as many grads were returning to school, anticipating a more competitive job market after the recession. 
At the time the state began providing extra funds to the College of Engineering to offset the additional costs it takes to give an engineering degree. Not all colleges at the university received this support.
Tuition costs overall soared in 2011 as the university saw its budget shrink. Rates went up 21% that year for in-state students and went up another 17% the following year.
To mitigate budget cuts, the UW drastically increased the admittance of out-of-state and international students, who pay a higher tuition rate.
Since the 2010-11 school year, the number of in-state students has decreased slightly while out-of-state student enrollment has increased 76% and international students 46%.
"It is absolutely a fact that if we did not have international and out-of-state students, we would have to have fewer resident students because we couldn't afford to teach them," Stacey said.
The impact that recessions have on graduates is steep and enduring. An April 2019 study by the Stanford Institute of Economic Policy Research found that people who graduated during a recession "had higher death rates when they reached middle age," driven in part by a "significantly higher risk of death from drug overdoses and other so-called 'deaths of despair' among those who left school during a downturn."
"Simply put, the bad luck of leaving school during hard times can lead to higher rates of early death and permanent differences in life circumstances," the study reads. Earnings are lower for those who leave school for work during a recession, and that they do not recover until about 10 years after graduation.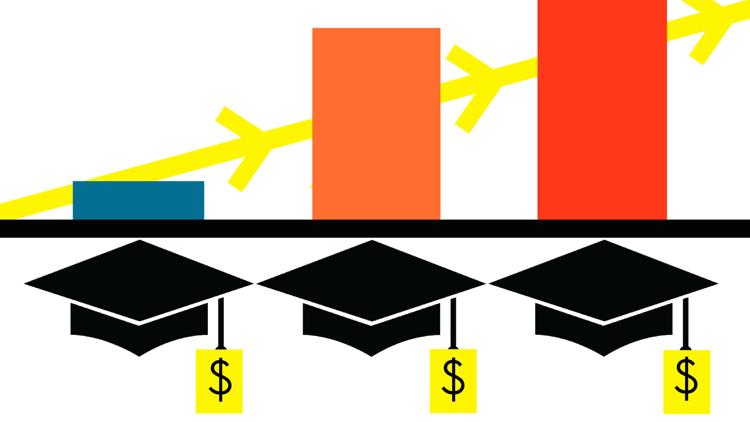 For students who graduated around the time of the recession, job opportunities were scarce as the economy continued to suffer. In 2007, according to the UW Office of Educational Assessment, the unemployment rate for UW graduates a year out of school was 6%. By 2009, this rate had nearly doubled to 11%. It took until 2015 for the unemployment rate to return to 2007 levels for students six months after graduation.
Individuals working within the UW were affected as well when administration took the controversial step of shortening faculty contracts, sometimes to a single year. Faculty on short-term contracts are allowed to be paid less.
Without the guarantee of being rehired when their contract was up, many faculty members and their families were stripped of their economic stability. Stacey spoke to this dynamic and the university's decision to ultimately move away from this practice.
"I think it's clear that we're going to need these folks year after year after year," Stacey said. "It was also just inhumane. People have families and they need more security than then a one year contract that might not be renewed."
The recession's budget cuts didn't merely affect research capability or departmental supply budgets, they created instability for faculty and students alike. 
Over the summer, national headlines were flooded with speculation that the United States is set to experience another recession when the U.S. Treasury's yield curve inverted.
This inverse has preceded each recession in modern history and was viewed as a warning sign to many.
Structural economic forces, along with Trump's trade war, are estimated to cumulatively reduce the level of global GDP by 0.8% by 2020 according to the International Monetary Fund. 
However, the fate of the U.S. economy is hard to predict. Earlier this month, economists from around the world attended a conference centered around the idea of economic uncertainty. 
"Talk of recession seems to have quieted down, but uncertainty remains very much a keyword in academic and policy discussions," Fabio Ghironi, a professor of economics at the UW, said. "In the climate this administration has created, it may not take a large economic shock to put a wobbly international economy back on the path to recession."
While Ghironi considers macroeconomic forecasting tools to be the best in predicting recessions, even they can fall short. He explained that crises may be inherently unpredictable.
The prospect of another recession does not seem to be on the minds of many students. 
At the Career Center, a dozen career coaches reported that students rarely bring up concerns about finding employment in a future recession. None of the 12 coaches reported it being brought up often.
It's difficult to think about a recession coming when students haven't heard much about it. The stress of finding a job after college seems high enough without the idea of a recession that may not even come during their transition from school to work. Many students were young children when the Great Recession hit and may only remember the recession as a parent losing a job or their grade school losing its art or music program. 
Even if another recession does not immediately come, or is not as strong as the Great Recession, the UW lost revenue in ways that it's still working to build back up today and some colleges have yet to make up the money they lost.
The reality that the university is still recovering in many areas raises concern over how equipped it is to weather a future downturn. This position explains why President Ana Mari Cauce identified this latest budget cycle as crucial for correcting course and securing increased investment — and in turn, securing the university's future.
The institution was starved of resources and limped out of the last recession. It emerged on unstable footing and though it stands stronger today, it remains recovering, vulnerable, and at the whim of an economy out of its control. 
Manisha Jha contributed to the editing of this story.
Reach reporters Grace Harmon and Elizabeth Turnbull and Development Editor Devon McBride at investigations@dailyuw.com. Twitter: @Grace_viv, @LizTurnbull5, @DevonM98
Like what you're reading? Support high-quality student journalism by donating here.