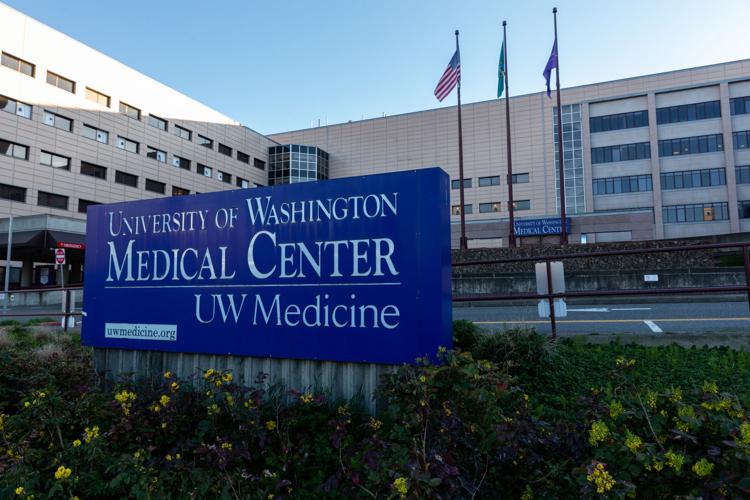 The lights are always on at Seven North. The psychiatric unit is open 24 hours a day with nurses, patients, and other staff filling the floor all hours of the night. 
On a normal day in May, Heather Vargas-Lyon, a nurse at UW Medical Center's (UWMC) voluntary inpatient psychiatric unit Seven North, would have gone in to work. She would have been buzzed in through the double doors, which would then lock behind her. 
She would make her way — as she always did — to the breakroom greeting patients she passed before heading to her morning report where she would get updates and announcements for the day. That week, in late May, was different. Her shifts had all been canceled. It was only when she called in that she learned the unit was no longer admitting any new patients. 
It was odd, but not out of the ordinary at the time, as the unit had been occasionally shutting down a few rooms at a time for construction. 
Over the course of the next week, patients were discharged in rapid succession. The charge nurses were instructed to suspend admissions but received little to no explanation why. Slowly, the unit emptied out until there was no one left. 
Furlough notices followed shortly after, and two weeks later, the staff at Seven North were told over a Zoom call that the unit would be shutting down permanently, effectively laying off at least 30 members of the staff.
The unit had already been temporarily closed for a few weeks following furloughs, but was slated to reopen July 30.
"She said — in so many words — that it was all about the money," Chelsea Knight, a per diem nurse, said, referring to her boss. "They had to reallocate resources and move the beds that Seven North was serving over to Northwest Hospital."
Citing financial constraints from responding to the COVID-19 pandemic, which have resulted in losses upward of $500 million for the hospital, and the high cost of maintaining this unit, UW Medicine announced on June 15 its intention to close Seven North.
"Small services like this have high overhead costs and are very expensive to operate," UW Medicine spokesperson Susan Gregg wrote in a press release. "The unit consistently loses an average of $1.4 million each year."
This reasoning, nurses argued, was not good enough. The unit currently operates at a capacity of 10 beds but was preparing to scale up to 14 beds by early July. Anne Powers, a nurse at Seven North, said this would have made the unit at least break even, if not profitable. 
Seven North is known for mainly serving UW students and UWMC works closely with Hall Health to refer students who are suicidal or in crisis to the unit. 
Vargas-Lyons and the other nurses noted that they had struggled to get an answer from hospital management as to why they weren't admitting patients. While they had guesses as to what was to come, it wasn't until the final call June 10 that they got any confirmation. 
"You think that they would've wanted to keep us in the loop, if they want to save the unit," Ashley Pettit, a charge nurse, said. 
The nurses were told not to contact their manager, and any phone calls made to supervisors were unproductive — they were met with vague answers or none at all. 
"I had to turn down calls from emergency room social workers of people wanting to place patients," Caitlin Sellhorn, a charge nurse, said. "I had to tell them, 'We're not admitting. I don't know why.'"
This is not the first time UW Medicine has attempted to close this unit. In 2018, it made a similar move to shut down Seven North, citing costly renovations that the unit would need to be in compliance with ligature risk recommendations. This meant upgrading furniture to eliminate anything that could be used for hanging or strangulation.
UWMC eventually decided to suspend the closure of the unit until a new 150-bed psychiatric teaching hospital — which hasn't broken ground yet — was opened. Planning meetings began for the new hospital, and in the meantime, renovations were started at Seven North. 
"While ideally this transition could happen once the new Behavioral Health Teaching Hospital is built on the UWMC-Northwest campus, the financial situation at UW Medicine requires earlier closure," Gregg wrote. 
Washington state currently ranks 48th in the country in terms of access to psychiatric care while also reporting one of the highest rates of mental illness, according to a report by Mental Health America.
Seven North is also the only inpatient psychiatric hospital in Washington state that provides mental health care for high-risk pregnant patients. Obstetrician-gynecologists work with the physicians at Seven North to provide both physical and mental health care to these patients.
"The consequence of eliminating 14 beds is that we will see an increased number of psych patients boarding in emergency rooms," Vargas-Lyons said. 
Vargas-Lyons said high-risk pregnant patients, for example, would now likely be held on the obstetrics floors of the hospitals, likely in restraints, since they would be unable to receive the specialized care that Seven North offers. 
"UW Medical Center will continue to provide psychiatric health services to UW students through its Montlake Emergency Department and, if hospitalization is necessary, patients will be admitted to the Northwest campus inpatient psychiatry unit," Gregg wrote. "Obstetric patients will continue to be served on the Montlake campus through the psychiatric consult service."
UWMC's Northwest campus has another inpatient psychiatric unit with 27 beds that serves geriatric patients. Seven of these beds will be repurposed to accommodate adult voluntary psychiatric patients, according to Powers.
This, however, will result in seven beds being taken away from the geropsych unit. Powers, who also works as an emergency room nurse, says there is a huge shortage of geropsych beds, and it can often take a patient weeks to get into a geropsych unit.
"Traditionally we have had some of the lowest ratios of inpatient beds versus the need of any state in the country," Jeremiah Bainbridge, a spokesperson for National Alliance on Mental Illness (NAMI) Seattle, said. "We have been taking steps to make improvements, but we are not there yet. So closing this 14-bed facility at this time is very concerning to us."
The closure of the unit, following on the heels of major furloughs, resulted in most of the staff at Seven North either being laid off at the end of their furlough or transferred. The transfer process is proving more challenging for some nurses who work in psychiatric care, as they would have to undergo further training to switch. 
In the days after the closure announcement, some nurses were caught up in an odd couple of days: their furloughs had yet to go into effect, but the unit was closed. 
Still technically employed, Pettit went in one day after the unit had closed. She was the only one on the schedule. The constantly lit unit that she was so used to walking into felt different — it was being used as storage — there were some extra beds in the unit and the floor was silent. 
She spent the day alone, catching up on some training before heading home at the end of her shift, turning the lights off on her way out. 
Reach General Sections Editor Ash Shah at news@dailyuw.com. Twitter: @itsashshah
Like what you're reading? Support high-quality student journalism by donating here.