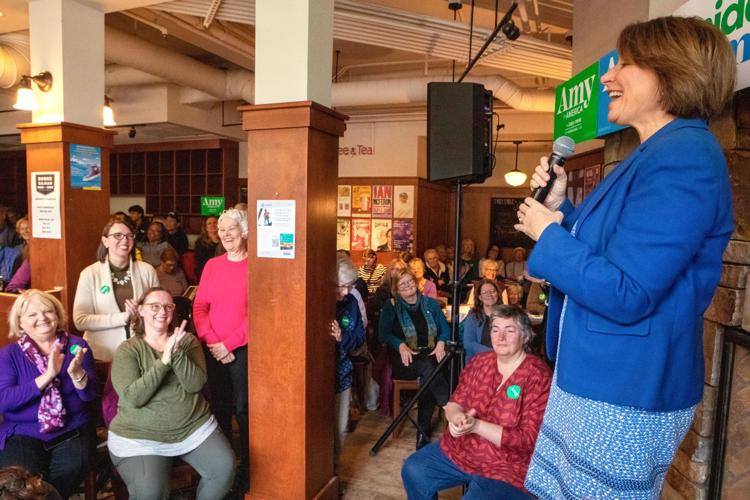 "All the way with Amy K."
That was the Lyndon B. Johnson copycat slogan Minnesota Sen. Amy Klobuchar says she used to win her first election in elementary school. 
Klobuchar is quick to point out she's never lost an election, beginning her winning streak as a kid. But the presidential candidate is not seeing the same level of success at the national level, as her campaign remains a long shot for the Democratic nomination with poll numbers in the low single digits.
Nevertheless, she came to the U-District Monday morning for what she said was possibly the earliest event of her campaign. At Zoka Coffee, Klobuchar was met with a packed crowd, all waiting to hear her message of unity, rising above partisanship, and harsh words for President Donald Trump. 
"We need to just change the tone of our politics," Klobuchar said during her speech standing on the hearth in the cafe. "I know my colleagues have made a lot of promises, I'll make you one and that is that I will govern with integrity, that you will never turn the volume down, and that I am someone that you can trust and I will tell you things straight and be honest with you."
Klobuchar, who has served in the U.S. Senate since 2007, often brings up what may have been the biggest moment of her campaign: her February announcement in a blizzard on the Mississippi River, using it to symbolize her toughness and campaign message.
"I picked that place because it is time to cross the river of our divides to get to a higher place in our politics," Klobuchar said.
She also tore into the president, who is now the subject of an impeachment inquiry in the House of Representatives. The former prosecutor both expressed the seriousness of his alleged impropriety and mocked the way he legislates.
"When asked by a reporter about the invasion of our election, he turned to Vladimir Putin and he made a joke," Klobuchar said. "Hundreds of thousands of men and women have lost their lives on battlefields standing up for democracy."
A few moments later, Klobuchar, known for her humor, joked: "What's the difference between Greenland and Donald Trump? Greenland is not for sale."
Unlike her more liberal counterparts, Klobuchar has said previously that she does not support free four-year college for all. She instead supports allowing borrowers to refinance their student loans at lower rates, loan forgiveness for popular occupations, expanded Pell grants, and free tuition for community college and technical certifications.
Talking to reporters after the event, she thanked students — which she called the "generation that cares most about the world around them" — for turning out in the 2018 midterm elections, an occurrence she chalked up to their concentrated focus on climate change, gun control, and student loan reform. 
"I figure if millionaires can refinance their yachts, students should be able to refinance their student loans," Klobuchar said."This is their moment, this is their time."
After the speech, Sebastian Doll, a North Seattle College student thinking about transferring to the UW, said that, while he likes candidates Elizabeth Warren and Kamala Harris and supports Medicare for All, Klobuchar seemed more pragmatic.
"She seemed like she can get things done," Doll said.
Shawn Min, a political science major at the UW, came to the event not considering himself a Klobuchar supporter, but after listening to her, she moved into his top three: "She seems honest."
Klobuchar is the latest presidential candidate to visit Seattle, a city with renewed importance after the state Legislature passed a new law moving its primary up by more than two months from late May to March 10 in hopes of making the Evergreen State's election more meaningful. The state Democratic Party also voted to ditch its usual caucuses in favor of a primary with mail-in ballots.
Massachusetts Sen. Elizabeth Warren held one of the biggest rallies of the campaign at Seattle Center in August and entrepreneur Andrew Yang hosted an event at Gasworks Park in May. Former Vice President Joe Biden and South Bend, Indiana, Mayor Pete Buttigieg attended fundraisers over the summer.
California Sen. Kamala Harris took part in a gun safety roundtable on Friday and the former vice president's wife, Dr. Jill Biden, was in town for a couple of fundraisers over the weekend.
Reach reporter Jake Goldstein-Street at news@dailyuw.com. Twitter: @GoldsteinStreet
Like what you're reading? Support high-quality student journalism by donating here.