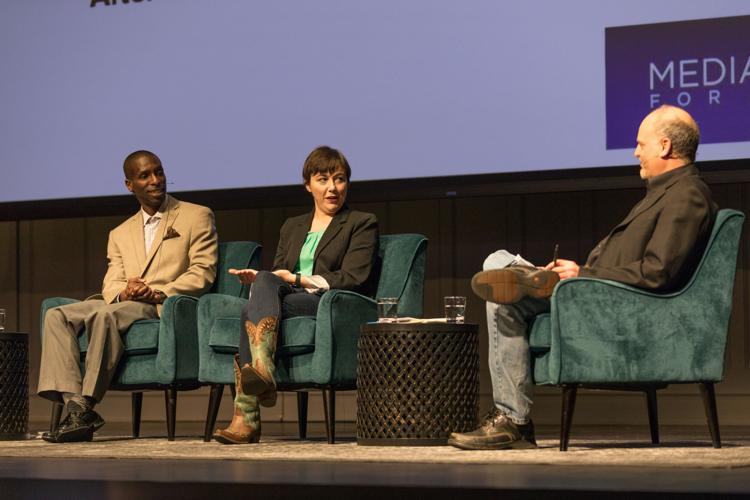 Editor's Note: This reporter has written for both The Seattle Times and The South Seattle Emerald. 
Americans' trust in mass media is at 41%, down from around 70% in the mid-1970s, according to Gallup. Between 2008 and 2018, according to Pew Research Center, newsroom employment declined by a quarter, driven by job losses at newspapers. This year alone has seen more than 7,200 people laid off in the media industry so far.
This is the state of the journalism industry Americans live in. Seattleites have seen it locally with the decline of the once-daily newspaper, Seattle Post-Intelligencer, the move to online-only for the Seattle Weekly, and the shuttering of Northwest Cable News in 2017. 
Just Monday, Oct. 7, the owner of Seattle Magazine filed for bankruptcy.
This was the context for Oct. 8's panel entitled "Democracy in Decline" at Town Hall. Prominent local reporters Erica C. Barnett, an independent journalist, Marcus Harrison Green, founder of the Seattle Emerald, and a prominent national media researcher, Matthew Gertz of the progressive watchdog Media Matters for America, discussed the ongoing death of local journalism and what a successful future could look like.
"We at Media Matters also realize that while journalists sometimes fail their mission, their mission is critically important to our democracy and it is very much in danger," Gertz said. "The cost of every shuttered newspaper is a less informed public."
Gertz argued that, especially after the Great Recession more than a decade ago, the industry saw revenues decrease first from subscribers and then from advertisers, leading to newsroom layoffs, which in turn hurt the quality of journalism. This then led many remaining consumers to cancel their subscriptions, creating a vicious cycle until the publication ceases to exist or is desperate enough to sell to an outside firm just looking for profit.
Even the remaining media stalwarts in Seattle aren't out of the woods. KOMO 4 and its owner, the conservative and centralized Sinclair Broadcast Group, which owns 193 local television outlets across the country, has come under much criticism for right-wing content on its news station. This was most evident after KOMO 4's airing of the "Seattle Is Dying" documentary that was criticized for dehumanizing locals experiencing homelessness.
"It got wrapped into a broader conservative sort-of narrative that they were spinning out about how Democratic cities are ungoverned and ungovernable," Gertz said, explaining how the local segment made waves across the country, including on Fox News.
Civic Ventures, which hosted Monday's event, has gathered more than 42,000 signatures on a "Switch off Sinclair" petition, according to the organization.
Even the locally-owned and relatively prosperous paper The Seattle Times has had numerous issues of its own, according to Green, who recently left the publication. 
During his time covering South King County for The Times, Green says he witnessed The Times struggle with giving equitable coverage to poorer and more marginalized communities that don't make up the bulk of its subscriber base. 
As bad as coverage is getting in these communities, "it's gonna get that much worse in these poor to median income areas," Green said. "You're going to always prioritize areas and zip codes that you've always prioritized."
Barnett, meanwhile, was lifted up as an example of a longtime political reporter shifting the journalistic formula. The one-time writer for The Stranger who reported extensively in Texas, founded her news website, The C is for Crank, in 2015. She says she now earns more than she ever did working in a newsroom.
Barnett argues that the revenue system for journalism needs to be shifted away from dead-end advertising towards crowdfunding, like her site that focuses on Seattle City Hall.
That being said, she noted, "I think we're still basically screwed."
Green sounded a similar note: "We are dying, literally a lot of times, and we need something drastic and transformative to happen."
Reach reporter Jake Goldstein-Street at news@dailyuw.com. Twitter: @GoldsteinStreet
Like what you're reading? Support high-quality student journalism by donating here.