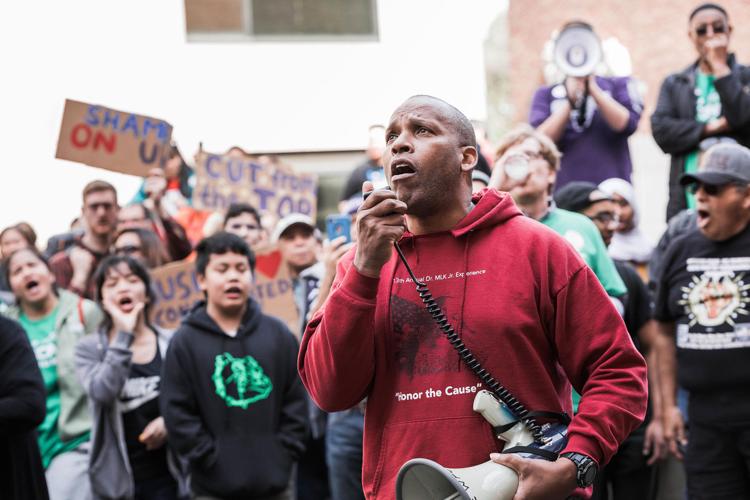 UW Medicine has decided to shutter its Mount Baker laundry facility responsible for cleaning linens for the school's hospitals, possibly putting approximately 100 unionized employees out of work in March.
Workers at the 30-year-old facility, 94 percent of which are people of color and 89 percent of which are immigrants, were notified of the decision in person on November 2, according to Tina Mankowski, a spokesperson for UW Medicine.
"I feel like the UW and President Cauce have been lying to us this whole time," Mustafa Getahun, who has worked at the university for 21 years, said in a press release provided by the employees' union.
The employees, who make between $15 and $18 per hour, will receive a $4 per hour bump until the laundry closes and may be able to find other jobs at the university, such as at Harborview Medical Center or the UW Medical Center, but will receive no severance pay.
Workers at the Consolidated Laundry facility have been meeting with human resource representatives regarding finding other positions within the university, as well as with interpreters provided by UW Medicine for assistance with resumes and job applications, according to Mankowski.
"UW Medicine and the University of Washington are committed to working with every employee who is interested in another position with UW," Mankowski said.
The laundry work will be contracted out to Hospital Central Services Association (HCSA) in Auburn, which Mankowski says will save UW Medicine $3 million per year in operating costs annually and avoids capital investment from the state.
"These savings will help UW Medicine continue to provide high quality healthcare services to all regardless of ability to pay," Mankowski said.
HCSA provides services for several sizeable local hospitals, but workers there are not represented by a union, unlike the Mount Baker employees, who are represented by the Washington Federation of State Employees AFSCME Council 28.
Mankowski says that the motivation behind the decision was financial given recent woes suffered by the university, including last year's $75 million operating deficit for UW Medicine  and over $1 billion in deferred maintenance.
The union takes issue with the financial reasoning behind this decision because, according to Rod Palmquist, the union's higher education strategic coordinator, the operating deficits of the laundry are just a fraction of UW Medicine's budget shortfalls.
"The entire annual budget of the UW Laundry –– over $12.6 million –– is less than the pay of UW Medicine's top 40 highest paid administrators, whose average salaries exceed $330,000 per year," Palmquist asserted. "By contrast, the average salary of UW Laundry workers is $36,120 per year, equivalent to approximately $17 per hour."
Palmquist cites a report from Tom Mara, who advised UW Medicine in 1984 on the construction of the Mount Baker laundry location, that says, if kept open, strategic investments into the facility would create operating efficiencies that could allow UW Medicine to pay cleaning rates below the bid of HCSA.
Mankowski said Wednesday that "we are currently negotiating a contract with the HSCA and are within days" of signing the contract.
This decision comes amid nearly a year of protests and negotiations. April 9, the office of the CEO of UW Medicine was occupied by a student-led protest and a March protest that included dozens of the laundry's workers made its way to UW President Ana Mari Cauce's office.
After those protests, the university held two formal meetings, but little progress was made, according to Palmquist.
Meanwhile, the board of regents has committed to a condition from the Seattle City Council to build an additional 450 units of affordable housing over the next 10 years as a part of its campus master plan, which sees the university developing six million new square feet. The university has been in talks to expand the area where the units can be built to include spaces farther away from campus that are near well-travelled transportation routes.
Mount Baker laundry at 2901 27th Ave S, next to the local light rail station, fits the bill.
"The property is in a special location and just 20 minutes from campus via light rail. We look forward to working with the surrounding community, government partners and others on future use of the property," Sally Clark, who currently works as director of regional and community relations at the UW after serving on the Seattle City Council for nine years, said. "Without a doubt, affordable housing will be part of that future."
Seattle City Councilmember Kshama Sawant, a vociferous advocate of social housing, urged the UW administration to meet with her to discuss options to build affordable housing units without forcing 100 workers out of their jobs. She thinks this decision is "gratuitous."
"They're going to impoverish a hundred struggling families, and then they're going to build affordable housing," Sawant, who believes workers should be fighting privatization, said in an interview with The Daily. "It's like robbing Peter to pay Paul."
Reach reporter Jake Goldstein-Street at news@dailyuw.com. Twitter: @GoldsteinStreet
Like what you're reading? Support high-quality student journalism by donating here.