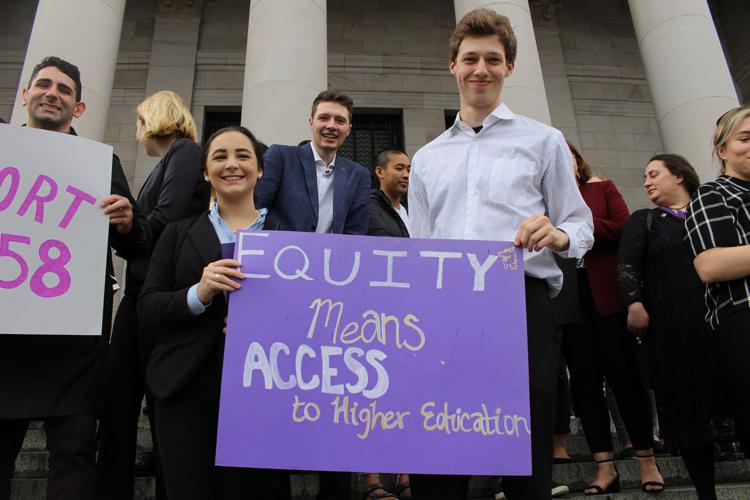 Nearly 60 UW students bussed down to Olympia on Monday for the annual "Huskies on the Hill" lobbying event. Passionate students from both the Seattle and Tacoma campuses spent the day meeting with their representatives and pushing ASUW's legislative agenda of state bills that could directly impact students and the university.
Stakes were high for student lobbyists, as the state legislature is currently in the process of finalizing and voting on the biennial budget.
"Budget years are generally seen as more important because you can affect a lot of change," ASUW President Ritika Jain said. "You can actually disperse money to make things happen."
Legislation at the forefront of student lobbying was HB 2158, a bill that would fully fund the State Need Grant, which covers tuition and fees for individuals at or below 70% of the median family income.
In 2018, about 90,000 students were eligible for the need-based grant. However, consistent underfunding of the program has resulted in a quarter of these students (around 22,000) being unfairly denied their financial aid and, in turn, their opportunity for higher education.
"The state is failing them," third-year student Kelty Pierce said during a meeting with her 25th district representative Hans Zeiger.
Pierce maintained that her and Zeiger's hometown of Puyallup is full of young people who deserve the opportunity to get a college education without the fear of being stripped of their funding partially through their degree.
Alongside Pierce was UW freshman Eddy Castillo, who is himself a recipient of the State Need Grant.
"Without the State Need Grant, I probably wouldn't be at school," Castillo told Rep. Zeiger. "With more funding I wouldn't have to be scared of having to take out more loans."
Although many lawmakers supported HB 2158, some expressed reservations regarding the bill's logistics. UW junior Nicola Kalderash met with Sen. Curtis King, who questioned where the funding would come from and hesitated in supporting the bill's classification of eligible students' rights to financial aid as "entitlements."
Kalderash was one of many veteran lobbyists present on Monday, but "Huskies on the Hill" drew in students of all experience levels, providing them with training on how to effectively lobby their legislators.
ASUW's Legislative Programming Coordinator Abby Talkington, who helped organize the event, facilitated a training session for participants prior to the Olympia trip. Student lobbyists were given an overview of how the state legislature works to pass bills, as well as best practices in lobbying during short 5-10 minute meetings.
"I think the ASUW and the [Office of Governmental Relations] did a really great job of training people and giving them the materials they need to be comfortable," Pierce said. "This is a really safe place to make your first start at lobbying."
Other education-related legislation students lobbied for included SB 5023, a bill that would expand ethnic studies programs in public schools for grades 7-12.
Alex Zhu, who studies comparative history of ideas (CHID), lobbied for the first time on Monday and urged his representatives to support the bill. Zhu said his CHID classes inspired him to push for SB 5023.
"Reading things that are by people that look like me or are by other brown people gives me context I haven't had in the past," Zhu said. "I would hope that people in the future during the formative times of grades 7-12 would get the opportunity to also have that sort of thing earlier on: reading things that are not hostile to their existence."
During many of Monday's meetings, students also discussed SB 5324, a bill that would assist homeless students and their families in securing stable housing.
Although many "Huskies on the Hill" participants felt empowered to speak with their legislators, some student lobbyists left disillusioned by the bureaucracy of state politics. UW senior Angelia Miranda said that after years of lobbying in Olympia, she's starting to question whether she can actually influence a legislature that's overwhelmingly white.
"It's about presenting the right way and wearing the right stuff," Miranda said. "Sometimes I wish I could forget that I'm just a small Asian woman and act as if I'm going to be treated the same as everybody else, but I can't. And it's sometimes hard to come to terms with that."
Kalderash also ended the day frustrated after several legislators were unable to make time for their scheduled meetings.
"It was just really hard to meet with people because everybody is in red alert mode as we get to finalizing all the bills," Kalderash said.
"Huskies on the Hill," was originally scheduled for Feb. 11, but snow days pushed the event until later in the legislative session.
Despite their experiences, both Miranda and Kalderash intend on returning to Olympia to continue lobbying for issues they're passionate about.
"My ultimate goal is that students grow up and run for office themselves," Kalderash said. "If they get exposed to what lobbying is here, then they could get exposed to the idea that they could potentially have this office one day. That's inspiring — that's why I come and do this."
Reach reporter Claudia Yaw at news@dailyuw.com. Twitter: @yawclaudia
Like what you're reading? Support high-quality student journalism by donating here.