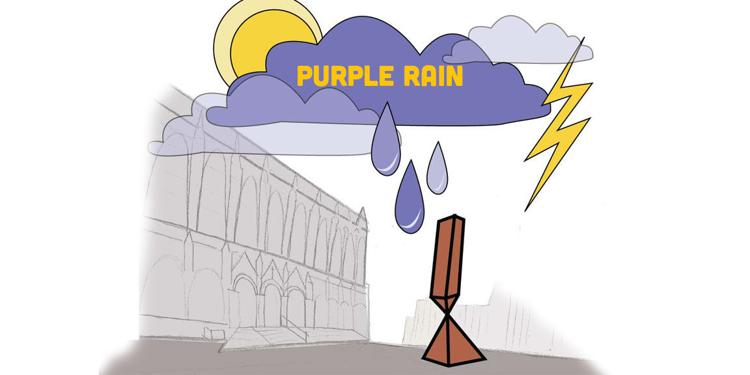 Editor's note: Purple Rain is a column that explores relevant weather and climate topics in the Seattle region, highlighting research conducted by UW faculty.
On a normal September day, Mount Rainier would be the perfect backdrop for a back-to-school stroll through campus. But this summer, things were different.
The mountain wasn't visible, the air was thick with smoke, and millions of acres were burning around the country. In a year filled with uncertainty, there is one thing for certain: summers like these are about to become a lot more common.
A record-breaking heat wave and unusually strong winds created critical fire conditions throughout much of Washington state in early September. Officials issued early warnings and burn bans in regard to the extreme weather conditions setting up during Labor Day weekend.
Yet the results were just as bad, or perhaps worse, than anticipated.
A fast-moving fire burned 80% of Malden, a town in Eastern Washington; a rare urban fire sparked west of the Cascades, closing parts of state Route 410 near Sumner; and more than 485,000 acres have burned in Washington this year alone.
An extreme year, certainly, but not surprising considering current climate trends.
The two biggest fire seasons in the United States since 1983 both occurred within the past five years, as over 10 million acres burned in both 2015 and 2017. This coincides with the five hottest years in earth's recorded history, which have all occurred since 2015.
Warmer temperatures lead to more evaporation from the ground and vegetation, meaning that as temperatures continue to rise with climate change, wildfires are also expected to become more common.
"A factor that is well understood is evaporative drying that is going to happen with a warming climate," Greg Hakim, professor of atmospheric sciences, said. "The stress on the vegetation that is going to come from increased evaporation during the summer months is going to increase the fuel load for these fires."
Perhaps this summer provided a glimpse into the future. In California, this year's wildfires have burned over 4 million acres, more than doubling the previous record.
Although less certain than the direct warming that will occur from increased greenhouse gas emissions, a rise in wind events along the west coast is a possible effect from climate change. These frequent wind events would also lead to more frequent critical fire conditions.
Regardless, the warming itself makes a big difference, and the impacts are noticeable.
"You still have to have severe fire weather conditions, but climate [change] really just kind of tips the scale," Crystal Raymond of the Climate Impacts Group said. "It makes it more likely that we do get fires when we do have those severe fire weather conditions."
Raymond, who is a climate adaptation specialist, helps connect local and state health departments to scientific resources to help make decisions around climate events.
This summer, Raymond coordinated with local health departments to set up clean air shelters for relief during the smoky skies of September and worked along with the state health department to create a smoke blog for messaging between the Clean Air Board, local officials, and the public.
"Working with people to have the latest information of how climate change might affect the risk of fire throughout the state, and then people can start to put things in place within their community," Raymond said. 
Some other projects of the Climate Impacts Group include long-term planning with governments, decision-relevant science studies, and outreach programs to share research and adaptation strategies.
While climate change is being combated in some spheres, its effects are ongoing and are only getting worse. With the help of organizations such as the Climate Impacts Group, people will be better prepared for future disasters. As Raymond points out, adaptation efforts will be crucial in getting ahead of the devastating impacts of a warming world.
"Even if we could stop all greenhouse gas emissions now, we would still have warming in the atmosphere," Raymond said. "There is some committed warming at this point, and there are impacts associated with that — and we have to prepare for those impacts."
Reach reporter Anthony Edwards at news@dailyuw.com. Twitter: @edwardsanthonyb
Like what you're reading? Support high-quality student journalism by donating here.