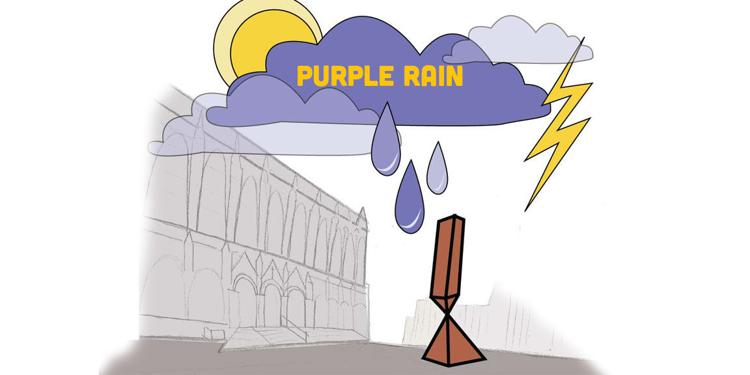 Editor's note: Purple Rain is a column that explores relevant weather and climate topics in the Seattle region, highlighting research conducted by UW faculty.
When the COVID-19 pandemic majorly hit the United States in March, its direct impacts were limitless. As the pandemic wore on, not only was social life interrupted, but a list of resultant effects on the scientific community began to pile up.
One of the biggest headlines initially was the noticeable decrease in global transportation, leading to a reduction in pollutants and greenhouse gasses. Air travel declined by nearly 75% and vehicular traffic was down by nearly the same mark.
While the reduced greenhouse gas emissions temporarily halted global warming, a lack of data from airplanes put weather forecasters in a tough spot.
One of the most useful weather forecasting tools comes from aircraft observations, NOAA senior associate scientist Eric James explained. The High-Resolution Rapid Refresh model from James' team at NOAA updates every hour based on the latest aircraft data and is extremely useful for weather forecasters.
"These aircraft observations, the reason they're so valuable, is that they're everywhere all of the time; we have tons of data every hour," he said. "Both on-route aircrafts that are cruising at 30,000 feet and also planes that are taking off and landing at airports, so we initialize model runs every hour to take advantage of the latest observations."
James was intrigued by the decline in air travel and decided to apply his curiosity to simulations. Excluding 80% of aircraft observations to weather models led to a 30-60% degradation of forecast accuracy, he found.
For forecasters in the middle of the country, aircraft data is useful, but it's not quite as important to forecasters in Kansas as to those in Washington state. Weather balloons, a similar tool, are launched over the continental United States and give data for the entire atmosphere. On the West Coast, forecasting is a much greater challenge due to the lack of observations over the oceans, as atmospheric sciences doctoral student Robert Conrick explained.
"We have some buoys offshore and there's ships that have observations, but all of that stuff is right at the surface and doesn't really give you an idea of the jet stream or anything higher than a few meters off the surface," Conrick said.
Without the same data as the rest of the country, forecasters on the West Coast are presented with a much more challenging job. Remote satellite data can help forecasters, but even this has its limits.
The challenge with satellite data is that weather systems over the ocean often don't develop until only a day or two before making landfall, leaving very little room for warning. Because of this, forecasters in Seattle are particularly cautious of issuing weather predictions more than a few days ahead of time.
"The models can say that there's a storm that might develop in a few days, but until that storm appears in the observations, it's sort of in fantasy land," Conrick said. "Last Tuesday, we had a storm that developed, but it didn't quite do what was advertised for it to do."
The main reason the storm didn't live up to expectation — a lack of aircraft observations.
These observations are extremely important to weather forecasters, models, and climate data. With air travel interrupted for the near future, forecast skill is just one of the big impacts. 
"Around here, models have such a huge role," Conrick said. "You're not going to find a forecaster that makes a forecast without consulting some sort of weather model."
Reach columnist Anthony Edwards at news@dailyuw.com. Twitter: @edwardsanthonyb
Like what you're reading? Support high-quality student journalism by donating here.