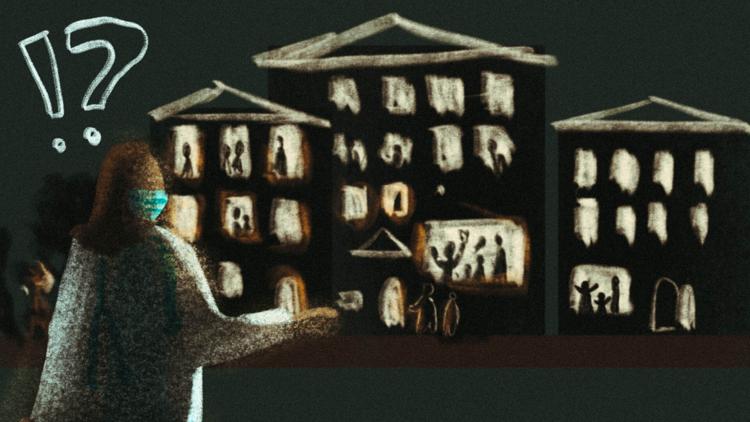 When I heard that the UW had reposted a KUOW article on Twitter sympathizing with a member of the Greek Community with COVID-19 — which has since been deleted upon student backlash — I almost felt sick myself. 
Most students can agree that partying or breaking social distancing rules of any kind during a pandemic is both unethical and foolish. In fact, according to UW freshman Juliana Bologna, members of the Greek Community are aware that partying is a huge problem and are actively social distancing from Greek Row. Bologna's sorority is refraining from living together this quarter in light of the pandemic.
"My house has been very careful about it, to the point where a very small gathering [led to us] going into quarantine out of precaution when one girl tested positive out of our entire house," Bologna said.
The irresponsibility of the parties occurring on Greek Row — and any others taking place within the UW community — goes without saying. These parties endanger everyone living on campus, and risk people needing to be sent home and contracting the virus, with the possibility of bringing it back to vulnerable loved ones when they do.
There has been no confirmation that the student mentioned in the article was exposed to the coronavirus while at a party, but based on Greek Row's track record of both parties and COVID cases, there is a chance this is how the student contracted the virus: either a party they attended or coming into contact with someone who did.
So what could possibly be worse than hosting and attending parties during a global pandemic? UW authority figures in charge of encouraging and enforcing social distancing actively sympathizing with students first, and resorting to disciplinary actions for their behavior last. 
The UW's flippant response on Twitter to a situation in which students should have been held accountable was problematic for several reasons. Since the administration has failed to force members of the Greek Community to take responsibility for their own actions, these students have more wiggle-room to continue acting recklessly. Precedent says that if they end up getting COVID, the UW will essentially throw them a pity party on Twitter. 
Moreover, by reposting the article, the UW endorsed its narrative that members of the Greek Community are defenseless victims of the pandemic. With so many parties happening on Greek Row, the last thing the community needed was for the UW to play "good cop" and coddle students when their parties have the potential to directly or indirectly put lives at risk. 
Not every member of the Greek Community participates in breaking the rules of social distancing, but with 348 Greek Row COVID cases as of Nov. 3, the UW community cannot afford to sit idly by "in the hopes that others in the Greek community will better realize the seriousness that this virus poses," as the UW said in a tweet Oct. 29. 
UW junior Holland Gugler said she would not have framed the situation the same way the article did; she's worried the article potentially works against holding the Greek Community accountable for the COVID cases on campus. 
"I don't think it's the best message to send," Gugler said. "I don't think it sends the right message to anyone who's gonna read that article. I think it's just kind of skirting over the fact that there's a reason that people are catching it, there's a reason that cases are increasing, [and] it's because of choices that are being made that aren't appropriate or respectful to the community."
Although disciplinary mechanisms have been put in place for students breaking social distancing guidelines, like having individuals report any violations to the Interfraternity Council, COVID cases continue to increase. As a result, students feel frustrated. These feelings are perfectly understandable considering the seriousness of the COVID situation on Greek Row and the anecdotal evidence that partying continued even months into the first outbreak.
This lack of accountability regarding COVID cases on campus has UW freshman Aisha Cora fearful about living on campus during a pandemic — but not completely pessimistic toward the situation.
"I feel like if everyone is smart, then we shouldn't have a problem," Cora said. 
Students in dorms, on Greek Row, living nearby, and at the UW need to not only actively social distance, but also hold each other accountable for the common good of the UW community. 
Reach contributing writer Abbey McIntire at opinion@dailyuw.com. Twitter: @abbeymcintire
Like what you're reading? Support high-quality student journalism by donating here.