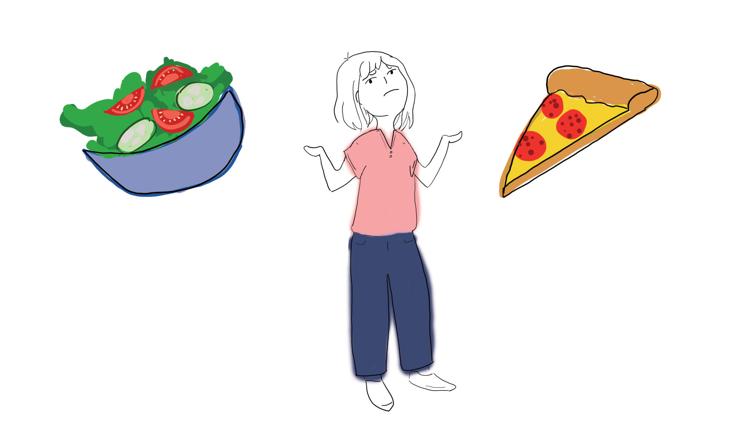 Thanks to my atrocious study habits, I often find myself wandering to the nearest dining hall late in the evening. On one of my journeys down to Local Point on West Campus, I passed a student on the street and just barely overheard them refer to the dining hall as "local disappointment." 
When I walked in to discover nothing on that night was open except for good ol' Pagliacci Pizza, that nickname really resonated with me.
My struggle to eat anything other than pizza on campus makes me wonder if it's possible to eat well at the UW. After some delicious exploration of the various dining options on campus, I've deduced that while it is possible, there are a number of factors that make it incredibly difficult to maintain a well-rounded, Husky Card-funded diet. 
It's undeniable that Housing & Food Services (HFS) puts forth effort to provide healthy options. The UW partners with Menus of Change, a Culinary Institute of America program that encourages nutritious and sustainably sourced menu options. The initiative aims to improve the health of individuals and the environment. 
Menus of Change champions a plant-forward approach, which they define as a cooking style that focuses on, but is not limited to, plant-based foods, whole grains, nuts, seeds, and other classic healthy food groups. 
The UW has been recognized for its sustainable dining efforts and was ranked one of the top 50 college dining experiences. Despite all these fantastic facts about the university's food choices, I still find it rare to get a positive response from a student when I ask about eating on campus. The reality is, it's still hard to get your hands on a decent meal at the UW. 
While many students are searching for healthy food, there are lots of reasons that campus is not the best place to look. One of the downsides to the healthy offerings at the UW is their hours. 
Student schedules vary dramatically, with all the classes and extracurricular responsibilities we manage. When we do find the time to make a run to a dining hall, there's a strong possibility that a majority of the options will be closed. 
Many on-campus options close and reopen for approximate meal times, but realistically, not everyone is able to eat during those windows of time due to class times, jobs, studying, and other things students juggle. 
Honestly, most days breakfast is no longer offered by the time I wake up, and lunch hours are filled by my classes. Expecting everyone to be on the same meal schedule is unrealistic. Like I said, thanks to my atrocious study habits, I tend to eat dinner much later than I'd like to admit. By this time, my only option tends to be hunting something down at the District Market or other on-campus grocery shops. 
Frankly, even if I do make it to a dining hall while it's open, the odds I find something I'd even consider eating are slim. As anyone who's partaken in cafeteria food at the UW would know, another disadvantage of on-campus dining is taste. 
I hear the same comments regarding the wide variety of options on campus, but with the caveat that most of them taste terrible. Whether it be generally tasteless food or a ham and cheese sandwich on a blueberry bagel (an actual thing I, unfortunately, have tried at a dining hall once), the flavor quality of many menu items can be questionable. 
However, taste is an incredibly subjective experience. There are definitely those who enjoy campus dining, in which case it's definitely possible to find a quality meal that has actual nutritional value. 
Now, if you enjoy on-campus food, and your schedule and stomach perfectly line up with campuses' mealtimes, the odds of you scoring a good meal are pretty high. But eating on campus has one more discouraging flaw: the cost. 
According to HFS, the average meal cost on campus is anywhere from $7 to $11. This isn't the worst it could be, especially when considering how expensive meals can be in Seattle. 
However, it's recommended in HFS's Student Dining Guide to spend anywhere from $12 to $27 a day on meals, depending on your dining plan level or your own budget. On that model, you would hardly be able to eat all three meals within budget, even with the highest dining account level. 
But, this average includes unhealthy food options as well. As anyone who's ever tried to maintain a balanced diet knows, sometimes it can be costly to choose a healthier option. So in the end, when dining on campus, a student's bound to have to choose between breaking the budget or eating three quality meals a day. 
If you're on the hunt for healthy meals that actually taste good and won't break the bank, your best option is likely to bust out some coupons, hit the grocery store, and cook yourself some nutritious food because let's face it, it's adulting time. 
Reach contributing writer Katelyn Grganto at development@dailyuw.com. Twitter: @KGrganto
Like what you're reading? Support high-quality student journalism by donating here.