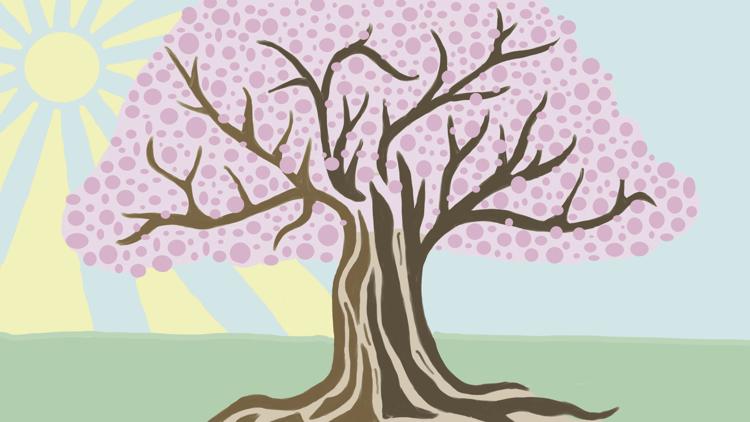 Spring quarter is my savior, and I'm not ashamed to admit it. It's worthy of ALL the hype: it brings light and warmth, and it prevents class from being canceled due to snow and set back by a week.
I was one of those Pacific Northwest natives who was never bothered by the weather: warm enough to avoid commute-hindering snow, but cold enough to avoid gross, sweat-inducing humidity. Yet somehow, coming to college made me realize how important the sun is to my mental health.
My lack of energy primarily stems from struggling to go to work in the mornings. It's dark and cold, so I don't have the motivation to get out of bed and earn desperately-needed minimum wage. When I leave work, the weather is still cold and the light is bleak, making class equally unappealing. After a long day, the sky has already gone from grey to black once again, so I can't muster the strength to go to an RSO meeting or grind through a Panopto in a library.
Winter quarter makes me feel bad about myself. I'm constantly questioning my commitment to my grades, my friends, and my career when I can't be bothered to leave my bed or my room to attend classes, make it to work on time, or be there for special events. When there isn't daylight, there isn't motivation, and it's a vicious cycle of apathy, regret, and self-shame.
Spring quarter breaks the cycle.
I wake up for work and see other students milling around. I get my vitamin D on the walk to work, and I don't spend an hour piling on layers to survive. I'm not hesitant to spend an evening getting work done in a library because it'll still be light out when I walk home. I'm not penguin-waddling over potentially icy patches because I can now easily skedaddle from one class to another while enjoying the sunshine and greenery. I'm willing to pick up extra shifts or intern more because I'm not in a rush to get home to feel my blood circulating again.
Just like my daily productivity levels, the cherry blossoms also bloom with actual sunlight. The Quad is gorgeous and ideal for lounging on a blanket, petting cute dogs, and tossing a frisbee around. Sometimes it's obnoxious to sidestep tourists taking photos and to side-eye those blessed with the free time to sunbathe on the grass. But if I don't have the time to appreciate the beautiful scenery of our campus, I'm glad someone else does.
The best part about spring quarter is the subtle buildup of excitement. Slowly but surely, I made it through another year. I get to take some time to reflect on the people who helped me survive, the professors who offered me support, and the number of wine bottles that were chugged after an 11:59 p.m. submission deadline.
I'm doing things not because it's fall quarter and I feel like I need to drown myself in things to build my resume and fill up my Google calendar, but because it's spring and I'm excited to be doing things I like and having the time to dedicate to those activities.
I can look forward to my summer plans, whether it be a study abroad program, cool internship, research position, fun volunteer opportunity, well-paying part-time job, or just finally getting some proper damn sleep. Spring quarter is both an escape from the depressing lethargy of winter quarter and a launch into the excitement of summer.
In the end, it may be overhyped. Fall is when we can all come back with energy, excitement, and enthusiasm, and winter is when it all disappears. With the sun come the tourists in the Quad, the sniffles and sneezes of allergy season, and the slow trickle of sweat building up on your back as you try to get from Hitchcock to Hutchinson in time for your 2:30 p.m. lecture. To me, those nuisances are miniscule in comparison to the benefits of better weather, increased productivity, and more time to stay active and involved.
I just know that when finals are over and it's time to literally stop and smell the roses, spring quarter makes that a realistic possibility, unlike winter quarter. F--- you, winter quarter.
Reach writer Kiran Singh at opinion@dailyuw.com. Twitter: @SinghKiran20
Like what you're reading? Support high-quality student journalism by donating here.