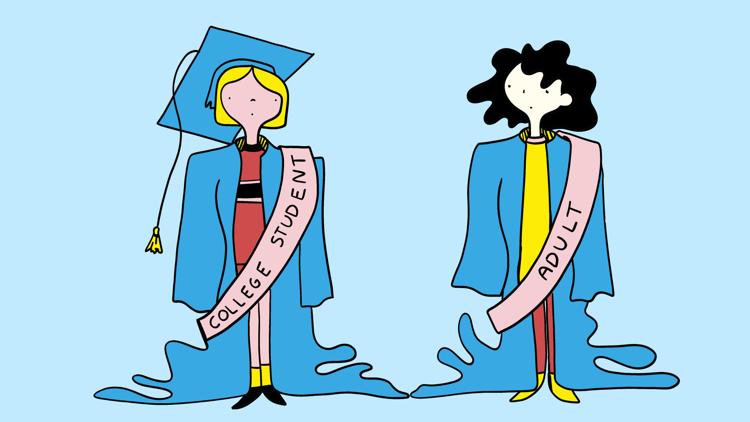 In community college, junior Jessica Howard did research with professors, was president of the honor society, and excelled in school, but still felt like she did not belong. She attributed the uncertain feelings to taking more years than her peers to reach that point in her academic career. 
"Even when I got my acceptance letter to UW, it didn't feel real," Howard said. 
Howard often feels as though she is not smart enough to be at the UW and that she took a place from someone who was more deserving. In class discussions, Howard hears other people using seemingly perfect terminology and bringing in ideas from previous classes, while she is not able to respond to the same questions in a similar fashion.
"It just felt like other people were really getting it, and I was just pretending to get it," Howard said.
Imposter syndrome, characterized by "feelings of inadequacy that persist despite evident success," often shows up in every aspect of women's lives and prevents them from pursuing opportunities. To combat this, women need to take more risks, be more confident, and have an increased sense of community.
In my classes, the same few vocal people speak most of the time. This can discourage other students from adding to the conversation. I'm often hesitant to ask questions or give answers in fear of being the "one stupid girl" that isn't getting it. In reality, many of peers probably have the same questions and failed to ask due to the same reasons. 
Informatics Ph.D. student Nicole Kuhn notes the common occurrence of imposter syndrome for girls in computer science. According to Kuhn, many students who don't have prior experience with coding during high school, specifically women and underrepresented groups, are especially affected by their lack of experience during weed out classes.
As students enter upper-level classes, there are less women and it becomes harder to find a supportive community. People who don't have communities get stuck and cannot progress.
Kuhn, a member of the Haida Indigenous community, believes that imposter syndrome is even worse for women who are minorities. More women and underrepresented groups need to be teaching and TA-ing these classes. In her CSE 373 class, almost every TA was male. 
"How do I believe that I can do this if I don't see anybody like me doing this?" Kuhn said.
There is also a distinct variation of imposter syndrome felt by transfer students, according to Kuhn. They have to deal with the UW's systems of grading and teaching while also learning complex skills for their major. 
"You tend to get more diversity in transfer students in terms of age, gender, and race. But this diversity needs to be supported," Kuhn said. "If you got into UW's programs, you have the ability to learn it." 
Howard concurs, as her transfer student commuter status makes her feel even more like an imposter. She doesn't feel as connected to the community and thinks she is missing out on everyone else's struggles. 
Kuhn believes that building community is the solution to these feelings of inadequacy.
Joan Palmiter Bajorek is the founder of Women in Voice, an international movement of gender diversity in voice technology. Her advice for young women is to "find your people both professionally and personally."
People who cheer her on on good and bad days are fundamental to how she sees herself, and the confidence she brings to the table. So many women feel isolated and frustrated but don't realize that others are going through the same thing. 
Women tell her that they have met people at her Women in Voice events that work two doors down from them but who they didn't know existed. These women realized they deal with the same problems at their companies, like sexism in the workplace or low female representation. 
French lecturer Alicia Sabovik wants to encourage women to be more comfortable taking risks, despite the possible feelings of being embarrassed and underqualified. 
"Forcing yourself to do things that you think are not capable of will prove to you how capable you really are of doing it," Sabovik said. "You'll surprise yourself at the things that you get and eventually you'll be like I'm not surprised anymore, this is what I deserve, this is how good I am at this and my qualifications back that up."
One of the ways that women can be more risky in the workplace is applying for more jobs. At a past job, Sabovik was responsible for going through resumes of job applicants when she worked in the technology field. It opened her eyes to hear from her bosses that a candidate with all the qualifications listed "is like a unicorn," as the perfect candidate doesn't exist. Instead, they just used qualifications to help weed out candidates. 
Bajorek's philosophy is that you should make requests and apply for everything, even knowing you might get a no. She tells her mentees to not undervalue themselves and check Glassdoor to see the range of salaries for positions. 
"That salary negotiation at the beginning of your job is where you get the most money, you get the biggest raise for yourself," Sabovik said. 
Sabovik has observed that women do not negotiate their salaries as much as men do. She wishes she had that blind confidence. 
"For women … not only are we taught not to ask for these things but we have that imposter syndrome … even if we are amazing at our jobs we still don't feel like we are qualified to run the team or to run this project," Sabovik said.
The key is knowing that you do belong. There will be so many messages telling you that you don't, "so unfortunately it has to stem from you" Bajorek reminds us. 
Whenever Kuhn experiences feelings of imposter syndrome, she reminds herself of all that she has been able to do up until now that legitimately allows her to take up the space she is in, even if she is not confident about it. 
"Imposter syndrome is a lie and you can't believe it," Sabovik concluded. "You are going to push forward and pretty soon this will be in the rearview mirror of another thing that you've done."
Reach writer Tiasha Datta at opinion@dailyuw.com. Twitter: @TiashaDatta2
Like what you're reading? Support high-quality student journalism bydonating here.