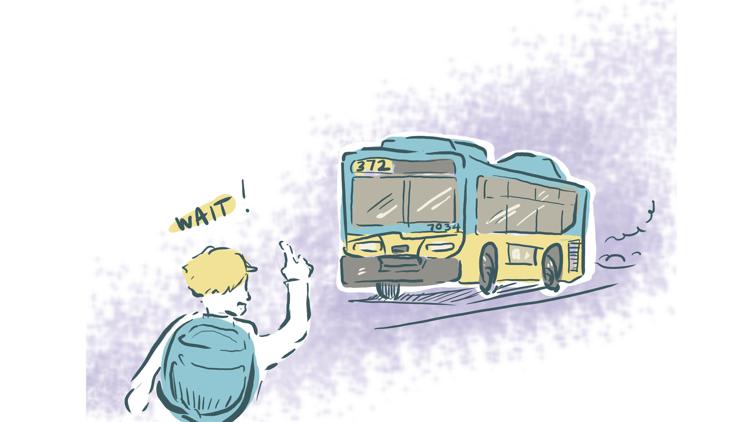 As a college student without a car, I, like many others, rely on the bus system. Throughout my bussing career, I have relied on a handful of lines throughout the city, which I'd like to maybe think gives me some authority on public transportation.
Seattle sports a complicated layout of buses, in part due to the area's topography. In recent years, there has been alterations to many routes including the changing, adding, or removing of lines, and recent downtown reroutes from the new SR 99 tunnel. With these changes, in addition to our daily scheduled gridlock traffic, riders need a resource to find when buses are arriving and how delayed they are.
Enter One Bus Away, an iOS and Android application designed with help from King County and the UW to assist riders in transit, which now is available for other cities around the country.
The application is structured around GPS coordinates of yourself and the bus, which pings its location regularly as it travels so that, in theory, you can accurately find a bus time. The app received a generous three-star rating in the app store but it is, in my frequent bus rider opinion, a piece of s---. It's actually the best of its kind that I've found, which is even more of a let down. The UW hosts a huge amount of commuter students and missing buses affects school attendance among other parts of their lives.
"I find that most times when I check it, it'll say two or three minutes, and it's mostly right," civil engineering senior Christopher Moye said. "But whenever it says anything more than about 10 minutes, it's either gonna be way less than that or it's gonna be way longer than that."
Seattle has a lot of construction occurring at any given time, and traffic can be caused by some pretty weird things. One thing that contributes to Seattle's bad traffic, and therefore serious bus delays, is that we still follow archaic maritime laws. This means that all bridges prioritize boat traffic over vehicle traffic which alone leaves tens to hundreds of cars stalling for a single boat. One Bus Away doesn't handle buses stalling very well and just continues to add more time onto the estimated wait time, or just shows scheduled times instead.
"I like that it will tell me when [the bus] coming, but it doesn't tell you if it's late or something," senior Kyla Ruse said. "You don't know if you've missed [the bus] or not, so that's not cool. I take a lot of the community transit [buses] and they never [show] if it's late or not; they just have the scheduled time so that's a big problem for me."
I know that technology can't be perfected at the drop of a hat. There are a lot of buses in Seattle and even more delays. That being said, the One Bus Away application has been out since I was in high school and has not gotten any better in my eyes. It was started by a university with huge technological resources and is supported by many city transit agencies — it should be able to fix some of its glaring problems.
I've been playing a little game during the last month where I checked in the morning and the late afternoon to see how often the bus came significantly before or after One Bus Away's estimation. From this, I observed that my buses usually either came about five minutes earlier or left about five to 10 minutes later than One Bus Away said they would.
King County actually does provide a detailed and fairly accurate Trip Planner application among other resources. Despite this, One Bus Away is the most prominent app I know of for arrival times, and yet, I haven't seen it get better for riders in years. As the SR 99 tunnel brings in a new system for buses downtown, we can expect traffic there to get much worse during rush hour and for buses coming from the downtown terminal to be further delayed. I would rather walk — and often have to — than trust One Bus Away's predictions.
Update: A previous version stated that One Bus Away was designed by King County Metro and the UW. 
Reach writer Grace Harmon at opinion@dailyuw.com. Twitter: @grace_viv
Like what you're reading? Support high-quality student journalism by donating here.