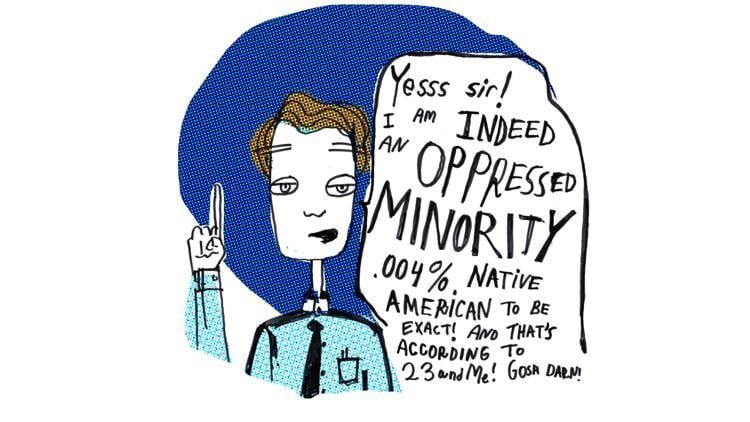 Thank you 23andMe for giving white people yet another way to try and make claim to minority status. As if straight, white, cis-women pretending they face the same struggles as non-heterosexual/transgender/of-color women, just because "all women are minorities," wasn't enough of a headache, there's now a new trend to deal with: genetic ancestry testing.
For example, there's the popular Ancestry.com advertisement called "Kyle Trades in His Lederhosen for a Kilt." In the ad, someone who uploaded their information to the website discovered that he's actually Scottish, and not German (as he grew up thinking). This apparently inspires him to swap out his traditional lederhosen for a Scottish kilt.
The ad seems cute, but there's a caveat: it enables the idea that once someone finds out their "real" ethnic background, they gain the right to become part of their "true" culture.
Let's try another example: someone's bloodline isn't 100 percent English as they previously thought –– their results now show that they're 4 percent Ghanaian. At the next wedding they attend, they're (hopefully) not going to break into a Kpanlogo dance that they know nothing about, have never experienced (or cared for), and don't understand the significance of.
It appears that the thrill lies in people discovering that they're not as white as they have the privilege of being. All of a sudden, this newfound knowledge about personal bloodlines means people get to claim a culture they previously had no connection to.
In a notable example, the editor of the Cherokee Phoenix, the first and longest-running Native American newspaper, Brandon Scott, addressed the media headlines surrounding U.S. Sen. Elizabeth Warren's announcement of DNA testing proving her Native American heritage.
"Native identity is not just about tracing a distant ancestor," Scott wrote. "It's about cultural heritage, our shared experiences, and participating in our community."
Scott's words show a common sentiment among minority groups: DNA testing doesn't make your individual experience equal to that of one of your many, many ancient ancestors.
Some people get excited about not being 100 percent European because their results point toward 2 percent of their bloodline tracing back to Sub-Saharan Africa. News-flash, Karen: you're not "biracial" because you had a black ancestor 200 years ago, you're just a privileged by-product of your white ancestor's propensity toward slavery and colonialism.
My family can be traced back at least three generations in the current Indian state of Punjab, and most likely many more generations before the 1947 Partition. However, I wouldn't be surprised if my genetic testing results showed I was 3 percent European, because there's probably a chance that some Dutch trader raped one of my ancestors, because that's how colonialism works. Does that mean I'm trading in my gulab jamuns for oliebollen? Nope.
Swabbing the inside of a cheek or spitting into a tube only to get "exotic" results isn't a way to make it appropriate for you to wear a racially-insensitive costume, or for you to check off boxes at school or work ("Being 1/64 Vietnamese means I can bring diversity to this team!").
A DNA test that shows you "have a little bit of X ethnicity" is disrespectful, inappropriate, and completely ignorant. The results of a DNA test don't automatically instill within you the values, traditions, and norms of that culture; they don't connect you to the trauma, oppression, and discrimination that minority groups actually face; and they most certainly don't give you the right to walk into an ethnic culture that you previously had no connection to and lay claim to its content.
From the African-Americans that can't trace their bloodlines because of the effects of the slave trade, the Asians whose families turn a blind eye to the atrocities committed by European traders, and the Native Americans who are tired of being asked what someone's "tribal name" would be: please stop using DNA tests to lay claim to the daily oppression and historical trauma faced by ethnic minorities.
Appreciating, respecting, and taking the time to understand a culture is far more acceptable than assuming an online kit's results grant you the right to step into a sphere that is tired of being invaded.
Reach writer Kiran Singh at opinion@dailyuw.com. Twitter: @SinghKiran20
Like what you're reading? Support high-quality student journalism by donating here.