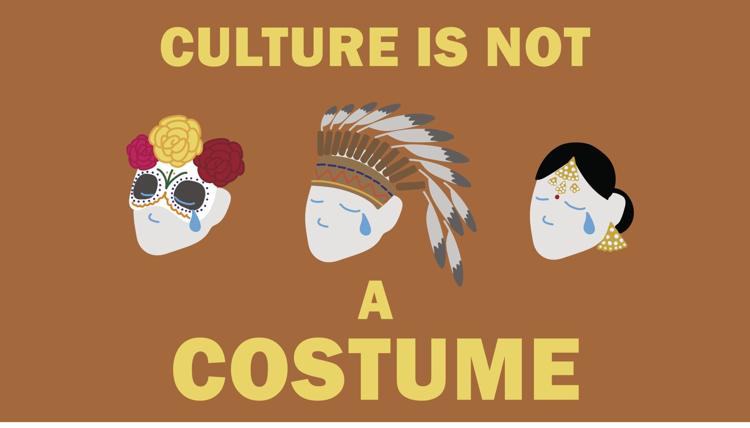 One Halloween in elementary school, I dressed as Cleopatra with Egyptian makeup. At the time, I thought very little of it and was unaware of how the costume appropriated Egyptian culture. It wasn't until my sophomore year of high school when I learned the difference between cultural appropriation and appreciation from my AP World History teacher.
Looking back, it strikes me how the topic of cultural appropriation — the act of using elements of another culture for personal benefit — was normalized and never discussed in my household. Five years later, and only because a teacher created their own lesson outside the standard curriculum, did I learn more about my role in this issue. These discussions need to start sooner; we need to start building critical awareness of the harmful act of wearing a culture as a costume, especially if you're part of the dominant culture, such as myself.
Cultural appropriation occurs in many forms all throughout the year, not just on Halloween. From attendees at music festivals like Coachella to the vernacular we use to UW's own Greek Community, we can see people stealing elements of another culture for the sake of a fashion statement, cute hairstyle, or a party theme. 
However, during the spooky season, many corporations mass produce cheap, culturally appropriating costumes that commodify cultures and reduce people's identities to props.
One of the biggest culprits is Disney. Disney has a long history fraught with culturally appropriating historically marginalized groups, making millions off their movies and accompanying merchandise — including costumes.
It's important to recognize that costumes based on fictional characters may not be cultural appropriation because that character does not represent their entire culture and everybody within it. However, the line is clearly crossed when an element of that culture is objectified as jewelry or a costume that can be easily taken off and thrown away.
For instance, after Disney's "Moana" premiered in 2016, they released an offensive Maui costume and pj set with tanned fabric and Polynesian-inspired tattoos. Not only is this blatantly commodifying Polynesian culture, but it promotes brownface and objectifies the cultural significance of traditional Polynesian tattoos.
My wearing of the Cleopatra costume was not OK because the creators designed it based on stereotypes of Egyptian culture. Transplanting pieces of a culture into a Halloween costume or fashion statement often leads to the trivialization of historical oppression and violence or perpetuates racist stereotypes.
Regardless of whether someone intended to show appreciation of the culture, the impact of cultural appropriation perpetrates harm that's never outweighed by intent or ignorance. If you truly appreciate another culture, you certainly wouldn't wear it as a costume. And if you have appropriated a culture, hold yourself accountable, be honest, and learn from your mistakes.
Reach writer Tatum Lindquist at opinion@dailyuw.com. Twitter: @TatumLindquist
Like what you're reading? Support high-quality student journalism by donating here.