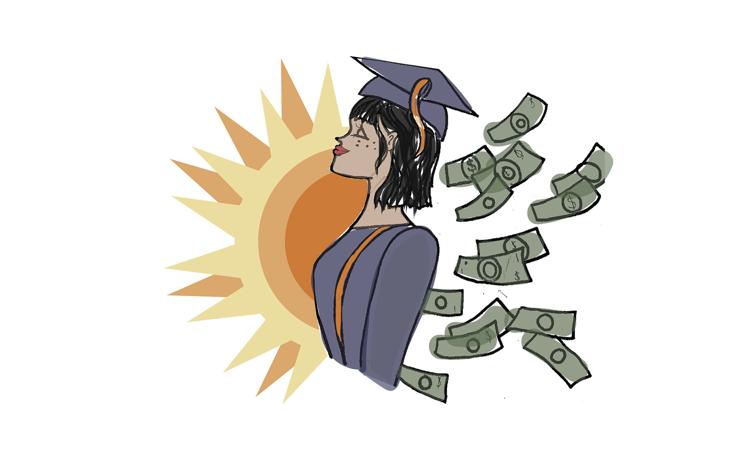 The cost of college is notoriously known as troublesome, stressful, and exhausting for students and parents alike. The ability to pay for college should not be an extra barrier to get through for people to gain college degrees. However, that is unfortunately how it works in today's world.
When trying to fund college expenses like tuition, books, class fees, room and board, and food, people have the option of taking advantage of financial aid or loans to pay off the cost. Having policies aimed at relieving some of that stress is important and, fortunately, new policies that involve paying college costs were approved by the Washington Legislature.
Recently, the Washington State Legislature has debated bills regarding higher education. On March 9, one key bill the Senate approved was SB 5393 which will establish the Washington College Promise. It will be replacing the State Need Grant currently in place.
This bill is important for students on financial aid because the question of whether financial aid will be given to them has disappeared. Gov. Jay Inslee said that the bill is a "statement by the state of Washington that you will get assistance."
Financial aid has been chronically underfunded. When the Legislature is given the option to fund financial aid, they are more likely to not fund or underfund it and shift those funds elsewhere. This creates a problem for students dependent on getting those grants to pay for higher education, leaving them with limited options.
Having the guarantee of financial aid for students can be a huge relief. Not only does it take away a barrier students have to go through to gain higher education, but it could be the difference between a student attending college or not.
In the past, although three out of four students received financial help with college expenses, there were still a quarter of grant-eligible students unable to receive financial aid because of underfunding. With this change, all grant-eligible students will receive financial aid.
For UW students under the Husky Promise scholarship, there will not be much of a change as the UW already pays for full-time tuition costs for students who are eligible but not covered by federal or state grants.
The major change that allowed financial aid to be a guarantee for eligible students is because it becomes an entitlement. This means the legislature removes their own ability to have discretionary funding and control over future budgets. This also means financial aid won't be underfunded or at least will be much less likely to be underfunded.
The second bill, SB 5774, passed in the Senate is a student loan refinancing program. This bill creates a pilot program where a student will pay a percentage of their income post-graduation for a set period of time to pay off college loans used to pay for school. This pilot program is used for Income Share Agreements (ISAs).
This bill will help 800,000 Washingtonians with an overall total of $24 billion in student loan debt. It is unacceptable that there are so many graduates with student loan debt. People should not be financially punished for wanting to pursue a higher education, but so many have to take out loans to pay for it. My hope is that this pilot program will lower the total student loan debt graduates incur from pursuing college degrees.
For many recipients of aid at the UW –– both undergraduate and graduate –– these bills that were passed will greatly help whether it comes to paying off loans or receiving grants from financial aid.
Reach writer Monica Mursch at opinion@dailyuw.com. Twitter: @MonicaMursch 
Like what you're reading? Support high-quality student journalism by donating here.