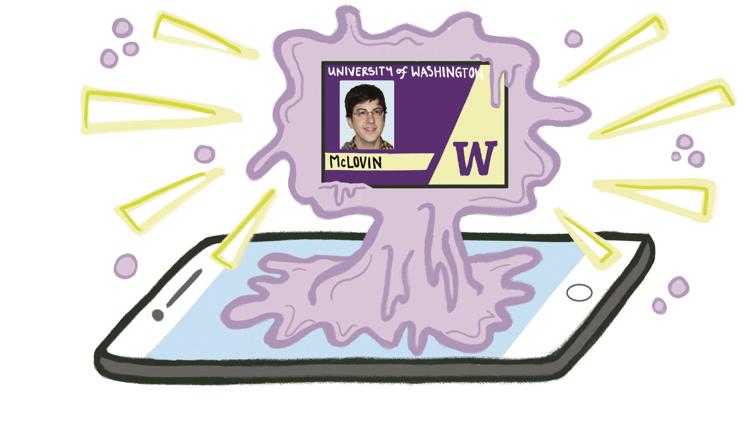 First, it was gift cards. Then credit and debit cards. Some states are even testing mobile driver's licenses. Could the next few years see the death of plastic student IDs on campus?
This year, Apple announced that they're bringing their mobile student ID program to 12 more universities across the United States, servicing over 100,000 college students via their iPhones or Apple Watches. 
"Our university partners tell us that since launch, students across the country have purchased 1.25 million meals and opened more than 4 million doors across campuses by just tapping their iPhone and Apple Watch," Apple stated in their Newsroom update Aug. 13.
Apparently, the ID cards are protected by touch ID or facial recognition, though there is an optional "express mode" which doesn't require authentication before use.
Currently, the UW uses approximately 20 pounds of plastic per person, per year, based on data from 2018. That's pretty low compared to previous years but could be decreased even further with virtual cards.
Of course, even if Apple extended their program to the UW today, not every student would be able to have their card online. Although it seems to be the case that campus is all iPhones and AirPods, there are still a significant number of students who use Android or other systems.
While the concept of the program and the environmental impact is great, there are some drawbacks, including the obvious non-Android capability (if AirPods are the luxury status symbol of the moment, in a year or two it might be using your dining account wirelessly). In addition, there is also the potentially hefty cost on HFS of needing to update every single card reader and laundry room interface to be compatible with wireless cards.
Sure, some of them are already updated, but plenty of places on campus still swipe student IDs. At $78 for a single, new, wireless-capable card reader, that would add up pretty quick.
Also, there's the matter of the UPass. Since ORCA card readers only accept … well, ORCA cards, a new system would need to be set in place, probably using the Transit GO App. The app allows you to activate your ticket before you get on and show the driver, but only allows for individual tickets for separate transit systems to be bought (so if you decide to buy a bus ticket and take the train, good luck). Currently, ORCA cards don't work on mobile.
With all of the changes necessary to implement it, is having your student ID on your phone even worth it? Maybe, if only to prevent the sheer panic if, like I did one day, you reach into your pocket or wallet for your Husky Card and don't find it there.
Take it from me: You don'twant to lose your Husky Card. 
Especially not on a Friday afternoon when you have an assignment due at 5 p.m. and you haven't yet realized that the Husky Card Office (the only place you can get a new one, for a hefty $25 fee) is closed until 8 a.m. Monday morning. Cue panic.
Unless you particularly enjoy offering to pay strangers back in cash if they could just pay for your load of laundry on a crowded Saturday night, and spending your hard-earned personal money on food for the weekend, or convincing your roommate to do it for you with the promise of paying it back, keep a close eye on your card.
And your phone just might end up being the way to do it.
Reach contributing writer Anna Miller at opinion@dailyuw.com. Twitter: @lesakuraciel
Like what you're reading? Support high-quality student journalism by donating here.