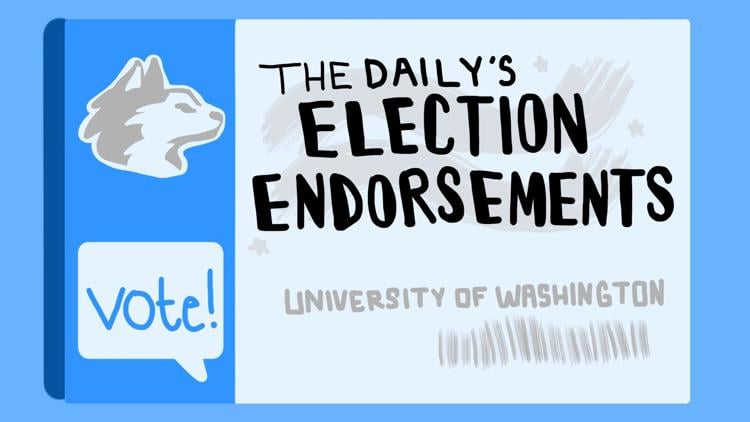 The Daily's Editorial Staff came together to endorse candidates in the 2020 general election whom it believes will do the best in providing King County, Seattle, and the UW community with effective leadership, vision, and experience. The following endorsements are signed by: 
Andre Lawes Menchavez, Opinion Editor; Mac Murray, Editor-in-Chief; Rachel Morgan, Managing Editor; Jake Goldstein-Street, Co-News Editor; Iseabel Nance, Health and Wellness Editor; Brooke Kaufman, Arts and Leisure Editor; Andy Yamashita, Sports Editor; Conor Courtney, Co-Photo Editor; Nicole Pasia, Co-Photo Editor; Greta DuBois, Illustrations Editor; Hannah Krieg, Engagement Editor; Charlotte Houston, Co-Special Sections Editor; Trevor Hunt, Co-Copy Chief; Diana Davidson, Co-Copy Chief; Kyle Bender, Co-Development Editor; Sam Steele, Co-Development Editor; Dylan McKone, Design Editor; and Alex Nagode, Video Editor.
---
Washington State Governor: Jay Inslee (D) and Loren Culp (R) 
Jay Inslee has an undeniable amount of experience including, notably, being the first governor in the country to deal with the COVID-19 pandemic back in February. The editorial staff believes Inslee is the best candidate to help our state recover from the turmoil the pandemic has caused. Inslee is also one of the most prominent political figures in the country fighting for environmental justice, being a long-standing advocate for clean energy and alleviating our climate crisis. Our staff believes that Inslee's top priorities of economic recovery, strengthening our healthcare system, expanding educational opportunities, fighting the ongoing climate crisis, and pursuing criminal justice reform are essential changes that need to be made. Further, we have great confidence, based on Inslee's previous experience, in his ability to effectively tackle these issues with action. Loren Culp has no experience in an elected role and currently serves as the police chief — really as the only police officer — in Republic, Washington. The Daily has no confidence in Culp's COVID-19 plans and does not support his plans for the police force. Jay Inslee is the clear choice to fill the gubernatorial office.
Vote Jay Inslee. 
---
Washington State Lt. Governor: Denny Heck (D) and Marko Liias (D)
This race is especially important because Jay Inslee, even if re-elected governor, may be tapped to serve in a potential Biden administration. In that case, the lieutenant governor would step into the governor's seat, making this election, potentially, very consequential for Washingtonians. While The Daily sees merit in both candidates, the editorial staff has chosen to endorse Marko Liias for Lt. Governor. Liias has recent and extensive experience in the state legislature as state senator for the 21st Legislative District which includes Edmonds, Everett, Lynnwood, and Mukilteo. He has extensively supported LGBTQIIA+ rights, improved access to and affordability of health care, and climate change aid policies. The Daily believes that he is the more progressive of the two Democrats running for this seat. While U.S. House Rep. Denny Heck is committed to policing reforms, he is also in favor of giving more money to the police force to provide resources like body cameras. We believe this is an unsuitable way to spend money following the police violence that our local and national communities have experienced this year; The Daily believes that monetary resources should be diverted away from the police force instead. As a younger candidate, Liias may not be as seasoned as Heck, but the editorial staff has full confidence in his ability to serve in this position.
Vote Marko Liias.
---
Congressional District 7, U.S. Representative: Pramila Jayapal (D) and Craig Keller (R) 
Pramila Jayapal has served two terms as a congresswoman and has worked consistently as a progressive voice in Washington state. Her extensive experience, from being vice chair of the House Immigration Subcommittee to being co-chair of the Congressional Progressive Caucus, far exceeds the scope of her opponent's record. Jayapal aligns with the goals and issues The Daily wants to see addressed by our elected officials, and her experience makes her more qualified than her opponent to get them done. The editorial staff is also impressed with Jayapal's consistent advocacy in support of our country's immigrants, especially in her recent work protecting immigrants in detention during COVID-19 as well as defending the rights of immigrant women, protecting them from forced medical procedures. We simply believe her opponent does not meet her level. 
Vote Pramila Jayapal. 
---
Legislative District 43, State Representative Pos. 1: Nicole Macri (D) and Leslie Klein (R)
The Daily commends Nicole Macri's commitment to progressive legislation in Washington state. With over 20 years of experience, four of which were spent serving as the state representative for the 43rd Legislative District — which includes the UW — Macri has demonstrated her ability to pursue her goals for the next year. If elected, Macri states, she will alleviate the harsh impacts of COVID-19 by rebuilding the economy, creating more jobs, and expanding healthcare coverage. Further, she aims to address the ongoing climate, housing, mental health, and inequitable education crises, all of which pertain to the students of our university. The editorial staff found her opponent, Leslie Klein, without the same focus in mind. Addressing Democratic voters in his candidate page, he stated he was "running to support the rights of the senior population," with no mention of other issues. Ultimately, The Daily found this to be an exemplifying statement of Klein's inexperience and lack of focus on issues that pertain to our student body.
Vote Nicole Macri.
---
Legislative District 43, State Representative Pos. 2: Frank Chopp (D) and Sherae Lascelles (Seattle Peoples Party) 
Sherae Lascelles is arguably the most progressive candidate on the ballot. Lascelles, who is a member of the Seattle Peoples Party, is a mutual aid community organizer and activist running against incumbent Democrat Frank Chopp. Although both candidates have promising ideas if elected, The Daily believes that the goals and ambitions of Lascelles represent the progressive energy and voice we need to change the systems of oppression in this state. Lascelles aims to create a politics of "community-care, empowerment, and racial authenticity" — an important framework given the recent conversations on racism in our country. If elected, Lascelles hopes to decriminalize and protect over-policed communities. Their platform, which is founded on the basis of "mutual aid, harm reduction, and representation of the most intersectionally marginalized," is imperative to seeing those goals come to fruition.
Vote Sherae Lascelles.
---
State Referendum Measure No. 90 
This referendum requires school districts to implement comprehensive and age-appropriate sexual education in Washington state's public schools, including lessons on affirmed consent and bystander training. Parents are allowed to opt their children out of these lessons as well.
The editorial staff is comforted knowing that Ref. 90 is supported by many state Democratic officials, as well as equity organizations across the state such as NARAL Pro-Choice Washington, Planned Parenthood, and the ACLU of Washington. We support Ref. 90 and the progressive community members pushing for this referendum and believe that teaching our youth early on about the importance of consent and sexual health is essential. The proposed curriculum also includes information on LGBTQIA+ sexual health, which The Daily sees as important and inclusive information. As students on a college campus, we also know the importance of bystander training and efforts to alleviate sexual assault. With that in mind, we urge our community members to vote "yes" on State Referendum Measure No. 90.
Vote Yes.
---
King County Charter Amendment No. 2 
This amendment would allow King County's surplus property to be transferred, leased, or sold at less than fair market value if the property is used for affordable housing purposes. As students at this university who are familiar with the rising costs of living here, and in the Greater Seattle area, the editorial staff believes that turning government-owned surplus property into affordable housing is key to alleviating this issue. Vote "yes" on King County Charter Amendment No. 2 for a better chance at obtaining more affordable housing in King County.
Vote Yes.
---
King County Charter Amendment No. 3 
This amendment would replace all the language in the preamble and two other sections of our county charter that use the term "citizen" and use, instead, "public," "member of the public," or "resident." Our county charter gives information on who is allowed to use our programs and services in the county. The Daily supports this amendment and its efforts to opt for more accessible language that does not ostracize or confuse members of the community, making it clear that our county resources are available for all, including undocumented members of our community. Especially coming from a diverse student body with backgrounds from across the world, we understand the need for inclusive and accessible changes to better serve our community populations. Vote "yes" on King County Charter Amendment No. 3 to uplift inclusive language in the county charter.  
Vote Yes.
---
King County Charter Amendment No. 4 
This amendment would give the Office of Law Enforcement Oversight (OLEO) subpoena authority for investigations into county law enforcement under the county charter. With this year's officer-involved killings and ongoing police brutality, The Daily believes it is critical to vote "yes" on this charter amendment. 
The OLEO is a civilian, charter-mandated office that is tasked with reviewing the conduct of law enforcement and matters of public safety. The organization was established in 2015 and given the power to subpoena under the county code, which can be amended by the county council. This amendment would ensure that this subpoena authority could only be amended or removed by a majority of voters rather than the council. To continue to hold our county law enforcement accountable, vote "yes."
Vote Yes.
---
King County Charter Amendment No. 5 
This amendment intends to return the King County Sheriff position to an appointed office. In an effort to depoliticize the police force, The Daily encourages a "yes" vote. 
Currently, the King County Sheriff is elected by voters, due to the passage of a charter amendment in 1996. This amendment would allow the county executive to appoint someone who would later be confirmed by the county council. The drawback of keeping the sheriff an elected position, as our staff sees it, is that sheriffs will focus more on reelection and political prospects than on managing the duties of their position.
While The Daily has concerns about how this process will work in the future, we are reassured that an appropriate candidate will be chosen due to the requirement for consideration of community stakeholder input. This would help ensure that the community still has a voice in choosing who will be the head of our county law enforcement. With this added stipulation, The Daily encourages you to vote "yes."
Vote Yes.
---
King County Charter Amendment No. 6 
This amendment addresses the structure of the department of public safety. While The Daily has concerns about giving more power to the county council and the county executive, voting "yes" on Amendment No. 6 would mean that broad public safety policy will more adequately reflect our societal needs. Right now, the sheriff's office responds to all the calls they receive as armed law enforcement officers. For someone calling in a mental health crisis, a mental health professional or an ambulance would be a much better response, but the county cannot send in these alternative services under the current charter. Voting "yes" on this amendment means response times for real emergencies will improve, and other professionals will be employed to assist in responding to community matters. 
Vote Yes.
---
King County Proposition No. 1 
This proposition would allow King County to make public health, safety, and seismic structural improvements to Harborview Medical Center facilities, which are operated in partnership with UW Medicine, at the cost of $1.74 billion over 20 years. The Daily supports this proposition for a variety of reasons: It would support Harborview Medical Center's ability to deal with public health emergencies, as shown through this COVID-19 pandemic; it will expand its services for vulnerable communities in the area; and the expansion will create more jobs in the state. Vote "yes" on King County Proposition No. 1 to support one of the most renowned and essential medical facilities in the state.
Vote Yes.
---
City of Seattle Proposition No. 1 
This proposition would authorize a 0.15% sales and use tax, replacing the current 0.1% tax which is set to expire. The revenues of this tax will go toward transit services and low-income fare programs for Seattle seniors, students, workers, and residents. The editorial staff supports this proposition and believes that it advocates for more accessible and affordable transportation options for our student body. With about 80% of our student body commuting to and from campus, we believe that this proposition prioritizes the needs of our students and creates a more equitable transportation service in our city. Vote "yes" on City of Seattle Proposition No. 1 for an increased sales and use tax toward improved and more affordable transit services.
Vote Yes.
---
Reach The Daily's Editorial Staff at opinion@dailyuw.com.