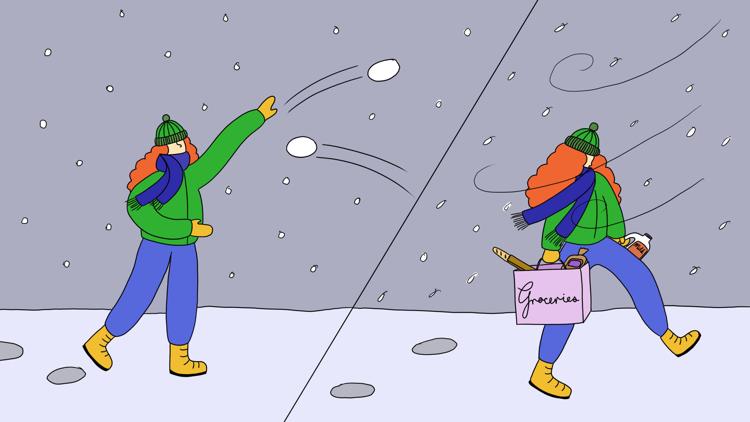 Bark: For the love of snow
Picture this: you wake up one morning, light starting to come in through your curtains. You're warm and cozy in your bed with blankets all around you, but you throw back the comforter ready to take on the day. 
After opening the curtains all the way, you rub the sleep from your eyes and that's when you see it: a fresh blanket of snow covered the city while you were sleeping. 
It looks as though that will be all of Seattle starting this week. The first snowfall of the year is on the books, but there may be some conflicting emotions regarding the change in the weather.
I, for one, cannot wait to experience a true winter, and that's only complete once there is at least a little bit of snow.
As a California native, I've never had the chance to step outside to fresh snowfall in the morning or have a day off of classes because there is just too much snow on the ground. Even the constant rainy days of Seattle have been an adjustment for me, one that I'm already starting to tire of. 
But it looks like a break from the rain is in sight. Sadly, we won't be having blue skies and 60-degree weather, but this week may turn out to be even more fun than that. Snow is in the forecasts and, especially for those California natives like myself, we may be in for a treat.
The snow will give all of us stressed and anxious students a chance to step out of the library and act like young kids again, sledding and throwing snowballs. Even if class isn't canceled, I plan on taking a nice break after class to have fun in the snow. 
That fun and relaxing time may even help me and others rid ourselves of some of those Seasonal Affective Disorder symptoms that permeate the winter. 
While it may not be like last year where it seemed as though all of Seattle shut down, a blanket of snow will hopefully cover the city. My mom always liked to say that when she lived in the PNW, all of Seattle would become quiet under that blanket, the snow muffling the usual hustle and bustle of big city goings-on. 
I am excited to feel that quiet and to let myself slow down for a moment after the turmoil of the first week of winter quarter; I believe that we can all use that little bit of relief. 
I say the more the merrier, and we may even find ourselves with a day off of classes and a respite full of snowflakes and fun. 
Because I mean, if it's going to be that cold, it might as well snow, right? 
That way we get to have a little fun as well, not just stay bundled up inside working to stay dry. We seem to get enough rain the rest of the year, so I'm hoping to switch it up a little bit next week, and the forecast is keeping me excited. 
So don't fear the snow, embrace it. Then, we can all have a great time next week in the winter wonderland that Seattle will become. 
Reach writer Ali Heitmann at opinion@dailyuw.com. Twitter: @aliheitmann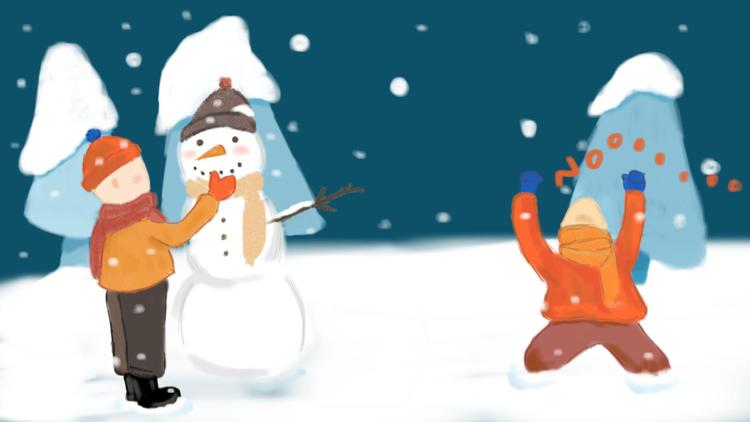 Bite: Forecasted snow not as glamorous as it seems
If you're anything like me, you check the weather app before heading out the door so that you can gauge what to wear according to the temperature. So, imagine my surprise when seeing a bunch of snow symbols on my weather app for the coming days.
This type of weather isn't anything new; the prospect of snow is the only thing most Seattleites seem to be able to talk about as of late. It makes sense why we're all raving about it, especially when you consider how Seattle doesn't typically get much snow. 
Also, snow is pretty cool. Literally.
Many Huskies seem to be hoping for an onslaught of snow, much like the "Snowpocalypse" of  2019. Call me a cynic, but if I'm being honest, I'd rather keep our gloomy, wet, windy days as is, despite how ugly it might be.
I admit, some things about snow are fun: the heaps of powder on your front lawn, a fluffy white blanket framing the rooftop; the feeling of being in a cheesy Hallmark Christmas movie comes to mind. Finding each unique snowflake fall on your hair and catching one on your fingertips and maybe even being let out of classes to enjoy the snow is a feeling unlike any other.
The keyword is "some." If school gets let out for the day, or days, due to snow, the first day is fun, and maybe the second too. But after that, it starts to lose its appeal. Maybe I'm biased having grown up in snow-heavy Chicago, but I feel like snow does get tedious after a certain point.
You can go sledding, skiing, take advantage of the photo op for your Instagram feed, and relish in the snow for the first days, but then what? 
It gets boring.
You might end up procrastinating even more on studying for that exam you're thankful to have missed because of the snow days. Or be bored, not sure of what to do now that the shimmering white snow has turned into beige sludge. 
Once the snow's not too bad — or if classes end up not being canceled at all — it can be hard for some students to get to class because of the snow. If you're walking to class, there's the possibility of accidentally stepping on icier parts of the snow or simply struggling to trudge through.
If you're like me and you commute to school from another city every day, you rely a lot on public transportation, especially the bus system. Seattle's streets aren't particularly designed to handle snow well; there are the hills and steep streets not really built for heavy snowfall. This can result in buses getting delayed and some getting canceled. Commuters wouldn't have an easy time getting to class — if they can even get to class at all — unless they want to pay for a Lyft, which can be costly for the average college student.
If you're someone who drives a car as part of their commute, it could possibly take another half- hour to even pull the car out of the driveway.
The excitement of snow is thrilling at first, but it soon fades away and becomes a bit cumbersome. Managing your way through the snow in the PNW is harder than places like the East Coast. Once you actually need to get through the snow, it can be a bit of a hassle.
Whether Seattle does end up getting snow this week as forecasted or not, I don't think we'll have to expect another "Snowpocalypse." Regardless, I know I'll opt to stay inside observing with a warm cup of hot cocoa.
Reach writer Deborah Kwon at opinion@dailyuw.com. Twitter: @debskwo
Like what you're reading? Support high quality student journalism by donating here.