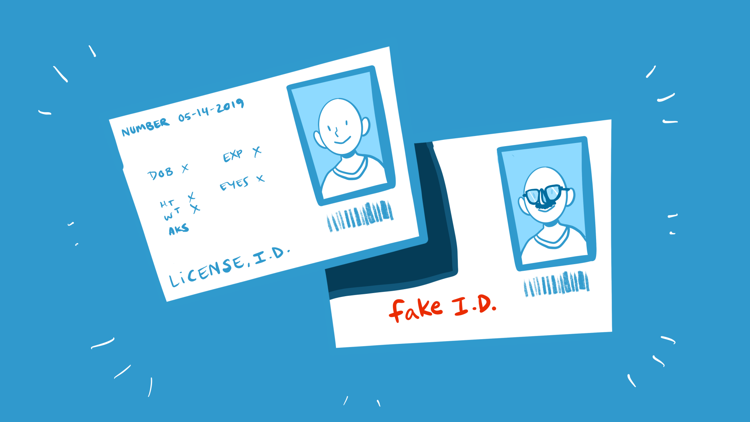 Some of my most notable souvenirs from growing up are my old ID cards. The first one came my way around the same time as my first locker — in middle school as a student ID. At 16, a driver's license brings unprecedented freedom, and that same piece of identification unlocks the world of gambling and nicotine (in most states) at age 18.
By the time you get to college, you may be able to track yourself through adolescence with a trail of ID cards — some warped and faded, others with stickers allowing you to leave campus early, get into a museum for free, or donate your organs to science.
And at some point, a fake ID might get added to that collection.
Those in their late teens and early 20s are more or less treated like adults, allowed — and sometimes required — to perform civic duties, serve in the military, and raise a child, all of which give admission to the adult world. So, in light of these civic responsibilities and the comparably lax drinking laws in other countries, it is easy for American youth to justify having a false ID card in order to buy alcohol.
Noah, a junior at the UW whose name has been changed to protect his identity, has been using a fake ID to buy alcohol and gain entry to bars since he was 16. Noah recalls that he has had his fake ID as soon as he was old enough to drive himself to the liquor store at 16.
From time to time, a bouncer or cashier would catch Noah in the act of using his fake ID and confiscate his illegal identification. Without the power to buy his own alcohol, Noah would return to Reddit's encyclopedic Fake ID forum in search of the best fake for the best price. Noah estimates that he spent around $500 on fake IDs before he turned 21, acquiring them from various overseas and domestic vendors, such as ID God, Dingo, and Henry Forge ID.
"That $500 allowed me to purchase alcohol, and in some instances get into bars underage, for five years," Noah said. "So from a certain perspective, I paid an annual tax of a hundred dollars to literally break the law."
But what is that law exactly?
In terms of owning a fake ID or posing with some else's real ID, the Washington State Legislature has the details listed in their Revised Code of Washington (RWC): "Any person who possesses a card of identification not issued to him or her, and any person who makes any false statement on any certification card required by RCW 66.20.190, to be signed by him or her, is guilty of a misdemeanor punishable as provided by RCW 9A.20.021."
It all started in April 1982 when the Presidential Commission Against Drunk Driving (PCDD), established under the Reagan administration, came up with 39 ways to combat the issue of drunken driving and alcohol-related deaths on the highways. Recommendation number eight suggested that all states raise their alcohol purchasing age from 18 to 21, or lose a certain percentage of the state's highway funding. Consequently, the proposal shifted the attention from drunken driving to a perceived problem with young adult drinking, veering away from issues behind the wheel and bringing them behind the bar.
According to Opie, manager at Earl's On The Ave, their bar catches about five underage people using fakes on a busy night.
"Mostly [spotting fakes] is just about going on the websites. All the websites run specials, and whatever that special is, you'll have a flood of those in about three months," Opie said. "A lot of other bars have to worry about DUIs, so we're lucky with that, and we have to be more strict with fake IDs. We don't have to worry about the driving as much because most people just walk down from the Greek system."
Mythologized for our generation by Superbad's McLovin, the fake ID is an unofficial license of the underage drinker. I think of that goofy, prepubescent face as a beacon of hope for all the minors trying to infiltrate the local liquor store as soon as they're old enough to drive there.
I've watched many of my friends and classmates turn 21 this year and ditch their once-beloved fake ID in the process. It signals the end of an era that served some people well and others with a bit of legal anxiety. But for many recent 21-year-olds, it is just another piece of plastic to add to the collection.
I won't argue against the fact that using a fake ID, along with underage drinking, is illegal — and I am not writing to encourage breaking the law. Rather, I wish to pay homage to the brief, fun period of posing as an older cousin, ordering in bulk from China, memorizing addresses and birthdays not your own, and, more often than not, losing an iconic part of the collection to a cocky bouncer on Capitol Hill.
Reach writer Maxwell Eberle at opinion@dailyuw.com Twitter: @MaxwellEberle
Like what you're reading? Support high-quality student journalism by donating here.