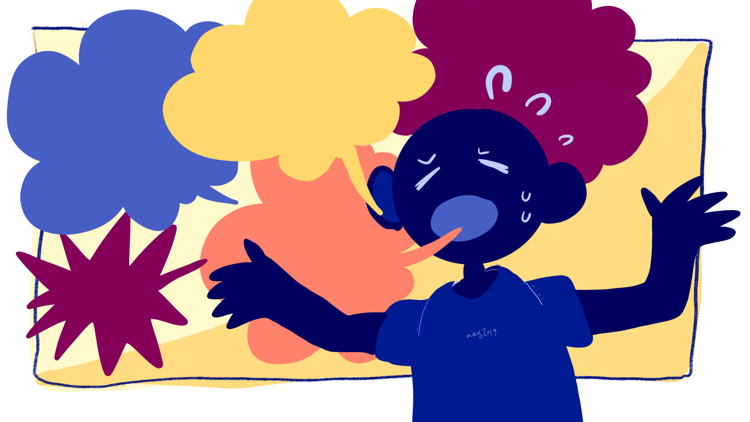 Over the summer, I was on the hunt for a bike. Nothing too fancy, but something that could make my commute to campus a bit easier. Considering my relatively low budget, I set my sights on finding a low-cost option on America's favorite second-hand retailer: Craigslist. 
Within moments, I found two suitable options. I decided to text a seller about an older, blue hybrid model. The man responded immediately and requested I call him. We agreed to meet the following day so that I could test out the bike. 
Hours before we were supposed to meet, I decided to skip out on my previously scheduled bike test and purchase a different bike. I was then faced with having to tell someone "no."
I spent an inappropriate amount of time trying to figure out how to tell some random guy from the internet I'd never met before that I didn't want to buy his bike. I typed a message out and deleted it. And then I typed another. I even texted my boyfriend asking him what I should say. I wrote excuse after excuse until I was convinced by my boyfriend that I didn't owe this guy anything. 
And my boyfriend was right. Five minutes on the phone doesn't mean I owe someone a carefully crafted story. I could have just said "no, thank you," and move on. For some reason, that just didn't feel right to leave it at that. I was more willing to provide a wordy explanation than say a simple two-letter word.
Something that has taken me years to figure out is that I owe people the simple truth, not excuses designed to make myself feel better. My overexplaining can actually have more negative implications than positive. 
With potential trouble on the horizon, lying is a common response for many people. A 2010 study asked adults to report how many lies they told in a 24 hour period, and many participants reported not telling any lies. The exception was that many people would turn to lying when the truth had the possibility of causing trouble. 
Telltale signs of lying are common across humans and can be easy to pick up on. Speeches generally sound rehearsed but also rushed due to stress. People who are asked to repeat their story are often not able to tell the lie in the same way. Within these lies, too much detailed information is provided than is necessary or wanted.
When I feel compelled to overexplain, I am not trying to tell a lie, but instead, an extended version of the truth. Regardless, I go through the same steps as a liar would. I prepare a story to try and avoid conflict, and I can't repeat the same unnecessary details without changing anything. That means that the more I try to make myself feel better by providing more than the whole story, the more likely I am to seem untruthful. 
I want to try and be respectful of other people's time, money, and patience. And that's the reason why I probably started overexplaining in the first place. In my mind, telling them everything they need to know is somehow more considerate. 
That being said, including the whole story actually has the opposite effect. Using more words is not clear. My story preparation wastes my time, and a long-winded tale wastes everyone else's. And truthfully, it doesn't me feel better. I need to stop doing it, and so does everyone else. 
And I'll leave it at that: "no" is enough. I don't need to overexplain myself.
Reach Opinion Editor Rachel Morgan at opinion@dailyuw.com. Twitter: @rclmorgan
Like what you're reading? Support high-quality student journalism by donating here.