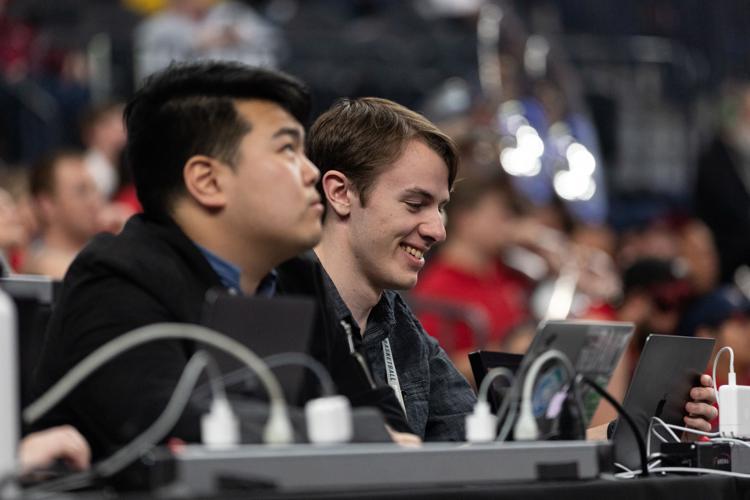 This will be the last time I write "The Daily" next to my byline. It's weird. 
Really weird. 
I have written well over 500 articles for The Daily, dating back to 2017. I've been here so long that when I started, Chris Petersen, Lorenzo Romar, Mike Neighbors, Lesle Gallimore, and Greg Metcalf were all head coaches at Washington. The men's basketball team had virtually no expectations, the women's team was fresh off a program-changing Final Four appearance, and the football team was just starting a historic stretch. 
I got to cover the Granddaddy of Them All. The Fiesta Bowl. The Pac-12 men's basketball Tournament in Las Vegas, and several other smaller events that I will cherish forever, from the Windermere Cup to a women's tennis Round of 32 match. 
But while the events were enough to convince me to join The Daily and write its name 500 times next to my name, it is the people that I will cherish the most. 
I have a plethora of professional journalists to thank for helping me along the way, from helping become a better journalist to just being a friend to rely on any time I needed it. Christian Caple, Thuc Nhi Nguyen, Josh Bessex, Lauren Smith, you were all willing to come back to help out anyone at The Daily, and I know I speak for everyone at The Daily when I say that we appreciate you and are so proud of where you guys are. I don't tell any of you enough how much you inspire me to be a better journalist, whether it's reading the Game Daily before football games or reading my articles and reminding me to cut out my extraneous words. 
To Lauren Kirschman, Adam Jude, Ryan Clark, Christian, and everyone else who was or is currently on the UW football beat, thank you for dealing with the newbies in the room and being easy to work alongside. Sitting in that media room in the bowels of Husky Stadium wasn't the most glamorous, by any stretch of the imagination, but I couldn't have imagined doing it with anyone else. 
While I only covered the men's basketball team for a year, you all welcomed me with open arms and treated me like anyone else. Thank you Percy Allen for always being willing to provide wisdom (though, I know you wouldn't call it that) and to Lauren, you and I were the only ones who had to go through both football and basketball season, and it was great having someone else who was going through the same thing (I also appreciate the drive from Phoenix to Tucson last weekend). I'll never forget the show that Aron Baynes put on at the one Suns game we decided to go to. The News Tribune and the Seattle market are really lucky to have you reporting on sports.
To all the other professional journalists that helped me and met with me for lunch or coffee, thank you. I will remember and cherish all of your wisdom.
To all my readers, thanks for coming along with us. It was a long journey, but I appreciate each and every one of you that read my articles, followed my tweets, and stayed with me for this four year journey. 
To the Washington Athletics staff, including all the coaches and media relations I have worked with, I appreciate each and every one of you. A lot of student newspapers can be swept under the rug by athletic departments, but each of you took care in giving us attention and allowing us the access that we deserve. 
My last goodbye is to every single writer, photographer, and staffer I had the pleasure of working with at The Daily. I joined the sports section by chance, as it was suggested to me by a coworker at the grocery store I was working at. I had no intention of writing about sports for a living until I stumbled upon it and was thrown on the football beat my sophomore year (though it wasn't a tough sell getting a free ticket with an incredible view in the press box). 
To my writing friends, Kyle, Chris, Eddy, and so on, always feel free to reach out. I've got your backs, always. The memories I have with each one of you, whether on the Box Seat or in the newsroom watching college basketball, are priceless. 
To my fearless leaders and EICs, Moh, Rebecca, Andreas, and Mira (holy hell I've been here a long time), thanks for dealing with sports. I know we're the problem child, and Game Dailies couldn't have been fun (well, at least not every time). I've enjoyed learning and growing with you through the years.  
To the future of The Daily: Andy, Anthony, Monserrat, Sydney, Nick, and all the newbies, I wish you good luck. Know that while my days writing and editing your articles are done, I will always be around if you need help, advice, or someone to talk to. 
Conor, Lydia, Caean, and all the photogs, while I know sports was a lot and I could be pretty demanding, there really isn't a crew that could have handled it better than you guys. To Conor, thanks for starting this journey with me. I think I could tell after we worked on both of our very first assignments together on that boat chasing around the sailing team that you were destined for great things. I was definitely more sure of your talents and abilities than my own, and you've grown into one of the best sports photographers in the Seattle area. No bullshit. 
Lydia, thanks for jumping into something that wasn't exactly in your wheelhouse in August, but is now. You're a champ and continue to improve and improve at anything you set your mind to. And thank you both for being a great friend on and off road trips, I know they wouldn't be as fun without the both of you. 
Ah shit. I buried the lede. 
It goes against everything that I was taught in journalism, but I guess I've saved the best for last. Josh and Hailey, I can't wait to see what you guys do in the future. I remember walking into The Daily's newsroom when I started three years ago to go to sports meetings and it was just the three of us. 
A group of freshmen ran the Daily's sports section. 
To Hailey, thanks for literally doing anything that was asked of you the past couple of years. Whenever I needed someone to make a graphic, an ad, or really anything last minute, you were the one I'd rely upon. I even took it upon myself to try and learn photoshop and Adobe because I didn't want to keep asking you to do these things, but you often helped me anyway. Keep kicking ass. 
Josh, it's hard to come up with the words to describe the past three years. You were willing to let me help out on the football beat, when in years past it had been a one-person show. To that, I will always be grateful, but I'll be most appreciative of the late-night talks at Schultzy's or being stuck in the middle of nowhere Oregon with a flat tire (a legendary story). Stay in touch, man. I'll miss you a lot. 
My parting moments at The Daily will be ones of sorrow, but also of appreciation and excitement. I'm ready for the next chapter, wherever it takes me. But I wouldn't have been in a position to excel if The Daily hadn't taught me everything I knew and let me experience once-in-a-lifetime opportunities, with once-in-a-lifetime people. 
So for the last time, I will write my reachline below, with my name, telling you that you can reach me at The Daily's sports' email. This will be the last time I write an article for The Daily, but I will always be connected to it. In some way, shape, or form, I'll always be accessible by that email. 
To that I say farewell, for now, The Daily. 
Alec Dietz
Sports Editor — Spring 2019 - Winter 2020
The Daily — Winter 2017 - Winter 2020