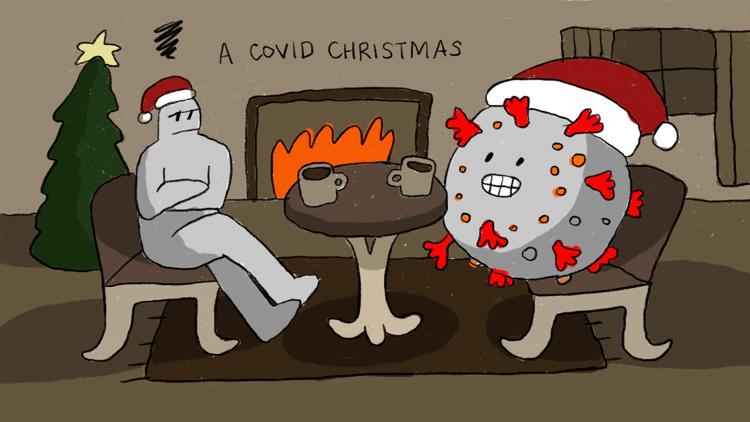 If you're anything like me, you enjoy being on campus during that magical time of the year when you see students lugging their packed bags onto packed trains, heading to the airport to catch the never-ending parade of holiday flights home — whether to some far-off destination across the globe or just a few states over. 
But, as we all know, a good deal of us will be trading in the annual trip home for isolating in Seattle this holiday season — and it's going to be incredibly important for all of us to focus on our mental health when we do. A return to normalcy requires some form of cooperation with public health guidelines, and that involves refraining from large holiday parties and possibly staying away from family members. 
For students, the UW can feel isolated during the quarter, even before everyone packs up and heads out for the holidays en masse. With so many students that you can't name and classes where you're one out of several hundred, it can be tough on our mental health as both students and social creatures. 
During the holiday season this is bound to only get worse, and with all large gatherings being canceled until further notice this year, it's going to be tough.
But even now, with finals week approaching, it's a good idea to check in on both yourself and the ones around you, even if you can't be together now. 
"Coronavirus has definitely had quite a big impact on my mental health," Quinn Rector, a sophomore at the UW, said. "I personally have a lot of anxiety when it comes to COVID, and so that has impacted my day-to-day not only mentally, but also physically, and it means that I have to take extra care of myself."
With the added pressure of classes during this pandemic, having a buddy in place whom you can talk to about your stress is important. FaceTime your friends or family, hop on a Zoom call, or talk on the phone this Holiday season — these are all safe vehicles that allow for social connection while still staying isolated and protecting the ones you love. 
One thing that might not be on the minds of students based in the United States is the role that restrictions placed on our international community have this holiday season. Our student body is composed of thousands of students from over 100 countries. New restrictions on travel, as well as the fear of spreading COVID-19 to family members at higher risk from the journey home, make the best course of action just staying put.
For Gwen Dumayas, a sophomore originally from the Philippines, COVID-19 has thrown a massive wrench in her family's holiday plans.
"It's really sad that I can't go home during the holidays, because I haven't seen my family in over a year," Dumayas said. "It's mainly for safety with the travel restrictions. But the holiday break is [also] only about two weeks, and if I do go home, there's a quarantine time, where you have to go to a designated area for, let's just say, five days. That leaves me one week to just stay at home, which is not really enough time, considering the expense in traveling."
For students stuck in the city alone while roommates head home for the season, the thought of all the empty time to fill may be daunting. However, Seattle has plenty to offer. Trying some holiday activities in your university home can help improve mental health and serve as a much-needed break from academics and stress.
"There's a lot of really cool places, like neighborhoods, to walk through," Rector said. "Or maybe bake or do something sort of out of the ordinary if you can."
Looking ahead past the holidays, we can wonder how things will look going into the new year. And while hints of a new vaccine in the near future might seem like a holiday miracle, we can't get too excited and go back into old habits just yet. 
Until a well-tested vaccine is distributed to a large portion of the population, we must remain careful in everything we do. But hope is still a powerful force, and don't forget that the holidays are still a time for reflection on what we have gained and lost in such a tumultuous year. 
"Be grateful that you have the privilege to study here, because not all people have the chance to," Dumayas said. "Be grateful you're alive, because some people didn't make it through this year, and once it's over, make sure to make the most out of everything, because you never know if there will be another pandemic, and you should never take for granted what you have." 
Reach contributing writer Liam Blakey at opinion@dailyuw.com. Twitter: @LiamBlakey2
Like what you're reading? Support high-quality student journalism by donating here.