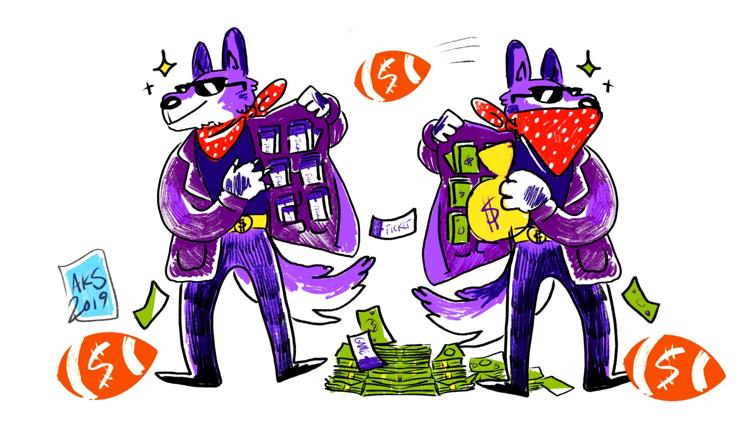 It's that time of the year already; aggressive tweets are flying, Greek Row is getting all riled up, and I have Michael Bublé's "Christmas" album on repeat. You guessed it, Apple Cup season is upon us. 
The long-awaited football game at the end of November brings the Dawg Pack ticket black market into the spotlight. The underground market allows students in need of a ticket to buy another student's Dawg Pack ticket from them and join the student section.
According to the Dawg Pack ticket website, tickets can only be transferred to another student. Regardless, Dawg Pack tickets are a limited commodity, and students who can't attend the home games are looking to make a profit. Some students without tickets are willing to bypass the system and turn to sellers online to secure their tickets.
The black market runs almost exclusively online, where students offer up tickets on platforms like Facebook and Wildfire. People wanting to attend big games, like the Apple Cup, are willing to pay big bucks, but the prices can seem a bit unfair depending on how many games you plan on attending. 
The student section package grants access to every home, regular season football and men's basketball game, and costs only $150 dollars. It's a great deal for the dedicated Husky fan. If you were to go to all 26 of those football and basketball games using Dawg Pack tickets, each game would cost roughly $6.15.
This year, students online generally seem to be selling their Apple Cup tickets for about $75 to $150 per ticket, which ranges from 50% to 100% of the Dawg Pack ticket's entire worth. Just for one game. 
However, not everyone plans on attending enough games for the Dawg Pack ticket to seem like a good deal. Some people plan on buying individual student section tickets instead, not realizing that some of the prices will be so high.
Since Dawg Pack tickets are sold out for this year, the only way to avoid the underground market is to buy a Husky Ticket Office single game, student section ticket. 
But as I delved further into the price comparisons, I was mildly alarmed at the box office alternative. 
Surprisingly, it may be cheaper to pay another student for their Dawg Pack ticket despite the ridiculous seeming price than it is to legitimately purchase a single-game student section ticket from the ticket office. Even if a student seller is trying to take advantage of someone by upcharging a single ticket, it is still cheaper to buy from an online seller than the official ticket office. That is a problem. 
According to the Husky Ticket Office, single game student section tickets for the UW vs USC game this year cost $65. The black market prices ranged from $30 to $50 for the same game.
Ultimately, buying a ticket for any football game is a double-edged sword. 
Although it is a shady move to charge fellow students much more than a ticket is worth, the Husky Ticket Office prices are so high the black market becomes the most viable option for those looking for single-game tickets. 
Students should not be trapped in a supply-and-demand situation just to support their own teams.
The only good option is to buy your own Dawg Pack ticket early, avoiding the inevitable confusion and the hit to your bank account that black market tickets may cause. 
With this season's Dawg Pack tickets sold out, this leaves narrow options for those wanting to attend football games for the rest of the fall, especially this year's Apple Cup. The best option it seems is to look for students selling online and try to find the lowest price. 
Not everyone in the black market is trying to make a huge profit when selling their ticket, as some ask for just enough to break even. This is not the usual case for this year's biggest game. 
"Determining the value of each ticket definitely depends on the game, but selling a ticket for $90 or starting a bidding war for your ticket is not the reason the Dawg Pack exists," Nathan Santo Domingo, a UW alumnus who graduated last year, said via Twitter messages.
I completely agree. Students should not be capitalizing off other students looking for a ticket, but the ticket office prices allows them to. 
This says a lot about the ticket office itself. If students are forced to rely on other students to sell their Dawg Pack tickets, just to attend games at a reasonable price, that means there is something wrong with the student prices available through the traditional routes. 
It shouldn't be expensive to be part of the student section. Being a part of the Dawg Pack should not be a cutthroat business, but with Dawg Pack tickets sold out and box office prices remaining high, the black market remains a necessary evil for students wanting to attend games.
Everyone who wants to cheer for the Huskies this Apple Cup should be able to, not just those willing to pay the price. 
Reach contributing writer Sydney Nash at opinion@daily.uw. Twitter @sydneym_nash. 
Like what you're reading? Support high-quality student journalism by donating here.