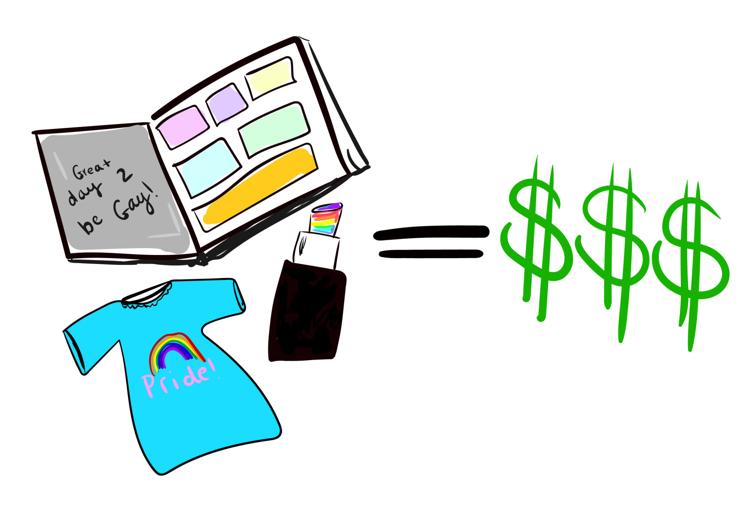 It's June, which means it's Pride month. Some of the most prominent queer activism has taken place in June, and Pride celebrates that with colorful parades and celebrations.
But what exactly is Pride about? If you check Instagram, it's all about aesthetics. My feed is full of rainbow eye shadow palettes and T-shirts with rainbows on them that have slogans like "love is love" emblazoned across the front.
Pride itself has become an event for corporations to celebrate how inclusive and progressive they are, a rainbow stamp on their profile to prove that they aren't one of the bad guys. A portion of the proceeds from some of the rainbow branded shirts will go to LGBTQIA+ organizations, but corporate Pride doesn't do much, if anything at all, to actually support real queer people.
LGBTQIA+ activism has stagnated in the wake of Obergefell v. Hodges, at least when it comes to people outside the queer community. Queer and trans people still face discrimination that the general population doesn't pay attention to. Trans women of color face the incredibly high murder rates in the United States, and also have a much shorter average life expectancy than their cisgender counterparts.
Slapping a rainbow flag on a T-shirt isn't going to get at the issues that queer people face today, but that isn't why corporations do it. They do it because they want to look good. They want people to pay them for rainbow printed gear that doesn't have a significant impact on the lives of queer people.
Corporations are trying to sell Pride back to queer people when it's something we originally had to take. Pride was born from the Stonewall riots and AIDs activism. It began as a revolutionary, radical statement that queer people could exist despite a cisheteronormative society trying to make sure we didn't.
The reality is that the world we currently live in isn't one that's friendly to queer people. It's certainly better than it was 30 years ago, or even 15 years ago, but Obergefell v. Hodges wasn't the end of gay liberation. A 'Happy Pride' tweet or a rainbow eye shadow palette gets more credit than it deserves. A 'love is love' tweet implies that being queer is just about who you love, and not about who you are.
At this point, the rainbow flag is visible, but there's a lot of flags that aren't. The rainbow flag centralizes the cis, white, gay male experience. It leaves out the pinks and oranges of the lesbian flag, the pink-purple-blue of the bisexual flag, the blue-pink-white of the trans flag, and the flags of other queer identities that deserve visibility.
Transphobia, especially, is still violently oppressive. Trans people face their identities being reduced to their genitals, blown up into bathroom controversies, and hatred both within and outside the queer community. As the Trump administration proposes a rollback of trans rights, fighting for the rights of transgender people should be a priority of Pride, a celebration born from activism and thrown bricks.
Instead, we get rainbow T-shirts that don't acknowledge what issues still need to be addressed.
I don't want empty words and meaningless tweets in support of Pride, I want people to get on board for social change. That's not necessarily something I can ask of the faceless corporations for who rainbows are good PR, but it is something I can ask of people.
When we think of Pride, we should remember its history, which isn't just the fight for same-sex marriage, but a fight for queer and trans people to exist safely and comfortably, without fear of violence and discrimination.
Reach Engagement Editor Hailey Robinson at opinion@dailyuw.com. Twitter: @haileyarobin
Like what you're reading? Support high-quality student journalism by donating here.