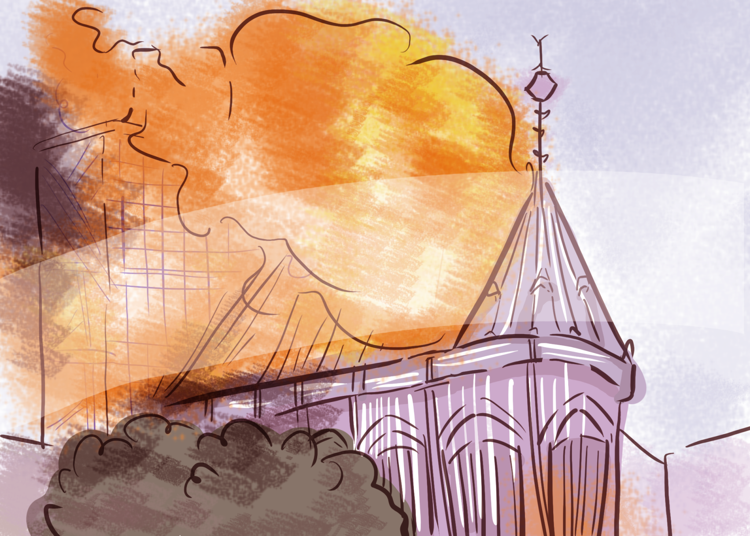 Since the Notre-Dame Cathedral in Paris caught fire and suffered severe damages last Monday, a social media frenzy spawned in the wake of mourning for the Parisian icon.
In response to this surge in virtual remembrance, a series of memes and online disdain fueled conversation surrounding mourning on social media platforms. Many of these complaints denounced people's grief as a vain attempt at sharing a personal anecdote, and raising questions as to what is appropriate in the way of online mourning.
Any photo taken of Notre-Dame cathedral before Monday evening are now artifacts. Sharing these artifacts is certainly a positive thing. In considering the alternative, a social platform void of any recognition may be disheartening in a time when every notable death or tragedy gets a plume of online recognition. Have we become too expectant of a post in mourning?
In this situation, it is incredibly difficult to separate the emotion from the intention. Is the act of publicizing a personal memory relieving the effects of loss or is it in light of an opportunity to post a flattering picture? The loss is undoubtedly a collective one, but each individual anecdote is tied to that one time you saw one of the greatest cathedrals in Europe while on vacation a few years ago. In some ways, these posts seem to reduce a grand tragedy to a reminder of the 21st century privileges of modern travel and its perpetual existence on social media.
If the images of a nation united in mourning urges an American youth thousands of miles away to post in "remembrance" of their time abroad, their post distracts from the greater loss of hundreds of years of history. Sharing memories is valid in whatever fashion you so please, but I find myself wanting to argue that it shouldn't be as a first response, when the embers are still hot and the nave is filled with ash.
In light of this event and all the ways it is unique — nobody was killed, nobody lost their home — mourning is still needed. Broadcasting memories is a part of that process. This unprecedented platform of technological communication, however impersonal it may be, is here to stay for the foreseeable future.
So when a tragic event occurs, resulting in a collective grief, what are we to do? Certainly there should be a form of social accountability for one's online actions, but I think those matters fall under a larger umbrella of social media issues. In this case, when something as old and grand as a medieval cathedral is gravely injured, policing who posts what is trivial.
The world lost a beloved cathedral as it had stood for centuries. In a time that seems saturated with social criticism, I believe it is OK — important, even — to say you loved something and you are sad to see it go. I believe it is even more important to avoid generalizations that condemn any expression of this affection, virtual or actual, than to regulate how we remember what was lost.
It is remarkable to think of the generations of labor it took to build the cathedral. When their work was cut down by a fire nearly seven centuries after its completion, pixels of their lost work were broadcast throughout the ether. What to them would have been a beautiful building tragically resigned to the finite images of memory, is now a virtual myriad of "Our Lady" as we so recently knew her.
Reach writer Maxwell Eberle at opinion@dailyuw.com Twitter: @MaxwellEberle
Like what you're reading? Support high-quality student journalism by donating here.