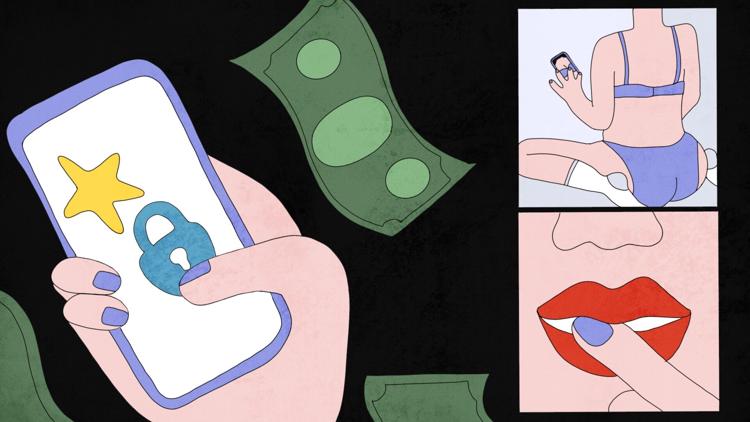 Editor's Note: Some sources have chosen to use a pseudonym or to redact their last name. This article discusses explicit subjects and has limited references to illegal sex acts.
For most of my life, I was taught that I should associate sex workers — or "hookers," "tramps," and "prostitutes" — with the seedy and dangerous world of sex trafficking. I won't claim that this underground world does not exist, because it certainly does, and the damage it does to the people involved is indescribable. But there is more to sex work than what your parents may teach you.  
OnlyFans, a subscription-based online platform where people can upload sexually explicit photos and videos of themselves to their account, has revolutionized the world of sex work and online pornography. OnlyFans is a popular platform among college students looking to make some extra money, and UW students are no exception. 
Grace, a sophomore at UW, has been an online sex worker for two years, working on OnlyFans and as a cam girl. 
"[Being on] OnlyFans is basically being your own independent content creator, so you decide how much you post, [and] how much you want to make people pay for your posts," Grace said. "So it's really good because you're the one in control of how much you make and how comfortable you are."
The way that OnlyFans works, with creators in charge of their own content, differs drastically from how other porn sites operate. Pornhub is the most popular website for online pornography . The problem with Pornhub, however, is that the content is rarely uploaded by the people in the videos; in fact, many videos are often uploaded without their consent. The website itself promotes non-consensual acts, with popular categories such as "rape" and "secret recording." This content is harmful not only to the people involved in the videos, but to viewers who watch these videos and think it is normal and acceptable. 
At first, I thought of OnlyFans as similar to Pornhub: a place for creepy guys to get off on photos and videos of young women. And yeah, that is a part of it — but OnlyFans is becoming a way for young people to empower themselves, celebrate their sexualities, and make money doing so. 
"I just think it's really awesome, that women have always been looked at as objects, looked at as sexual beings, and now they can actually use that to their own benefit," Ana Basurto, a recent UW graduate, said. 
UW sophomore Maddie created her OnlyFans account in August. For her, it's been tricky balancing academic responsibilities and working on OnlyFans.
"I had a lot of midterms last week and I was just really busy," Maddie said. "I missed one of my posting days and I actually lost 10 subscribers and [I] was like … I can't just neglect this, it's not a little hobby, it's literally a job that I need to upkeep."
As Maddie pointed out, sex can be treated as a commodity; usually men's desires account for the demand, and women's bodies account for the supply. But it's more complicated than that. Working on OnlyFans, and sex work in general, is a way of finding empowerment and confidence in a job — something that can be really difficult to do as a student. Undergrads have so much to juggle: school work, tuition, housing, family, friends. Job satisfaction usually falls at the bottom of our list of priorities. But Grace and Maddie are honestly the only two people I've talked to recently who actually seem to like their jobs.
It amazed me how candidly Grace and Maddie spoke about their experiences as online sex workers. It made me realize that I have some biases and internalized sexism in the way I look at sex work. I was taught from a young age — and I believe many women were as well — that sex work is undesirable and reserved for people who can't get "better" jobs elsewhere. Most of all, I was told that sex work was dangerous.
Maddie explained how she handles her personal safety and boundaries on OnlyFans. 
"I like keeping things online; I feel like I can keep my boundaries that way. I just don't want anyone to feel too comfortable," Maddie said. "I love the block button. If someone ever makes me uncomfortable, I don't have to keep them." 
Grace and Maddie have seemingly both had overall positive experiences on OnlyFans. 
"Being on OnlyFans and putting my face and my body out there on the internet has really shown me that it does not matter how I'm going to pose or how much makeup I'm going to put on," Maddie said. "It's been really cool to have people who are just so excited to see me." 
Grace agreed with Maddie and said that OnlyFans has changed the way she's looked at her body since high school, when she was less comfortable with herself. 
"It definitely helped me feel better about myself, and sexier," Grace said. 
She did, however, acknowledge the drawbacks to the job. 
"I dont think it's for everyone," said Grace. "I don't think everyone should do it. Because although it can be a good experience, you have to be safe about it, and it has hurt people's lives, and I think a lot of people don't think about that or think about the impact [it can have]."
Maddie had one specific experience with a subscriber that made her uncomfortable. He was a big fan of hers, and she even made him custom photo sets that no one else had access to. However, once he decided that he was going to come visit Maddie in Seattle and rent an AirBnB so they could hook up, she told him: "'No you're not, this is over.' And he was very very upset about that." Luckily, Maddie has stopped receiving unwanted messages from him since she expressed her discomfort. 
The first sentence of this article was originally going to be "Sex work is valid work." I still stand by that statement, but I think it's best I include it at the end. Writing this piece has changed the way I look at sex work. While I was interviewing sources for this piece, I learned that sex work is more than just "valid" work — it's difficult, respectable, and admirable work, to say the least. 
Reach contributing writer Katie Newman at opinion@dailyuw.com.Twitter: @katieinewman
Like what you're reading? Support high-quality student journalism by donating here.