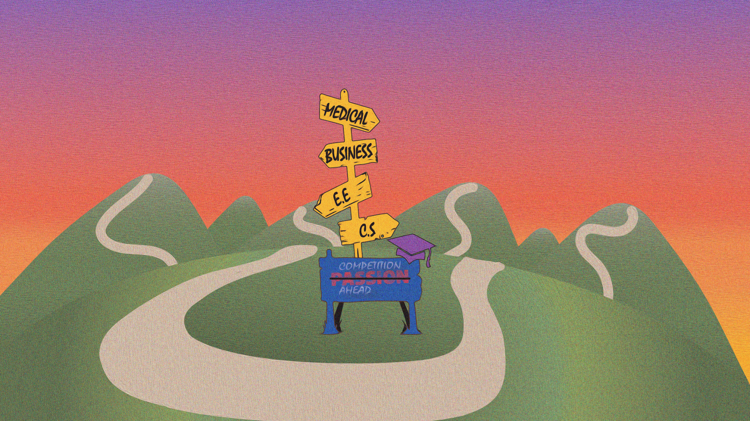 With all the discussion of capacity-constrained majors and weed-out classes endemic in social discourse, it is easy for students to forget that the goal of going to college is to passionately pursue the advancement of knowledge in subjects they are interested in. 
Unfortunately, passionate students have to contend with the harsh reality that the capacity-constrained major system presents. Despite any demonstrable interest or dedication for a subject one might have, the possibility of rejection is ever present. This looming fear can stifle the passion of students in capacity-constrained majors, losing interest in subjects they once loved. 
When thinking about the admissions process of capacity-constrained majors, most students remember periods of significant stress and frustration stemming from anxiety over their prospects of admission. Fran Dukic, a senior majoring in informatics, recalled the gradual discouragement he underwent while competing for entry into the Paul G. Allen School of Computer Science & Engineering during his first few years at the UW.
"I took multiple advanced computer science classes [in high school]," Dukic said. "We had a lot of advanced placement classes in which I excelled and was at the top of my class. I felt completely confident in my ability until I came to UW."
He explained how the pressure and high level of competition between students weighed down on him and dampened his initial passion for the subject.
"I've always been able to learn computer science topics fairly easily, but I've become apathetic over time because at the level of competition I've experienced, [tests] felt more likely memorization than a test of my actual ability to utilize the skills I was taught," Dukic said. "Even though I do enjoy learning new topics in computer science, I don't feel as though I care about them as much as I used to because it … just feels like another part of the routine."
Dukic's sentiment was echoed by Treyon Reche, a senior double majoring in communications and education, communities and organization, who discussed his frustration with the capacity-constrained system when initially pursuing his interest in aerospace engineering.
"That's what I came to this school for, but after seeing what I had to do, the courses I had to take, I realized it was not for me," Reche said. 
He went on to say that his experience trying to get into aerospace engineering made him feel as though the university did not care about him or his success in that field and stated that this greatly limited his passion for a period.
Despite their criticisms of the system, both students admitted that their frustrations with the first majors they pursued eventually gave way to the discovery of subjects they were more passionate about.
"At the end of the day, I like informatics better than computer science, so as shitty as the competitive major system was, it actually helped me find the alternate that I liked," Dukic said.
Reche also expressed his satisfaction with his new majors, asserting that he felt much more support and encouragement for his passions from the teachers in his new departments than he had before.
While the admissions process for capacity-constrained majors can stifle students' passion for the subjects they initially intended to study, there is potential for students to discover subjects they are even more interested in. This system may need to be reformed to avoid having more passionate students experience the same discouragement, but it also might be necessary to ensure students find what they are most passionate about. 
Reach writer Nathan Sebree at opinion@dailyuw.com. Twitter: @lolkoling
Like what you're reading? Support high-quality student journalism by donating here.