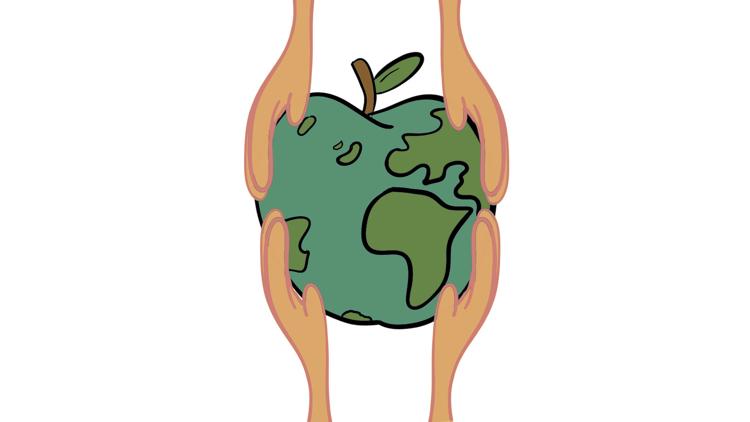 This last summer I decided to sacrifice dairy 一 a food group that I had placed on a pedestal of gourmet excellence 一 and embody a lifestyle that I considered to be the pinnacle of environmentalism. In the past six months, I have been a somewhat consistent vegan, transitioning from vegetarianism in an effort to lessen my carbon footprint and promote a more sustainable lifestyle.
The production and processing in the livestock industry has resulted in the global emission of carbon dioxide, nitrous oxide, and methane — greenhouse gases that are agents of global warming. Among other anthropogenic activities responsible for climate change, agricultural practices produce methane and release 65% of the world's nitrous oxide. These practices occupy two-thirds of all the arable land, degrading its nutrients and destroying biodiversity in the process.
"It's common knowledge that if you eat lower on the food chain you are consuming less resources, so it doesn't make sense to be feeding an animal a bunch of grain with receiving little payback," junior Claire Kasinadhuni said.
Having taken the course, Political Ecology of the World Food System, Kasinadhuni discussed the benefits of veganism in regards to consuming foods produced lower on the trophic levels that require much fewer resources.
With even the most elementary knowledge of how the current livestock industry operates, it is undeniable that eating meat has a detrimental impact on our climate. Prioritizing feeding an exponentially growing population of meat eaters, rather than incorporating integrated farming systems on a global level is at the core of the problem.
"If one person [exchanged] eating meat for a vegan diet, they [would] reduce carbon dioxide emissions by 1.5 tons per year," as depicted by a pamphlet titled, "Veganism and the Environment: by the numbers."
Unfortunately, for many Americans, meat has become a staple in every meal consumed per day. The Department of Agriculture even predicted that 2018 would break the record amount of meat and poultry eaten, averaging 222.2 pounds consumed per person. The sheer dependency of the American lifestyle on meat indicates to me that veganism is not a reasonable diet to be promoting, but rather, something known as "flexitarianism."
The flexitarian diet is "where people are not choosing one particular dietary pattern, but it is more of an everything in moderation approach," UW lecturer Yona Sipos said. "Everybody has to make their own decisions and I don't think that there is one right diet or pathway to a sustainable diet."
My transition from one plant-based diet to a variation of another plant-based diet was admittedly not the hardest thing to do. For meat eaters, the challenge of converting completely to vegetarianism, much less veganism, is understandably daunting. I still do act on cravings for ice cream and cheese, so I have come to realize that individuals do not have to strictly align with one diet or another in order to advocate for sustainability.
"I don't think meat or dairy is evil, I think we should instead focus on eating less of it … quality over quantity," senior Maximilian Landa, who eats a flexitarian diet, said.
The connotation that commonly is associated with vegans is that they despise meat eaters and adhere to veganism to follow a bougie trend or a health fad. Conversely, if society encouraged individuals to focus on smaller ways to introduce greener palettes, thereby reducing meat consumption, the stress of global emissions from industries would decrease drastically.
"When sustainable land grazing practices and proper meat care [are] a part of your permaculture setup, livestock makes sense," Kasinadhuni said.
An integral deterrent of the livestock industry relates to how the meat is being processed; namely the separation of crops from animals.
Sipos described our nation to be in a "Catch-22"with regards to feeding a highly carnivorous societybecause there is an issue with "animals and plants often [being] separated in different farms, creating the problem of soil depletion on one hand and excessive manure accumulation (excessive nutrient accumulation) on the other."
Farms that are capable of producing the output equating the demand for meat rarely intertwines crops with animals, resulting in land that is ill-suited for continued function. The UW Farm has recently brought in chickens to rehabilitate the land, depictive of a technique embodied by the chicken tractor.
"[The UW Farm has] intercropping and rotational cropping to manage nutrition in soils and to ward [off] pests and provide protection to the plants," Sipos said.
In addition, Sipos argues for a diversified agricultural system with a cyclical flow of nutrients from livestock manure to soil, with crops grown specifically to support animals.
"It's not necessarily the production piece, but rather looking at the food system as a whole and considering from a systems perspective how to make the entire food supply chain more sustainable and regional," Sipos said.
In this way, veganism and vegetarianism, as opposed to more sustainable diets, are not clear solutions to the negative ramifications of the meat industry. The integrated farming system requires government policies that apply it to a larger scale, which would greatly improve the current operations. With the present livestock industry, however, and the nation's dependency on meat, flexitarian diets are the most beneficial in reducing environmental harm.
"There is a great deal of impact we can have as individuals, but systemic changes are needed at the national and international level," Sipos said.
Reach columnist Suhani Dalal at opinion@dailyuw.com. Twitter: @DalalSuhani
Like what you're reading? Support high-quality student journalism by donating here.