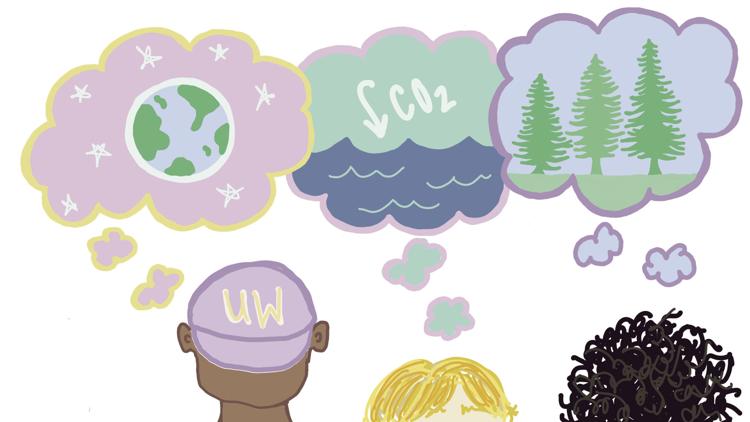 ASUW senators passed R-25-27: A Resolution Supporting Consideration of an Undergraduate Sustainability Requirement last week. The bill supports the implementation of a "sustainability requirement" for undergraduate students. It suggests that the requirement be included in the Areas of Knowledge classes (already including VLPA, NW, I&S, and DIV), which students are already obligated to complete in order to obtain their degree at the UW. The ASUW Board of Directors voted to recommit the bill at its Thursday meeting for additional amendments, meaning that the senate will need to pass an amended version before it goes forward.
Adding this prerequisite to the existing graduation requirements would help make the coursework "more consistent with the UW's educational values." While there is not currently a detailed plan in place, the bill represents strong student support to make this a reality.
Sustainability and climate change are important topics right now, and they aren't without controversy. This controversy exists in part due to misinformation. Despite the reputable science that supports climate change, there are some who have reservations about warming temperatures and rising sea levels. It should not be a contentious topic and politicians making misinformed claims doesn't bode well for those trying to help the planet.
The UW offers several classes that touch on the topic of climate change. Courses taken in the Earth and space sciences (ESS), atmospheric sciences (ATM S), and oceanography (OCEAN) disciplines have strong ties to climate change topics.
One class in particular, ATM S 211: Climate and Climate Change, talks about the topic in a unique way. Professor Joel Thornton focuses on examining the role of the climate in oceans and ice structures, environment, and atmospheric circulation. He explains that the earth is changing and while there is uncertainty as to how much the earth is going to change, there is no doubt that the earth's temperature is changing.
"It doesn't seem like a big deal, but on the one hand, this change is kind of large and not all homogeneous," Thornton said. "The changes are not all 2 degrees. So, the Arctic will probably warm by 6 to 10 degrees. The polar regions are going to be warming more than the other regions of Earth. Land is going to be warming more than the oceans and so it is not 2 degrees everywhere. It is the average."
ATM S 211 is offered to nonscience majors and is an introductory course for people who are interested in the climate and in topics surrounding climate change. There are no prerequisites to the class, so it is available for all students.
To further endorse the importance of climate change education, the College of Environment offers a climate minor aiming to educate students on policy and human involvement in climate change.
Some people have no desire to take any kind of science class at the UW, but all students need to fulfill their general education natural world credit with some sort of qualifying class. Climate change is largely affecting the world around us and will continue to do so in the future, so undergraduates would only benefit from educating themselves about it. The options for climate change classes are boundless, and all of them can be useful.
The university and the ASUW are making strides to make classes on sustainability a requirement for all students. Until this requirement is enacted, students can continue to grow more knowledgeable on climate change and sustainability and show support for the bill.
Our planet is changing around us undoubtedly, and climate change classes can reinforce the importance of human impact and the need for change, and it may help change some minds in the process.
Reach writer Monica Mursch at opinion@dailyuw.com. Twitter: @MonicaMursch 
Like what you're reading? Support high-quality student journalism by donating here.